YouTube channels, collecting awesome videos that are similar or from the same group of people, are actually made of one or multiple playlists. However, YouTube doesn't provide a download button for channel download. But on the internet, there are various video rippers that can detect all playlists from a channel and download all the videos. Here we've picked the best YouTube Channel Downloader Inovideo that can help download all videos from a Channel on Mac and Windows, as well as 5 alternatives to it.
Top 1. Inovideo - The Best Free YouTube Channel Downloader
Inovideo is a professional YouTube video downloader that allows you to free download single YouTube videos, Channels, or playlists even the subtitles in one click. Besides that, it can also download videos from online websites in bulk quickly. With an intuitive interface, even a newbie to the downloader world can use it with ease. You can also experience its great features:
Download videos from 1000+ websites including YouTube, Facebook, Pornhub…
Grab videos with quality up to 4k, 8K, audio up to 320kbps
Download the entire playlist, channel
Batch download them
Merge the subtitle into the video or download it as a file
Directly download private/restricted YouTube videos/playlists without account login
No software watermarks or ads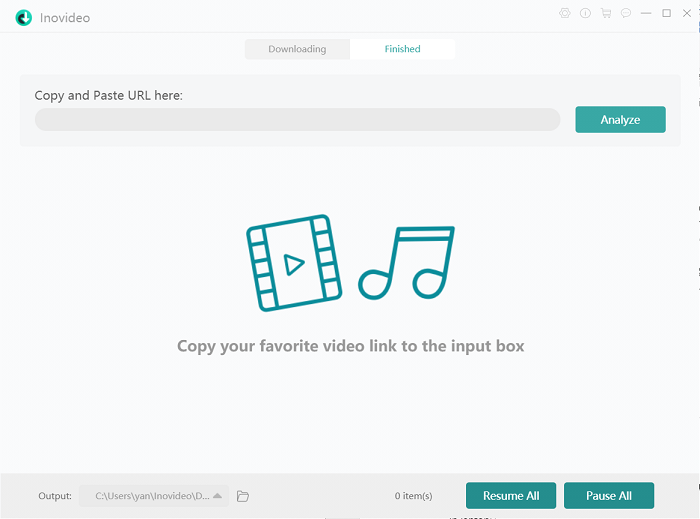 How to Download All Videos from a YouTube Channel?
Downloading multiple YouTube videos from a channel can be easy with Inovideo. Now download this software and learn how to finish the YouTube channel download freely.
Step 1. Copy the URL of the YouTube Channel
Open the YouTube channel page you want to download on your browser, then copy the URL from the address bar.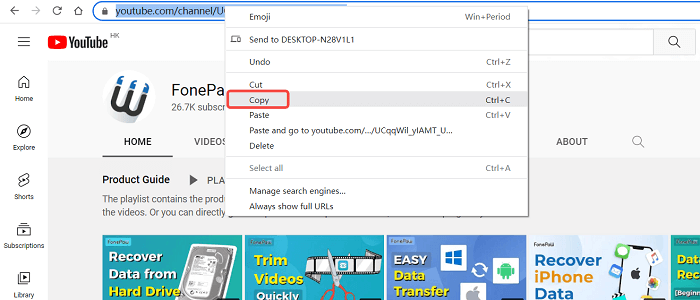 Step 2. Paste the URL to YouTube Channel Downloader
Paste the URL you copied to Inovideo and hit the analyze button. After a while, you will see a pop-up window displaying all the playlists from the channel. Select the options, then click "Analyze" and "Playlist" after the channel is analyzed.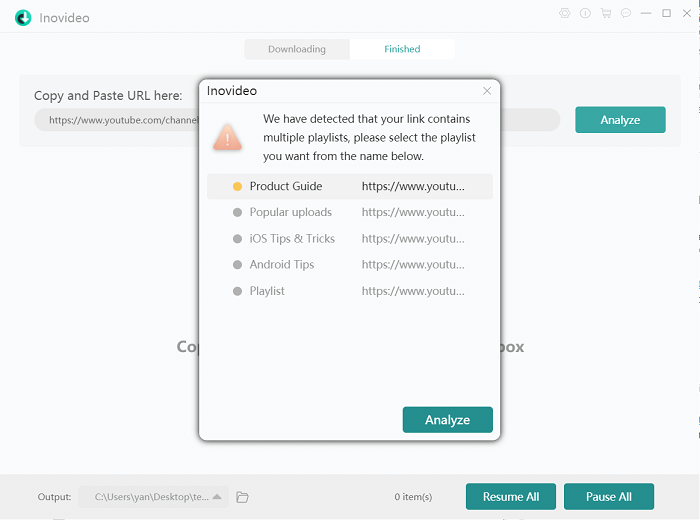 Step 3. Download YouTube Channel
After the analysis, you can select all videos or some of the videos for download. Also, you can choose to download videos to MP4, audio to MP3, or subtitles to TTML/VTT/SRV with your desired language. After the setting, hit the download button.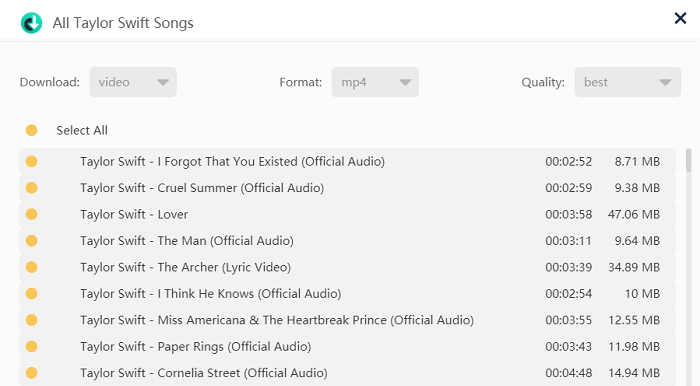 Tip:
You can merge the subtitles into the YouTube channel videos before downloading them via "the gear icon > General".
→ You May Like: How to Download YouTube Playlists?
List of Alternative Apps to Download YouTube Channel
Of course, you may want to know about some other YouTube channel downloaders for comparison or as an alternative. Here we've listed 5 with their features and cons.
Top 2. MiniTool uTube Downloader (Windows)
Being a famous program, MiniTool uTube Downloader is an excellent YouTube ripper. With this software, you can free download the entire YouTube channel with high quality up to 4K. Batch download them without ads. If you need the subtitle, tick off the option from the settings, and they will be automatically downloaded if any.
After you launch this software, you will see the YouTube webpage on the left panel. Input the channel URL to the address bar and click the download button on the right, and you will see the download list options. However, you can't pause or resume the download session. If you exit this program, you will need to restart downloading the video. And the videos that have been canceled still hold a place in your output folder.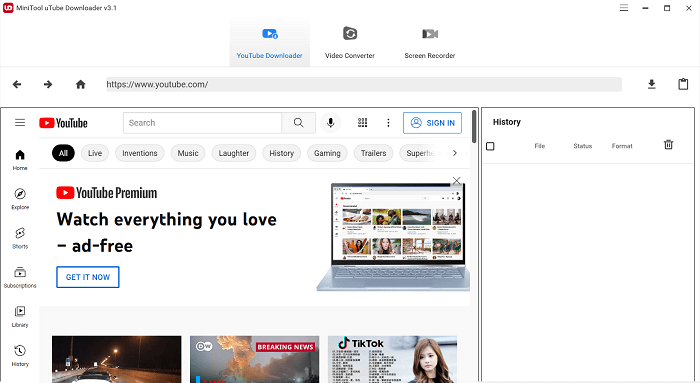 Pros:
It's free
Batch download YouTube Channel
Grab Subtitle
No Ads
Cons:
Can't download high-quality audio
Work a bit slow
Doesn't support other websites
→ [Solved] How to Download Any Videos from Any Website?
Top 3. VideoHunter (Mac & Windows)
VideoHunter, just as its name tells us, is a program that can hunt videos from the internet. Like Inovideo, VideoHunter has a clear interface and is easy to use. It's a free YouTube channel downloader that allows high-quality videos or audio downloads from YouTube. Subtitles from the videos are also downloadable on it. What's more, you can download the YouTube channel in batch.
Nevertheless, this software has a totally free version and a paid version. There are some limitations when downloading YouTube, namely only 3 videos can be downloaded on the free version, and the video quality will not be better than 480p.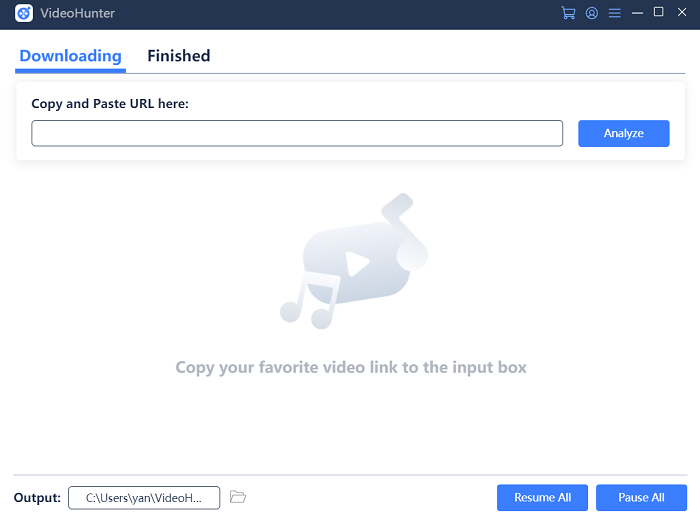 Pros:
Provide 3 free downloads per day
Support 1000+ websites
Batch download YouTube Channels
Download private YouTube videos
Cons:
Top 4. iTubeGo (Mac & Windows)
iTubeGo is another professional YouTube Channel downloader compatible with both Mac and Windows. It has a user-friendly interface and allows users to download YouTube channels with high quality as well as subtitles. Moreover, you can enjoy the fast speed and batch downloading on iTubeGo.
At the same time, there are some limitations to its free trial. You can only download 3 single videos and 1 channel with iTubeGo watermark. A long video can only be downloaded in 1/3. Once you've used up the quota, you need to buy it for continued use.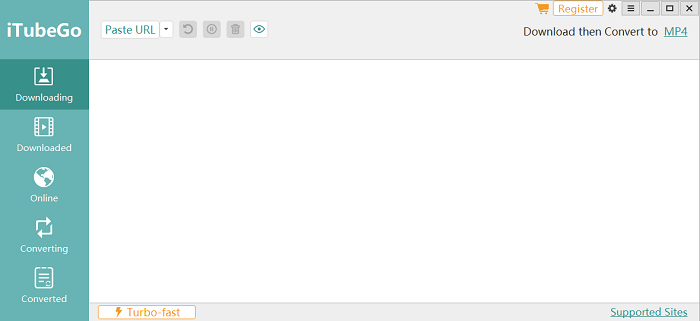 Pros:
Download YouTube Channels in bulk
Grab subtitles
No Ads
Save YouTube Channels to multiple output formats
Cons
Limited free trial quota
More expensive for Mac
Top 5. 4k Video Downloader (Mac & Windows)
4k Video Downloader must be the famous YouTube video ripper. You can free download 30 YouTube videos with high quality or audio with quality up to 160kbps at a high speed per day. If there's a subtitle file on the video, it can be downloaded on 4k Video Downloader too. This software supports YouTube, Facebook video downloading, but that from Instagram, TikTok, Twitter can't be downloaded on it.
Besides, on its free trial, every time you download videos on it, there will be an ad pop up. And in terms of YouTube channel download, you can only download 1 video from a channel. If you need to download all videos from YouTube channel, you can buy a personal license for the 4K Video Downloader.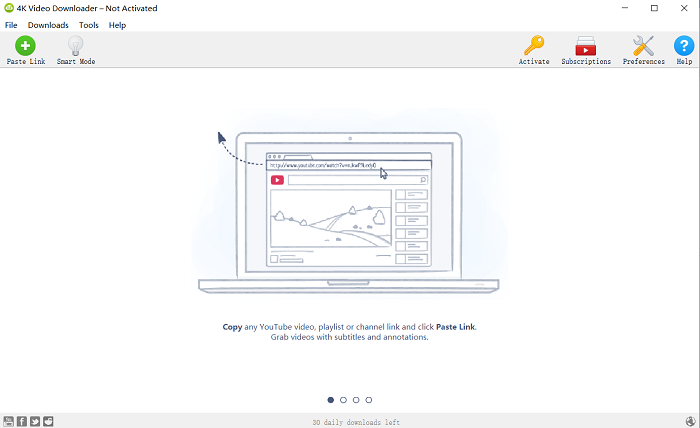 Pros:
Can free download 30 YouTube videos per day
Grab YouTube subtitles
Download videos to various formats
Cons:
Can't' download the entire YouTube channel for free
Doesn't support batch download on its free version
Pop up ads on the free version
Top 6. YTD Video Downloader (Windows)
YTD Video Downloader is only available on Windows computers. With a simple interface, it can help you download videos or audio from YouTube as well as other 60+ websites. What's more, you can convert your local video files to MP4 and even cut them on YTD Video Downloader.
But when I am installing this software, the installation window doesn't show completely. Namely, I can't see the installation button with the word. And the option for changing the installation folder is not obvious. Speaking of the functions, you can only download one video on the free version (although you can reinstall it and download another one). For audio download, the free trial doesn't support either.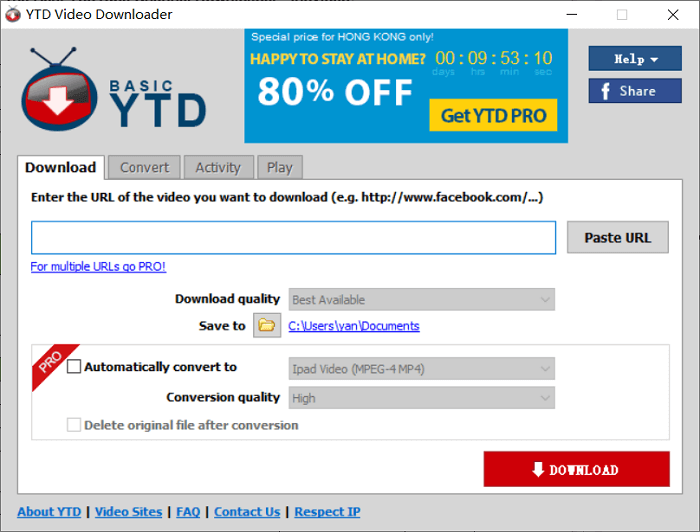 Pros:
Support various output formats such as MP4, MOV, 3GP, WMV, AVI, and MP3
Cut/convert the local videos
Download YouTube channel with high speed
Cons:
Only 1 free download
Can only download 1 video from the playlist for free
Ads pop up when downloading
→ [2022] How to Download a YouTube Playlist Free in Bulk
A Hint on Selecting the YouTube Channel Downloaders
The free version of the YouTube channel downloaders works perfectly for different persons. If you can't decide which one to choose, here is a hint for you.
 
Supported OS
Best for
Rating
Paid version starts at
Inovideo
Mac & Windows
those who want to download an entire channel or tons of videos from YouTube or other websites in 15 days; hate ads
4.9/5
$9.95
MiniTool uTube Downloader
Windows
Windows users who only accept freeware and don't require high-quality audio downloads or downloading videos from other websites
4.8/5
/
VideoHunter
Mac & Windows
those who only accept freeware and don't require HD video downloads
4.8/5
$9.95
iTubeGo
Mac & Windows
those who only want to download 1 entire channel for free
4.7/5
Mac: $12.95
Win: $9.95
4k Video Downloader
Mac & Windows
those who prefer freeware for single video download or are willing to pay for the YouTube channel download
4.6/5
$15
YTD Video Downloader
Windows
those who prefer an all-in-one program to download videos and cut them/convert them to other formats; and are willing to pay
4.6/5
$9.99
Verdict
All the YouTube channel downloaders offer a free version that allows you to enjoy their service without paying before you decide to upgrade them for continual use. MiniTool uTube Downloader is a totally free one and Inovideo is the most user-friendly on the free version that makes a bunch of YouTube channel downloads work stably and fast possible.