YouTube is a video platform that sharing millions of videos created by people all around the world. It also has some particular services for users with different needs. For instance, YouTube allows users to upload videos and set them as private to block strangers from watching it. That means you will be able to upload your videos on YouTube but nobody will watch it.
However, private video causes problem sometimes. Imagine that you want to enjoy a video again and again, but you suddenly realize the uploader has set it as private video, and you never have the chance to watch it again.
In this situation, you really need a method to help you download private videos from YouTube. Now just keep reading the following paragraphs and learn how to do it!
1. Can You Download Private YouTube Videos
It is for sure that you can download the private videos you upload to YouTube. And if you want to download private YouTube video from other uploaders, there are two methods for two different situations. If you are invited to watch a private video from an uploader, you can gain permission from the uploader and then download the private videos of this uploader directly.
However, if you are not permitted to watch and still want to download someone's private videos, you do need the help of the third-party tools.
In the following paragraphs, we are going to show you how to download private videos from YouTube in detail.
2. How to Download Your Own Private YouTube Videos
When you want to transfer the downloaded videos from your old device to a new one, you may consider using a USB flash disk to be the transmitter. But what if you can't find a blank disk for that? You can upload the videos to YouTube first to set them as private, and then open your new PC to log into your YouTube account to download these private videos.
Here are the steps to download your private video:
Step 1. Click "Your Video" on the homepage of YouTube, and see your private video.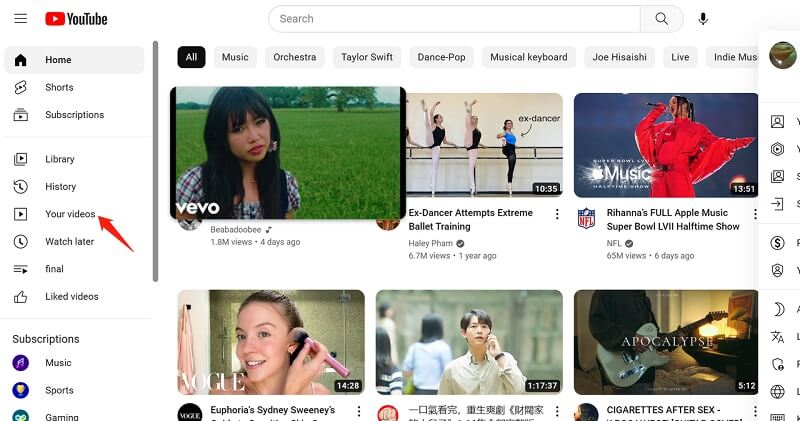 Step 2. You will find your private video is listed on the "Content."" You need to select the video you want to download, and move your cursor to it to select "Download.""
Your private video will be downloaded on your PC several minutes later.
3. How to Download Private YouTube Videos of Others
The method of downloading private videos from other uploaders will be totally different from downloading videos of yourself. You need the help of a third-party tool or program.
Download Private YouTube Videos with Inovideo
Inovideo is created for you to download videos without worries. Having the almighty download functions and the super speed, Inovideo makes the downloading process smooth and time-saving. What's more, it is a user-friendly tool with simple operation. All you need to do is to copy the URL of the private video after gaining permission from uploader, and paste it to Inovideo to download.
What Can Be Done with Inovideo?
✔ Analyze video URL to download it directly
✔ Convert URL to MP3, MP4 and WEMB
✔ Provide free trial permanently
✔ Keep original high-quality video that is ad-free
✔ Download videos at 6x speed
✔ Support butch download

Supported OS:
Mac OS X 10.12 or above; Windows 11/10/8/7/XP (SP3 or below)
After having permission from other uploaders to download their private video, you can convert the URL to mp4 and save it to your PC. Here are the steps.
Step 1. Download Inovideo
Download Inovideo and then install the program on your device.
Step 2. Copy the URL to Inovideo
After installing Inovideo on your PC, copy the URL of the targeted private video, and then paste it to the frame under "Copy and Paste URL here," click "Analyze."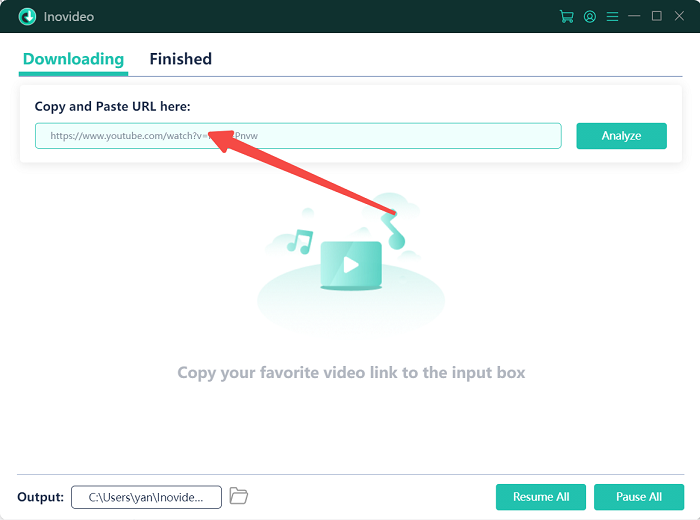 Step 3. Select your output settings
There will be a pop-up window showing different output formats and quality options for you. You can select the output format you want and click the "Download" button to start downloading at 6x speed.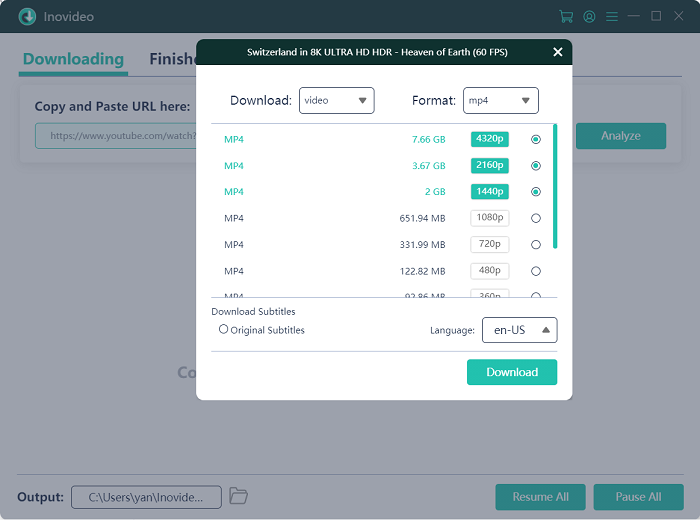 Step 4. Save the video
A few moments later, the video will be saved on your PC. You can click "Open Folder" to see the file and open the video to enjoy.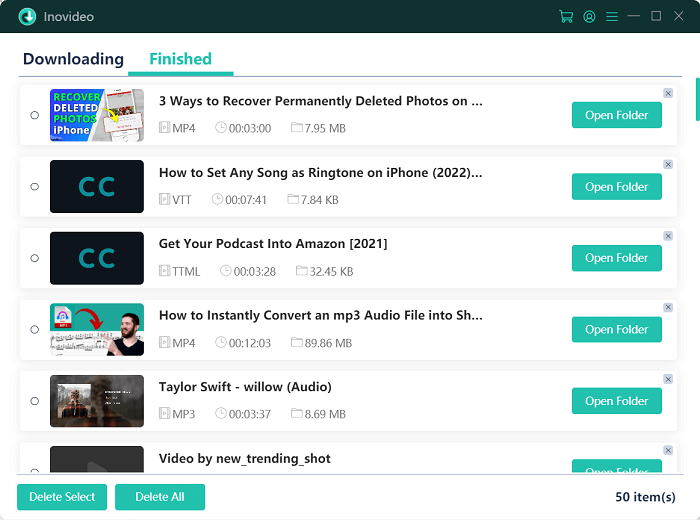 Download Private YouTube Videos with a Developer Tool
If you don't want to install a third-party tool to download the video, here is a Firefox developer tool for you. The method is a little bit complex, since you need to find the hidden URL of the video.
Step 1. Open the web page of the private video, and right click the page to select "inspect element". Then choose network→media→Headers, and copy the URL behind the "POST.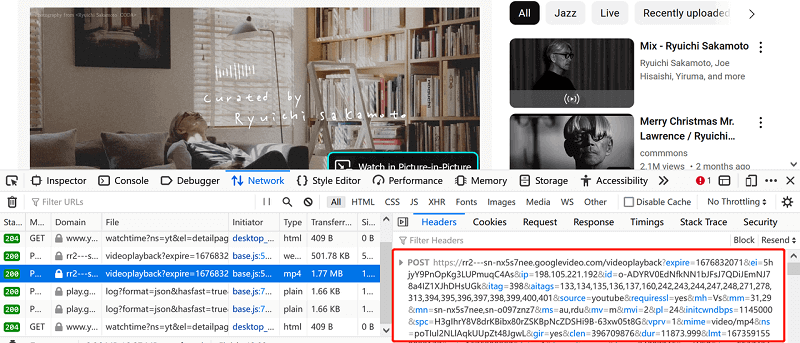 Step 2. Paste the URL to the browser, and delete the range parameter. After that, press "Enter" to start to play the video.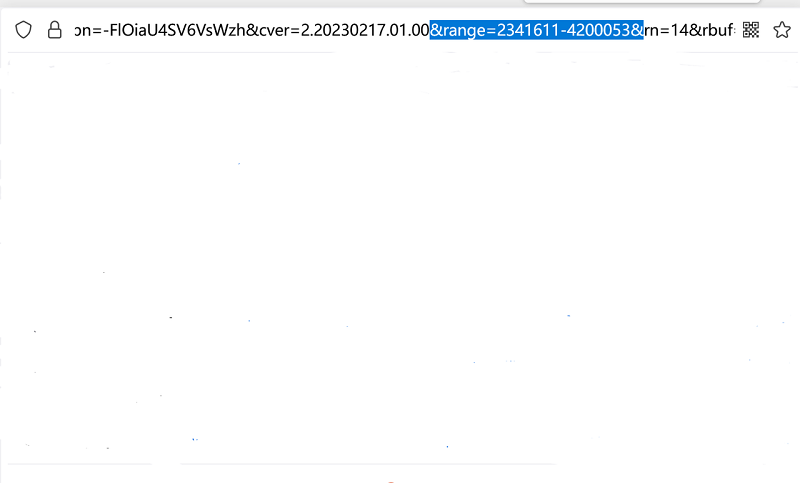 Step 3. Right click at the video, and select "Save Video As" to save the private video on your PC.
This method would be a convenient one for you if you are familiar with Firefox browser, or it would take you so much time to figure out the process.
Download Private YouTube Videos with Firefox Extension
There is an easier method for downloading video using Firefox browser. Video Downloader Professional is a Firefox Extension for saving videos on your PC. Using this extension, you will be able to save the video in a simpler way.
Now you can follow the instructions below to conduct.
Step 1. Start to play the YouTube private video you want to download.
Step 2. Click on the puzzle-like icon, and then select Video Downloader Professional.
Step 3. You will see a list of videos, and just choose the one you want and download it.
You will be bothered by the slow network speed when you use the above two methods relate to Firefox. By the way, the Firefox extension allows you to download 720P video only.
But if you use Inovideo, you can enjoy fast download speed as well as high-quality videos. It can make your downloading effortless. There is no doubt that Inovideo should be the best choice compared with other tools.
4. FAQs on Downloading Private Youtube Videos
There are still many detailed problems when you start downloading private YouTube videos. And sometimes you have special requirements for the downloaded video. Here we will show you what to do when it deals with these particular conditions.
Can I Download Private Youtube Videos of Others Without URL?
Imagine that you have put a video into your bookmark. However, some day you'll find it becomes a private video and it disappears on the playlist. Under this circumstance, you can download the whole playlist to get the private video embodied in it. Here are the steps.
Step 1. Copy the URL of the playlist and paste it to Inovideo
Step 2. Click "Analyze." At this moment, Inovideo will recognize the URL of playlist, and show you a warning window: do you want to download the whole playlist or a single video? Select "Playlist" to continue.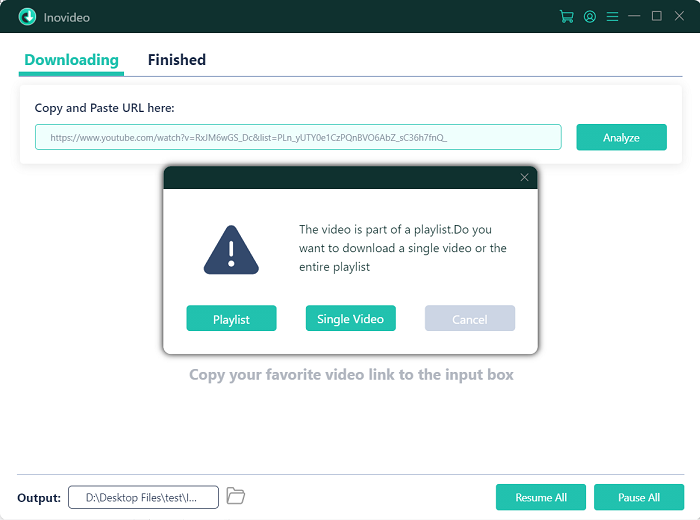 Step 3. Now the conversion begins. Before that, you can select the output formats and quality for your videos. Once you have finished this step, press "Download" to start downloading the videos.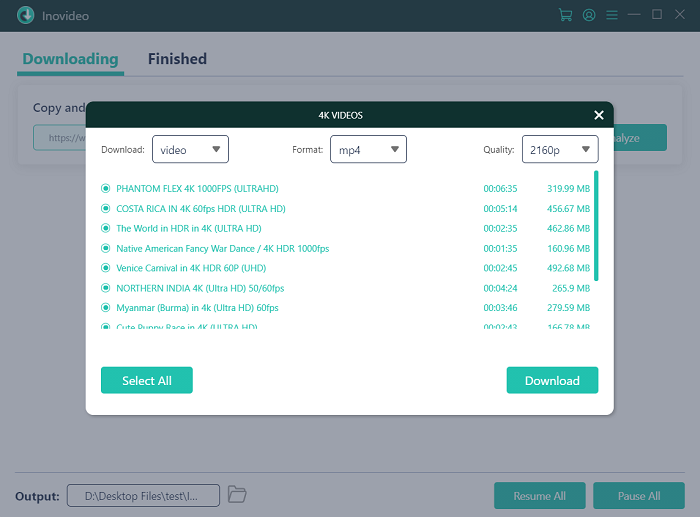 How to Download Private YouTube Videos with Soft Subtitles?
You can download subtitles from YouTube first, and then save them to VTT, TTML, SRV. First of all, you need to finish the following setting: click the gear icon, select "General," and then tick the first two options. After that, save your setting and do the next steps.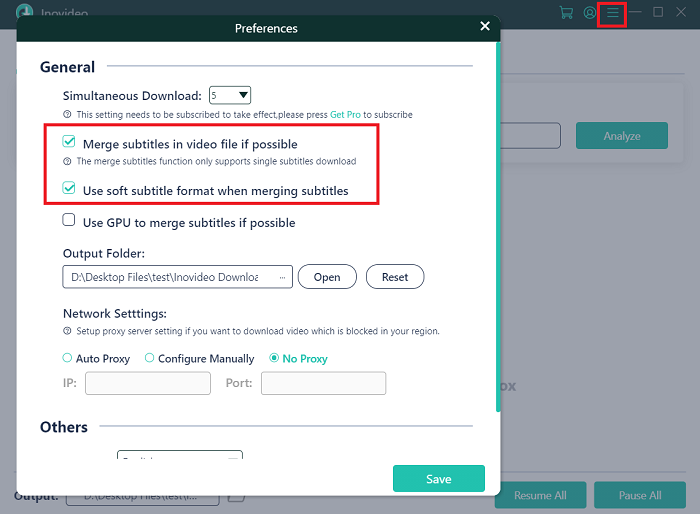 Step 1. Go to the page where you want to download subtitles from, copy the link and paste to Inovideo.
Step 2. Click on "Analyze" to continue.
Step 3. After analyzing the video, Inovideo will ask you to choose to download subtitles and select the language. Just make your decision and click "Download" to finish downloading subtitles from YouTube.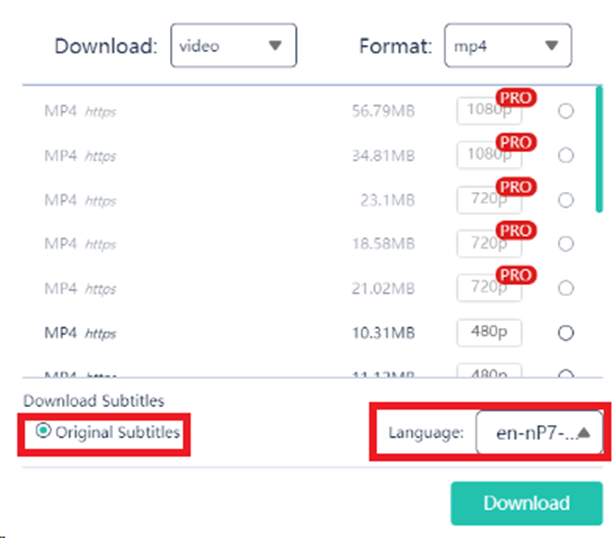 Conclusion
After presenting all the private video download methods, there is no doubt that Inovideo will be your first choice. It is easy to use, and its lossless output quality, fast downloading speed, and multiple functions satisfy your needs. Finally, it provides free-trail. No time to waste now, please install Inovideo on your device and enjoy a wonderful downloading journey!