"I found a funny video clip on YouTube and want to put it on TikTok. How can I process it when YouTube doesn't provide me a direct function to download the YouTube video offline?"
Although YouTube provides the share feature to enable users directly repost or embed the YouTube videos on social media platforms or websites, it brings no way to download them offline to put directly out the YouTube videos out there, like on TikTok.
If you are also finding a way to put YouTube videos on TikTok directly, then you are in the right place. This blog will guide you on how to put YouTube videos on TikTok. There is also a small trick to putting YouTube channel videos as your TikTok profile. Now, check how they will work.
1. How to Put a YouTube Video on TikTok? (Easy & Free)
When discovering a YouTube video that you desire to put on TikTok for sharing, you are required to download it to a supported format such as MP4, which is supported by TikTok at first, then it is more convenient to upload it to TikTok. Hence, let's first go through the process to download YouTube videos offline in MP4.
Section 1. Download YouTube Video
As there are various YouTube downloaders provided on the market, making it hard to pick the best option, here directly recommends a professional YouTube video downloader, Inovideo to you.
Inovideo empowers powerful functionality in downloading YouTube videos, with the ability to output them at the best resolutions, from HD 1080p to the highest 8K optionally. For saving both users' time and effort, Inovideo also embeds an embedded hardware acceleration to boost faster YouTube video download speed, meanwhile, enabling users to process the batch download to save multiple tasks offline simultaneously.
Thus, Inovideo is considered the most time-saving but quality-guaranteed YouTube video downloader if you don't want to waste much time getting the YouTube videos downloaded before putting them on TikTok.
Inovideo YouTube Video Downloader
High resolutions such as 1080p, 4K, 8K are supported to download YouTube videos;
Auto-merging subtitles to multi-language videos are available;
Compatible with YouTube playlists, channels, subtitle files download as well;
Hassle-free and fast speed to download YouTube hour-long videos within minutes;
Batch process YouTube video download to save time;
Ads-free and malware-free in-app environment.
Now, let's directly go on to see how to put YouTube videos on TikTok with the help of Inovideo.
>>

STEP 1. Copy YouTube Video URL
When you have discovered a YouTube video on the platform and desire to download it for putting to TikTok, open its playback window and copy the URL from the address bar.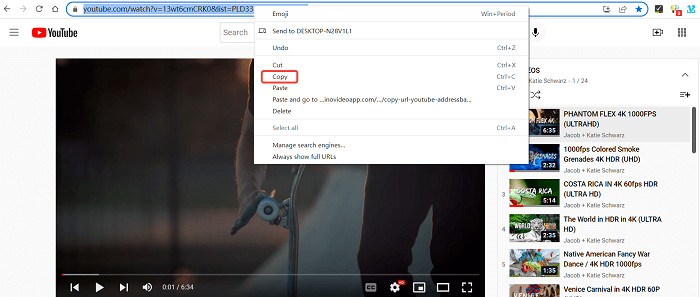 >>

STEP 2. Paste URL to Inovideo and Convert
Then, as you get the copied YouTube video URL, launch Inovideo and directly paste it to the frame bar. Also, you should hit the "Analyze" icon beside the bar to convert the YouTube video right away.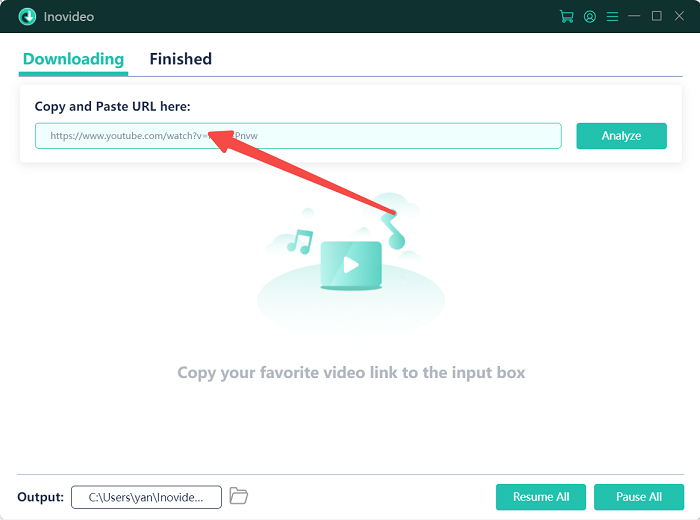 >>

STEP 3. Download YouTube Video to MP4
When Inovideo completes the URL analysis, you will get optional choices to output the YouTube video. Now, just select "MP4" or "WebM" format (both of them are supported by TikTok) and choose the quality you like. Then by clicking the "Download" icon to download the YouTube video in MP4 directly.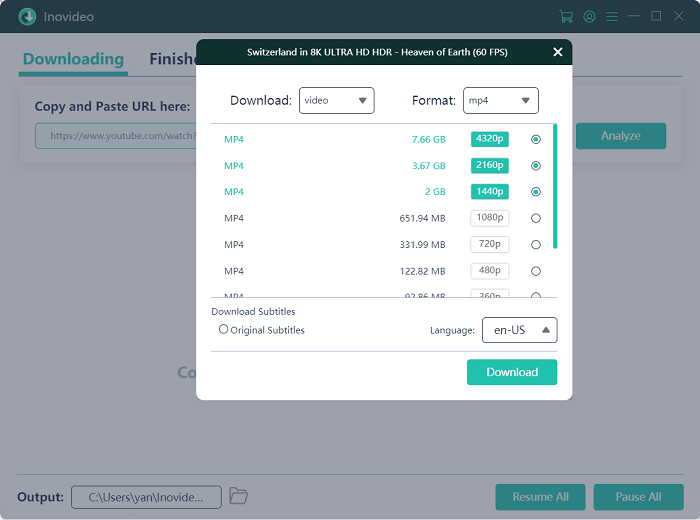 Section 2. Post YouTube Video to TikTok
After processing the YouTube video download via Inovideo on a desktop, the easiest way to post them to TikTok is by navigating to the TikTok website and logging in to your account and directly uploading them. Now, see the following brief guide to check the steps to post YouTube video to TikTok on your computer:
STEP 1 In your browser, go to TikTok and log in to your account.
STEP 2 By clicking the "Upload" icon on the navigation bar, then you will be navigated to the "Upload video" window to start the TikTok video posting process.

STEP 3 Now, hit the "Select File" button to select the downloaded YouTube video on your desktop, then customize the caption, cover, and other settings of it.
STEP 4 Finally, give a click on the "Post" button to confirm uploading the YouTube video on TikTok directly.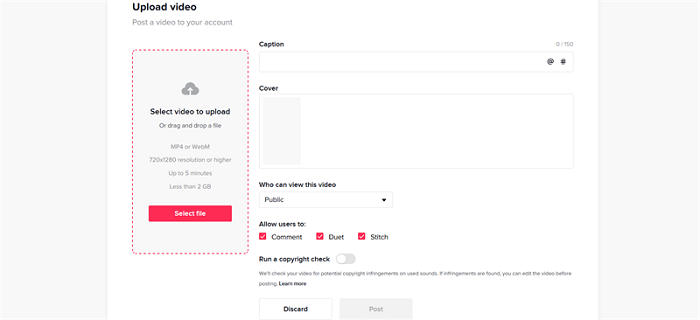 2. How to Put YouTube Channel with Videos on TikTok?
In addition to the way of putting YouTube videos on TikTok, here also has tricky access enabling you to make a YouTube channel with videos as your TikTok profile, thus helping you to move videos from the YouTube channel to TikTok. Now, see how TikTok makes this a simple thing to do:
STEP 1 Launch the TikTok app on a mobile device, then also log in to your account to open the profile page.
STEP 2 Now, you should click the "Edit Profile" button and select "YouTube" at the bottom.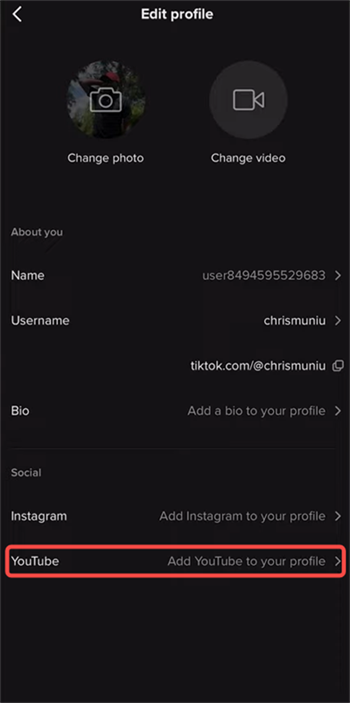 STEP 3 You will be asked to log in to your YouTube account for authorizing TikTok to access your channel. Once this is done, the videos from your YouTube channel will be listed on your TikTok profile.
3. FAQs on Putting YouTube Videos on TikTok
Q1. How to Upload YouTube Video on TikTok Without Copyright Infringement?
A: To avoid copyright infringement because of downloading or uploading YouTube videos, you'd better gain permission from the original authors before posting them on TikTok if you are not sure whether the videos are available to repost or not.
Q2. Can You Post a YouTube Clip on TikTok?
A: Absolutely yes. Once you have downloaded YouTube videos offline, you are able to trim the YouTube video using extra video cutting tools such as the Video Cutter Ultimate to cut out the YouTube clip you prefer to share. Then, save the YouTube clip and you are able to directly post it on TikTok.
When you have Inovideo in hand, downloading YouTube videos is not a difficult task at all. Even for other 1,000+ video sharing sites, you are able to download videos from them and put them on TikTok for sharing in original quality. Now, freely install Inovideo and use it to download YouTube videos for posting on TikTok without paying a penny at all.