Facebook, which has rebranded as Meta, is an online social media for people all around the world. There are plenty of amazing or personal videos on this platform. Sometimes you may want to download videos from Facebook to your computer, but we know that Facebook doesn't offer the download button to enable you to do that directly. It's easy to accomplish it nowadays actually. And in this post, I am going to show you 4 methods to download them on PC and a bonus tip to download videos from Facebook on phones.
1. How to Download Video from Facebook to Computer (Safe & Free)
To download Facebook videos on Mac or Windows, you can use a Facebook video downloader. Here, we would like to recommend Inovideo. It's an amazing desktop video downloader to help you grab public or private videos from Facebook and other 1000+ famous websites, including Facebook, YouTube, TikTok, Vimeo, Twitter, etc. to MP4/WebM of original quality.
The clear user interface makes you can hold the operation of the program with ease. Depending on the advanced download technology, you can not only download videos with fast download speed but also you are allowed to download multiple resolutions of videos. With this versatile tool, you can also:
Download private Facebook videos without account login;
Extract MP3 from Facebook videos and download them;
Rip subtitles from websites like YouTube, CNN or merge them into the videos;
Batch download online videos
Next, we will show you a simple guide on how to download Facebook video to computer. You can free download Inovideo and follow the steps now.
Step 1. Copy the Facebook Video URL
Open the Facebook video web page on your browser. Click the three dots on the upper right corner above the video, or click the share button under the video, then hit "Copy link".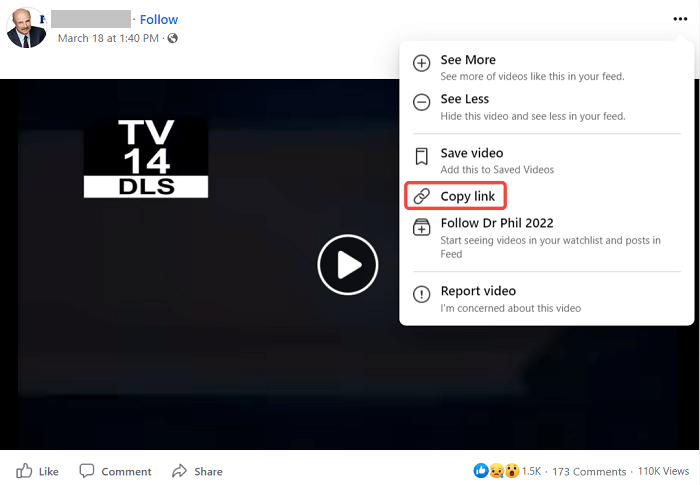 Step 2. Paste the Facebook Video URL
Launch Inovideo and paste the URL you copied to its search box. Then hit the Analyze button on the right.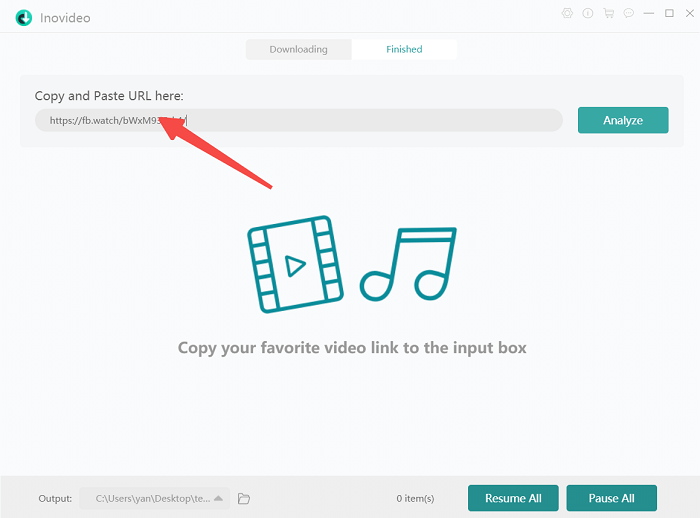 Step 3. Download Video off Facebook
When the analysis is done, you can see a pop-up window. You can directly click Download to save the video to your computer as Inovideo defaults downloading Facebook videos of their best quality.
If you want to convert the video to MP3, change ethe video type from "video " to "audio " then hit the download button.

2. How to Rip Facebook Video to Computer with Inspect Element?
If you just want to download a simple video off Facebook but are not willing to download software, you can still try using the Inspect Element to rip the video. This method is like hacking your browser and it's safe to do so and works on both Mac and Windows computers. Normally, you can try this on a Chrome browser or a Firefox browser.
It may sound difficult for newbies but I will make it clear with steps:
Step 1 Launch the Chrome or Firefox browser on your computer.
Step 2 Log in to Facebook with your account.
Step 3 Navigate to the video you wish to download and open it.
Step 4 Head to the browser address bar. Change the "www " to "mobile " and hit enter and you will see the same video on the page.
Step 5 Hit "Ctrl + Shift + i " (on Mac it should be "Command +Shift + i ") shortcut and you will see the Elements.
Step 6 Now on the developer tool, hit the "Network " option, then "Media ".
Step 7 Press the "F5 " key to refresh the video and you will see a title under "Name ".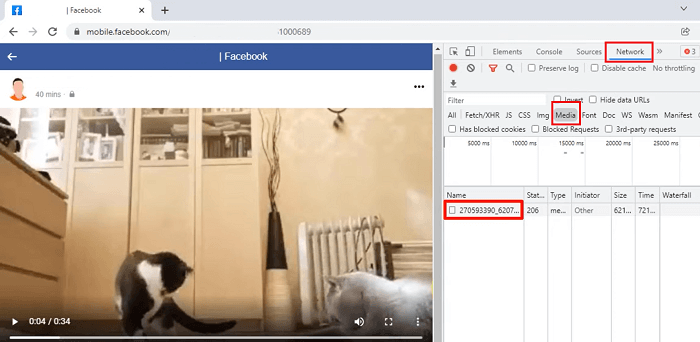 Step 8 Right-click on the title and open it in a new tab. Then you will see the video in this tab. Click on the three dots at the bottom right and you can save it to your computer downloads folder.
3. How to Save Facebook Videos to Computer with Online Tool?
You may find using Inspect Element complicated and still want to use a much easier tool. In this case, you can take online Facebook video downloaders into consideration. SnapSave is a famous one that helps people download public or private Facebook videos. It's easy to use and supports downloading videos in HD quality.
Tip:
There are tons of ads on SnapSave and you will be redirected to its ad site when you click on the download button. It's a risk to your computer to use this online downloader. And it's complicated to download a private on it.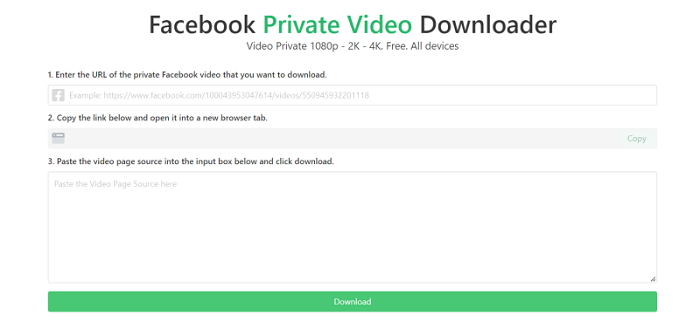 Here I am going to show you how to use SnapSave to download a Facebook video to your computer.
Step 1 Copy the video link from your mobile app or copy the link from the share button of the video on Facebook you want to download.
Step 2 Paste the link to the search bar on SnapSave and hit the download button.
Step 3 After the parsing, you will see multiple quality options for the video. You can select the one you prefer and click the download button on the right.
4. How to Download Facebook Video to Computer with Extension?
Video Downloader For FB is a Chrome extension that helps you download Facebook videos easily after you install it on your computer browser. When it's launched successfully, every time you are watching a video on the Facebook website, you can see the download button appear on the upper right of the video. It provides SD and HD output quality and you can choose the one you need to download.
Tip:
It's said to be adware and might change your default search engine. Make sure you trust it before you install this extension.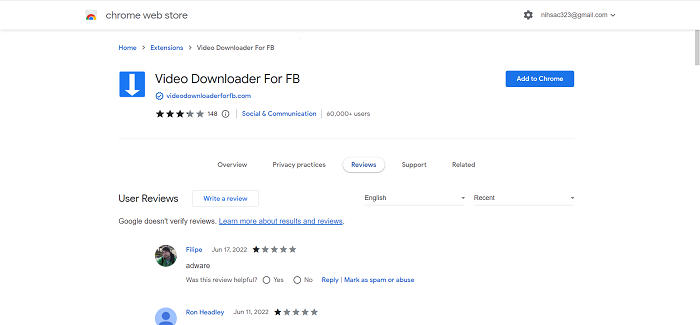 Here's how to use this extension to download Facebook videos:
Step 1 Open your Chrome and install Video Downloader for FB.
Step 2 Browse the Facebook website and navigate to the video you want to download.
Step 3 Move your mouse cursor over that video and you will see the "Download SD " option and "Download HD " button.
Step 4 Click on the one you need and you will get the video downloaded.
5. Bonus Tip: How to Save Facebook Videos to Mobile Phone?
You can download Facebook videos to iPhone or Android phones without any app. This is much safer than using an online downloader but it's more complicated than using Inovideo. And you can't download others' private Facebook videos using this method as you need to log in to your Facebook account to download the videos on your mobile phone.
Step 1 Click the three dots above the video, then select "Copy link ".
Step 2 Move to your phone browser and paste the URL to the address bar. If you haven't logged in to your account, you will be asked to do that first. Just follow that guideline.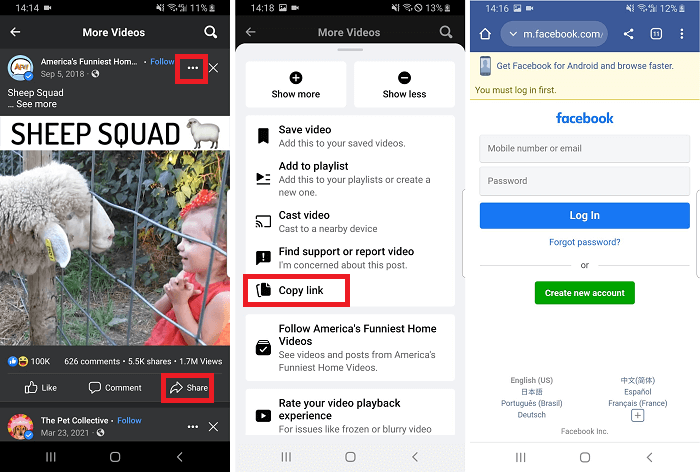 Step 3 After you log in to Facebook on your browser, click on the three dots on the top right corner next to the video owner's name; then click "copy link ".
Step 4 Add a new tab on your browser and fill the address bar with the link you copied from the browser. Replace the "www " with "mbasic ", then tap "Go " on your keyboard.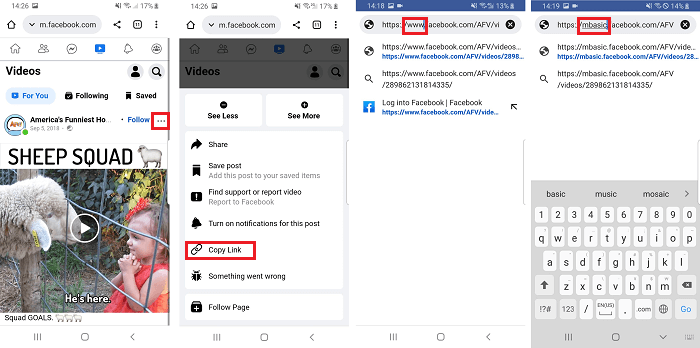 Step 5 You will see another version of Facebook here. Tap the video, then the three dots at the bottom right corner. Click the download button and you can save the Facebook video to your mobile phone.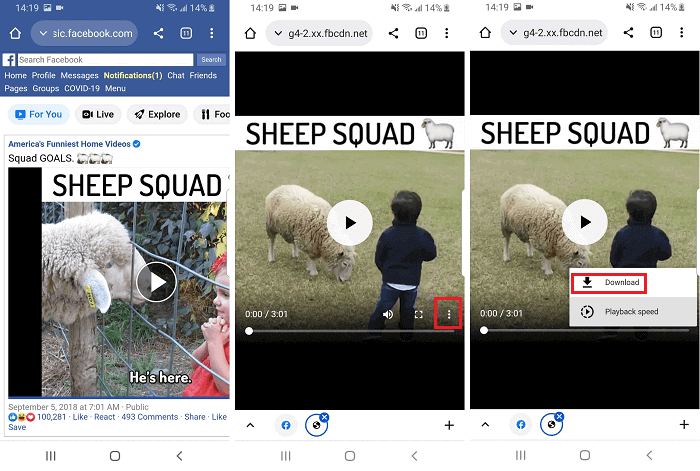 Also download videos from: Reddit | OK.ru | Twitter | Tumblr | Instagram
6. FAQs About Downloading Facebook Videos
Can You Download Private Facebook Videos?
Yes. To save a private Facebook video, you will need Inovideo as well. Not only is it a public video ripper, but also it's a private Facebook video downloader. You can grab them easily without any Facebook account logging in. Just put the video link onto the search box of Inovideo and hit the analyze button. Then download it.
How to Download Facebook Live Video to Computer?
You can easily get Facebook live videos of your own downloaded. Go to the Facebook website and log in to it with your account. Go to "Videos " and click on the live video you want to download. Click on the three dots on the top right corner and hit "Download Video ".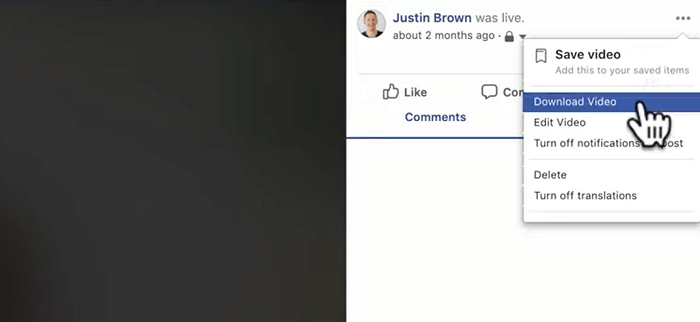 If you are to download a Facebook live video from others, you can use Inovideo and copy the video link to it and get the video downloaded.
Inovideo V.S. Online Facebook Video Downloader, Which Is Better?
Inovideo requires you to download the app and install it on your computer. But it can download videos from tons of websites such as Facebook, YouTube, TikTok, Instagram, and other popular ones.
Online downloaders allow you to rip Facebook videos online for free. It's true that it's handy but they don't work stably for long Facebook videos or private video downloads.
Worse, your computer may be in danger when you are doing that. Tons of ads are there on the online Facebook video downloaders, you may happen to click on them and be taken to an unknown website or download malware or virus unexpectedly. Therefore, a desktop video downloader is always a better choice.
Therefore, I vote for Inovideo.
Conclusion
Inovideo is an excellent Facebook video downloader that can help you free download public or private videos as well as those are only shared with friends from Facebook. Besides, you can use this software to batch download MP4 or MP3 from other 1000+ websites such as YouTube, Pornhub, and so on.