For video fans, spending quality time in the company of their favorite videos is an utter relish. However, things become annoying when you suffer from troubles, for instance, a network outage. Still remember the network delay encountered last time when you were caught in the middle of your favorite YouTube play? It was sheer torture! In case of such a killjoy, a YouTube channel downloader is needed for your best experience as a spectator.
The best YouTube channel downloader allows you to download and save your favorite videos offline for free. In this post, there will be 3 practical ways provided for you to download YouTube channels, including downloading a single YouTube video, or moreover, downloading all videos from YouTube channels. If you want to know "how do I download videos from youtube", please scroll down and continue to read.
How to Download All Videos from a YouTube Channel to MP4/MP3 [in Batches]
Inovideo is the best choice for you. As a reliable and powerful YouTube channel downloader for both Windows and Mac, it plays a professional role in downloading single YouTube videos, YouTube channels in batches, or playlists even the subtitles in a single click. With a user-friendly operating interface, even a novice could handle the download process without striking a blowing. More surprisingly, with this versatile app, you can also enjoy its wonderful features:
Free of charge
Download YouTube to MP4, MP3, and WebM at a high speed
Video quality up to 4k, 8k; the audio's up to 320kbps
Entire YouTube playlist, channel download with one URL
Download in batches
Private/restricted playlists/channels download without account login
Available for popular websites such as YouTube, Facebook, Instagram, Pornhub, and so on
Download or merge YouTube subtitles
Free of ads or software watermarks
…
Now let's see how it works to download all videos from YouTube channels on your device.
Step 1. Download and install Inovideo
To get started, click on the download button above to download and install this YouTube channel downloader. Then launch it.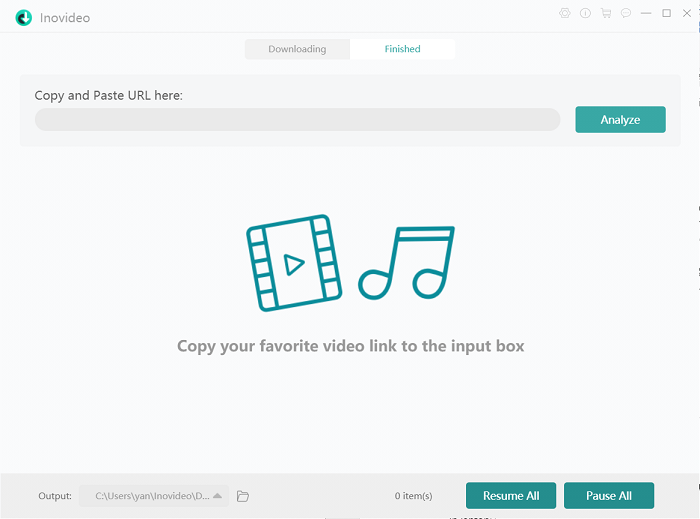 Step 2. Copy the URL of the YouTube channel
Log on to YouTube and open your favorite channel page, right-click on the browser address bar to copy the URL.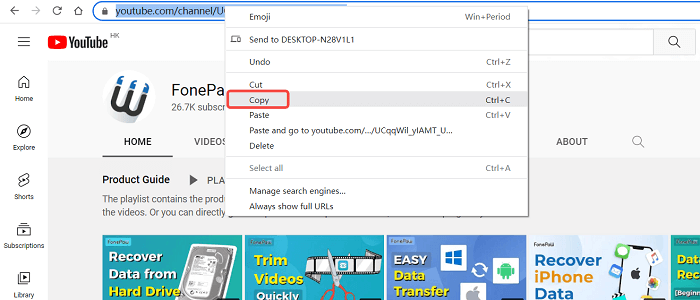 Step 3. Paste the YouTube channel URL into the download box
Turn back to Inovideo and fill the download box with the URL. Click on the "Analyze" button on the right. After that, there will be a pop-up window showing all the playlists from the target channel. Choose the options, then hit the "Analyze" button down on the pop-up, and the "Playlist" button once the channel is analyzed.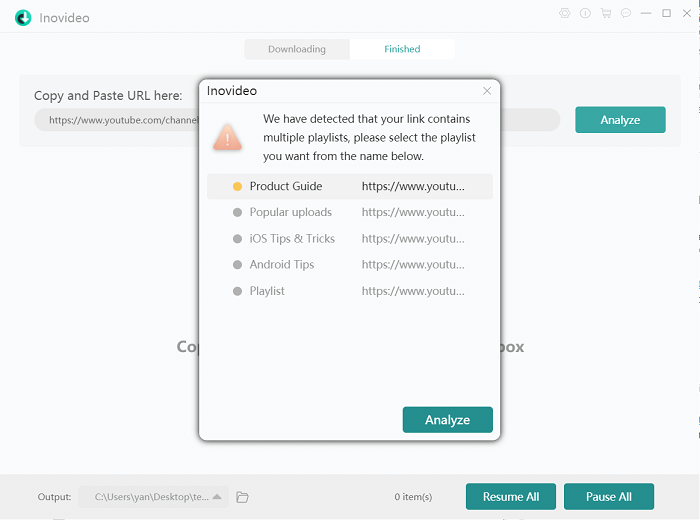 Step 4. YouTube channel download
You can see a new pop-up window once the analysis has been successfully done. You can choose to download all videos from the YouTube channel, or some of them. When it comes to the download option, besides video to MP4, audio to MP3 is easy with the conversion from "video" to "audio". You can choose the quality based on your needs. Then hit the "Download" button to continue.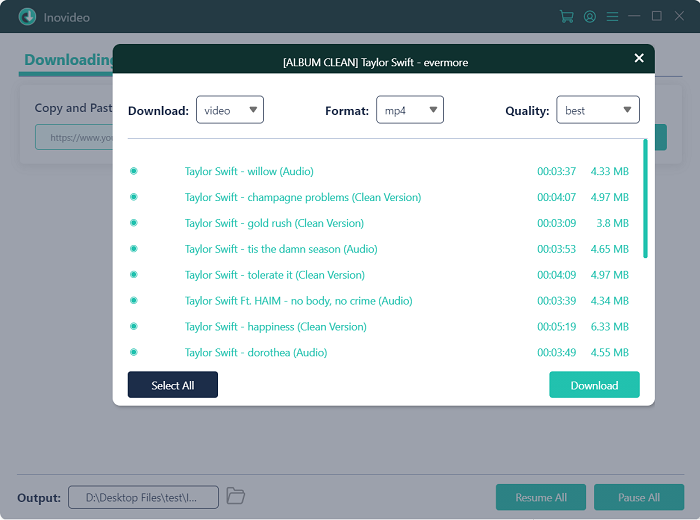 Step 5 Check and enjoy your downloads
When the YouTube batch download is finished, you can check and enjoy your high-quality YouTube channel download on the "Finished" tab.
How to Download All YouTube Videos from a Channel Online?
If you find it troublesome to download and launch an app, perhaps an online YouTube channel downloader is right for you. As an online downloader, YouTube Multi Downloader is a tool marked by free-premium, free ads and user security, compared with other online downloaders such as Y2Mate and SaveFrom.
Nonetheless, when it comes to the quality, the maximum quality of videos it supports is no more than 720p; if you are about to download videos above 1080p, only no-audio ones are available. More annoyingly, there is no one-click operation for YouTube channel download. You have to download all videos from YouTube channels with the tiresome repeating click-download-click operation.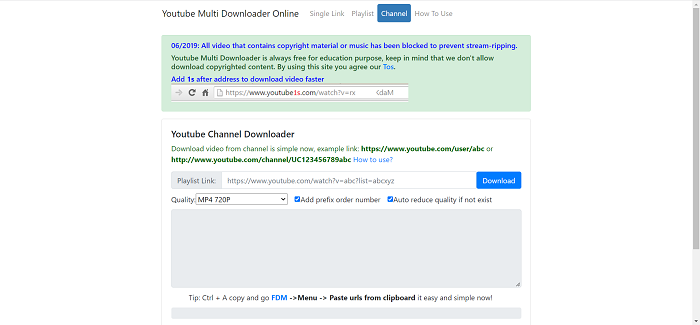 But still, it is a good choice for downloading just a small number of videos from YouTube channels. Here is the tutorial on downloading all videos from YouTube channels using YouTube Multi Downloader.
Step 1 Copy the URL of the YouTube channel you want to download.
Step 2 Open YouTube Multi Downloader and select the quality and format based on your needs.
Step 3 Paste the URL you previously copied into the bar next to Playlist Link, then hit the "Download" button. After the automatic parse of the URL, this online YouTube channel downloader will show you a list of videos on the YouTube channel.
Step 4 Download the video via:
Right-click the button like MP4 720 under Download;
Roll down and selecting the Save link as … option;
Choose a file to save them and then hit the Save button;
Step 5 Repeat the operation in the previous step until all videos from YouTube channels are downloaded.
Tip:
We can see from the steps mentioned above that this online YouTube channel downloader allows no YouTube batch download, which is appropriate for downloading a small number of videos.
How to Download Entire YouTube Channel with Youtube-DL?
Of course, you can also run a command via Command Prompt to download all videos from YouTube channels, apart from Inovideo and YouTube Multi Downloader.
As a Python-based command-line downloader manager available for Windows and Mac, YouTube-DL is accessible for YouTube channel download and video download from other websites such as Facebook, Instagram, and Bilibili. As for the video quality, it can provide downloads up to 1080p, a high-quality relish.
However, this YouTube channel downloader is more complicated to operate, compared with the previous 2 ways, for its cumbersome installation procedure, which is quite not friendly for a novice to download. What's worse, the downloadable format is restricted to MP4, making it less competitive compared with other YouTube channel downloaders.
If you plan to continue, here comes the guidance of downloading all videos from YouTube channels with the help of YouTube-DL.
Step 1 To start using youtube-dl, you need to head to Github and search for "youtube-dl.exe". Click it to download it.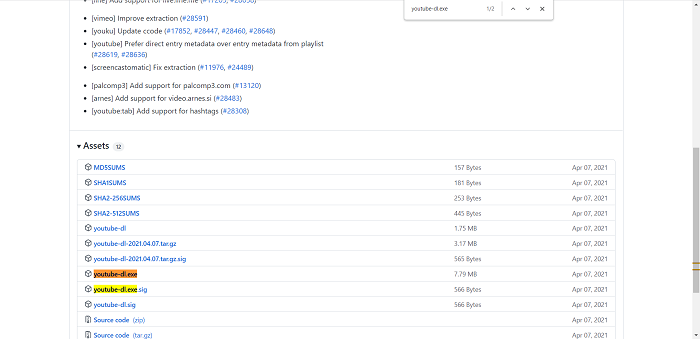 Step 2 Create a folder in the location where you want to place the youtube-dl.exe and drag the file into it.
Step 3 Press "Windows+ R" and type "systempropertiesadvanced". Then hit "Enter".
Step 4 Click Environment Variables down the System Properties window.
Step 5 Double-click the Path, a variable name in the User variables for [the user's name] section or the System variables one.
Step 6 On the Edit environment variable window, click the "New" button and type the location of the folder where you placed the youtube-dl.exe file. After that, hit the "OK" button to save your setting.
Step 7 Navigate to the YouTube channel you want to download and copy its URL from the browser address bar.
Step 8 Open Command Prompt by pressing "Windows+R"; then type CMD in the Run dialog box and hit the Enter key.
Step 9 When the Command Prompt window pops up, type the youtube-dl command, hit the space bar, and press Ctrl + V to paste the copied URL. Then hit the Enter key.
Step 10 After the automatic parse and download process conducted by the YouTube-DL, you can go to File Explorer to find the User folder. Double-click the username folder to check and enjoy your YouTube channel downloads.
Tip:
By default, the YouTube-DL will download the best available format for your video, which may not meet your needs. You can apply a video converter it into other formats based on your own requirements.
Verdict
This post provides users with 3 practical ways to download all videos from YouTube channels, among which I think the best one is Inovideo, for it is the most powerful, simplest-operated and user-friendliest YouTube channel downloader compared with the other two. So next time you are struggling with problems like "how do I download videos from YouTube", Inovideo will be a big hand for you.
Also Free Download Videos from: