Vimeo plus members have the tools to enable or disable videos for download. That's why there is no download button in some of the videos. If the owner deletes the videos, you cannot watch them anymore. If you don't want to miss them, you can download these Vimeo videos on your computer. Here I will share two best Vimeo video downloaders for you to download Vimeo videos within clicks.
Note: If you're going to make a copy of a video on Vimeo, be aware of the creator's stance.
Recommended - Download Vimeo Videos within Clicks
VideoSolo Inovideo is such a convenient application that enables you to download Vimeo videos with fast speed and in batches. Incredible quality can be chosen like UHD, FHD and HD. What you need to do is to copy & paste video link. What's more, it provides various video/audio formats for users to choose. It's a versatile video downloader that can also download videos from YouTube, Dailymotion, Nico Nico, Pornhuband so on.
Here's the step-by-step tutorial on how to download Vimeo video.
Step 1. Launch Vimeo Video Downloader
To get started, install VideoSolo Inovideo and please make sure you have downloaded the right version (Windows or Mac). Then open it on your computer.
Step 2. Copy the Vimeo Video Link
Go to the specific page on Vimeo that contains the video you want to save. Copy the link from the address bar on the top of the page.
Step 3. Fill the Vimeo Link to the Download Box
Fill the Vimeo video link to the URL box. You can change the output location to a place you want from the left bottom for better management. Then click on "Analyze" button.
Step 4. Choose the Resolution and Save the Video
If the analysis done properly, a new window will pop up. Now you can choose the quality and format (MP4/MP3) you want. Click "Download" and it will start to download videos from Vimeo to your computer.
Now you can watch Vimeo videos offline wherever you want, even the owner deleted the Vimeo video. In the meantime, if you want to watch them on your iPhone/Android or other devices, just transfer them from your computer to the portable device.
Extra Tips - How to Download Vimeo Videos without Software
In this part, I will introduce a Chrome extension to download Vimeo video. It means you don't need to download a program. This extension can help you download Vimeo videos in different video quality for free.
But you need to notice that this free Vimeo downloader doesn't support high video quality like 4K and high audio quality like 320kbps. It means you cannot enjoy the original quality of the Vimeo video. But if you don't have high requirement on video/audio quality, this extension is one of your choice. This program doesn't support to choose video/audio format.
Here is the tutorial of using Video Downloader for Vimeo:
a. Add this Chrome extension to your browser.
b. Go to Vimeo and open the video you want to download.
c. Click the downloader icon on the top right and you can see a list that contains the videos on the page.
d. Scroll down the list and find the video you want to download. Tap on the blue download button to download Vimeo video.
Sometimes, the downloaded Vimeo video needs a special decoder to play back.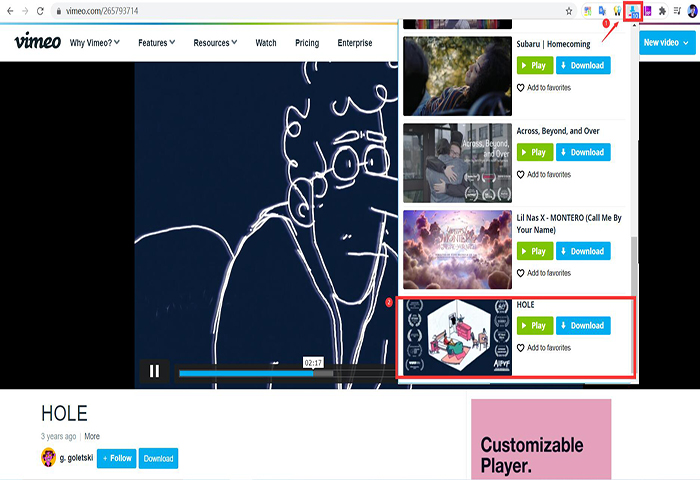 Verdict
These two Vimeo video downloaders help a lot in downloading Vimeo video. They have their own advantages in performance. You can choose one according to your need. But if you have higher video/audio video quality, VideoSolo Inovideo performs better than the Chrome extension. It's also easier to use. What's more, Inovideo can download video from over 1000+ video websites. It's worth trying.