You may have known how to download a simple YouTube video online. But most of the downloaders can only help you download it to MP4 in 1080P and some only support downloading YouTube videos in FHD without sound. This is not what you want.
Luckily, there are also some services that sincerely offer downloading tools. Here we will share the best 4K video downloader Inovideo for you. Different from those online downloaders, it is a desktop video downloader with full functions, stable and safe operation, and helps you download YouTube videos in 4K or even 8K. Let's learn more about it in the following and get to know how to download 4K videos from online websites.
How to Download YouTube Videos in 4K Even in 8K?
Inovideo is an amazing desktop 4k video downloader for Mac and Windows to download online videos from 1000+ websites. It can not only download videos in 4K resolution, but also allows you to download videos in 8K, 1080P, 720P, and more resolutions.
Besides, you can even extract the audios with multiple audio qualities from the videos. With the advanced downloading technology, you can make a batch download with a fast download speed. Another point feature is its main interface, it is designed to be clear, clean, and easy to use, you would not see any advertisement on the program.
Inovideo 4K Video Downloader
✔ Batch download videos from 1000+ websites
✔ Save MP4, WebM up to 8K, 4K, 1080P, 720P, 480P
✔ Extract MP3 up to 320kbps
✔ Grab Private/blocked videos
✔ Rip the playlist, channel, subtitle, etc. if any
✔ Merge subtitle into video if any
✔ Download files freely and safely at a fast speed

Supported OS:
Mac OS X 10.12 or above; Windows 11/10/8/7/XP (SP3 or below)
Video Introduction of Inovideo
Here we will take how to download 4K videos from YouTube and download the entire 4K YouTube playlist as an example and walk you through each step needed.
Section 1. Download Single 4K YouTube Video at a Fast Speed
You can download any video easily on Inovideo. Besides YouTube, you can also download videos from Instagram, Facebook, TikTok, or other websites without watermark. The operation is similar and here's how:
>>

Step 1. Go to a Video Webpage and Copy Video URL
Go to the video webpage you want to download from YouTube. Select the link on the address bar, right-click on it, and select the "Copy" option to copy the video URL. Or right-click on the video and copy the video URL.
Kindly note that the original video should be in 4K or over 4K resolution so that you can download a 4K video.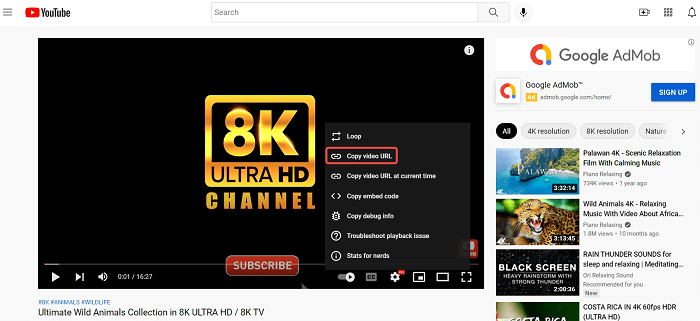 >>

Step 2. Paste 4K Video URL
Download and launch Inovideo on your desktop, paste the video URL on the input box. To grab the video from the website, click the "Analyze" button.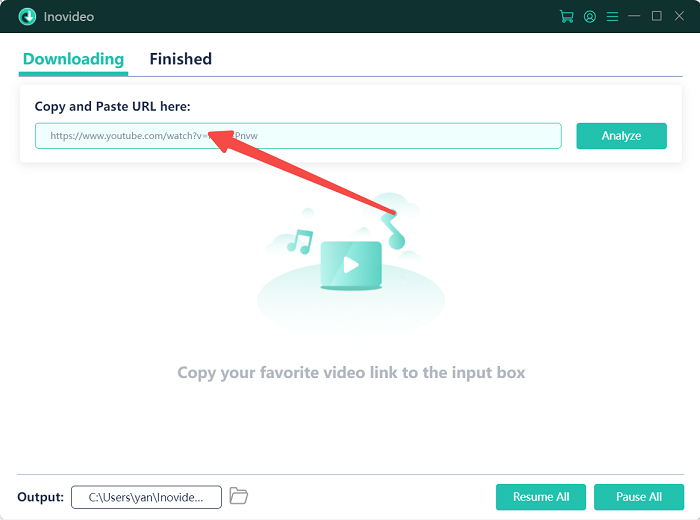 >>

Step 3. Download 4K YouTube Video
After grabbing the video, there will be a pop-up window with output format selections. You just need to choose one format and click the "Download" button to download the video.
Depending on the original video, the selections would offer 4K, 8K, 1080P, 720P, or other resolutions. You can download the video to MP4 or WebM, and you can even download the subtitles if any. All videos downloaded on Inovideo will be with the original audio track.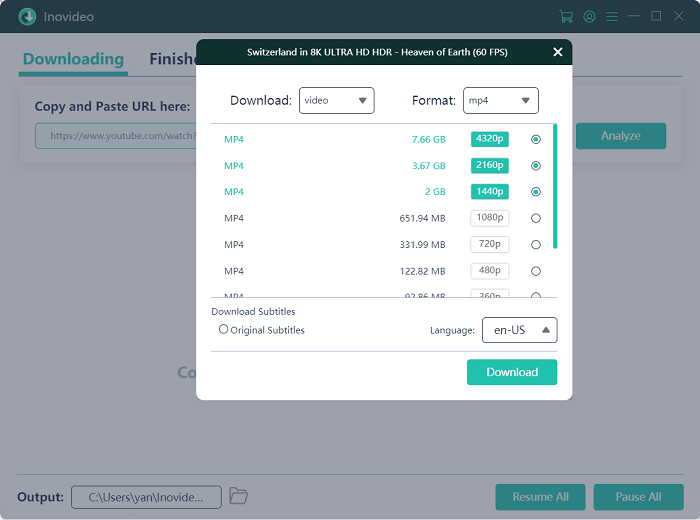 Once you click the "Download" button, the interface will turn to the downloading process. You can see the download schedule, pause, or cancel the download task.
Section 2. Download 4K YouTube Videos from a Playlist
Not only can you download a single 4K YouTube video, but also you can download the entire YouTube playlist that contains multiple 4K or 8K videos in one click, which will save you much time. Also, you can delete what you don't want from the playlist before downloading. This can also enable you to download a whole series or some episodes of 4K movies or dramas from YouTube with simple clicks.
Here's how to download 2160P ultra HD videos from YouTube:
>>

Step 1. Get Inovideo Ready
Download and install Inovideo on your computer and launch it. Sign in with your Inovideo account.
>>

Step 2. Copy & Paste the YouTube Playlist URL
Now navigate to YouTube on your browser and open the playlist you wish to download. Copy the URL from the address bar and then paste it to the search box on Inovideo.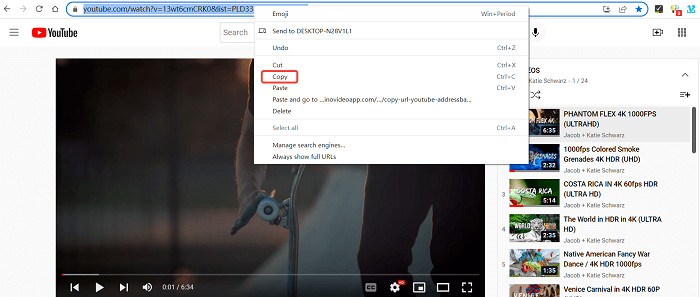 >>

Step 3. Choose to Download YouTube Playlist
Hit the "Analyze" button and you will see Inovideo analyzing the videos from the playlist. And if you copied a URL when you are playing a video from the playlist, you will be asked if you wish to download a playlist or that single video. Click "Playlist" then.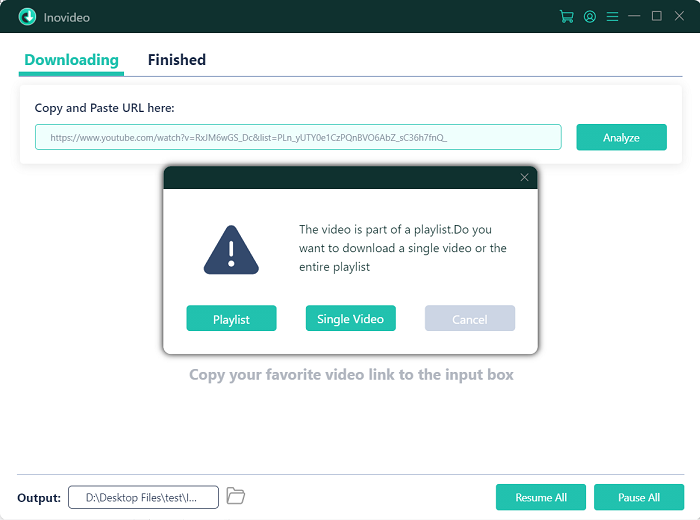 >>

Step 4. Start to Download 4K Videos from Playlist
After the analysis, you will see all videos from the playlist. When some videos from the playlist are in 8K, Inovideo will automatically select that definition. In this case, you need to change the quality to 2160P (UHD 4K). After that, click the download button to download all videos from that playlist.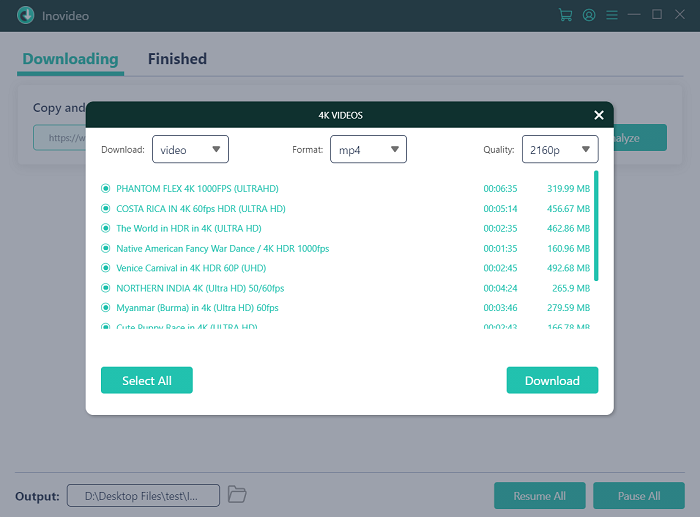 How to Download 4K YouTube Videos Without Any Software
If you don't want to download videos with Inovideo, there is an online tool that allows you to download 4K YouTube videos without software. It's a free service for online video downloads including downloading videos from YouTube, Facebook, Twitter, Dailymotion, etc.
However, SaveTube doesn't support batch download or downloading a playlist. Besides, you can only download YouTube videos with sounds in quality equaling or lower than 720P in MP4. Downloads in other higher definitions will be without sounds in MP4. Therefore, if you want to download 4K YouTube videos with sound, you can only download them to WebM.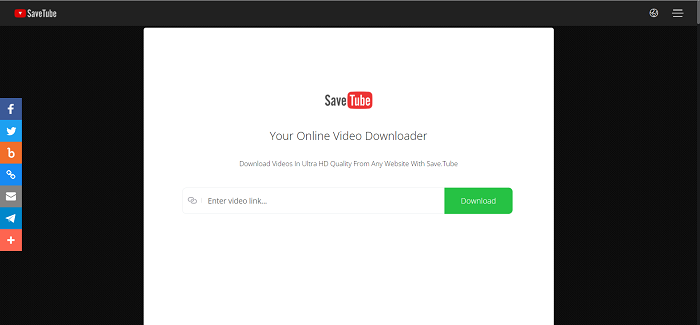 Here's how to download a 4K YouTube video online:
Step 1 Go to SaveTube.
Step 2 Copy the link of the YouTube video you want to download and paste it to SaveTube, after which it will automatically start parsing the URL.
Step 3 Click the download button from the 4K definition option and it will start downloading the video.
FAQs on Downloading 4K YouTube Videos
Can I Download 4K YouTube Videos with Subtitles?
Yes. As long as the YouTube video has auto-generated subtitles or subtitles uploaded by the creator, Inovideo can help you download them long with the video. You can even merge the subtitles into the video as soft subtitles after setting it from the "Preferences".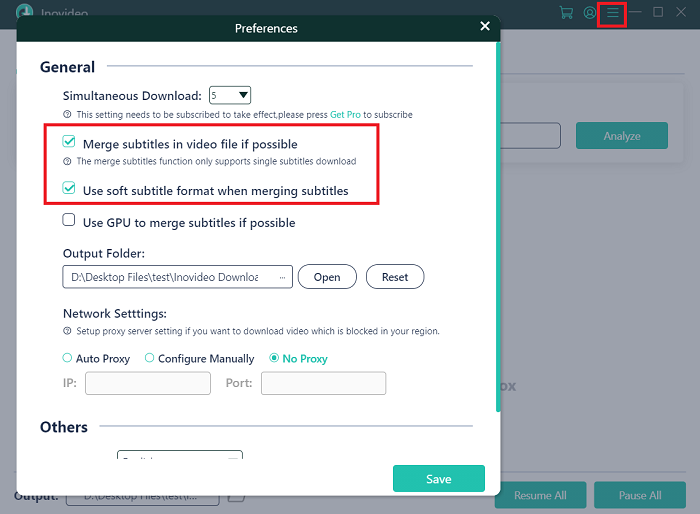 Can I Download YouTube Videos in 4K in Batches?
Yes. You can add another video URL to the search bar on Inovideo and download it when the current video is downloading. This downloader can download them simultaneously.
Conclusion
Following the step-by-step guide above, you are able to download 4K videos from websites easily with Inovideo. The batch download enables you to download several videos, audios, or subtitles simultaneously and save your time. With multiple resolutions selection available, fast download speed, and keep high output quality can match most download requirements. That is also why Inovideo is the best 4K video downloader.
Also, if you don't mind downloading them to WebM, you can use SaveTube to download 4K YouTube videos without software.
Disclaimer: You must have the permission of the video/audio owner before downloading videos from YouTube.
Also download from: SoundCloud | Twitch | VK | NewGrounds | OK.ru | Periscope