Do you want to watch videos like YouTube, TV shows, etc. while you're on the plane, train and some places that are without WiFi? Or you may like a TV show so much that you would like to download it you watch the video offline. If you have the need to download video from any website and look for a practical and free way to download any website, this article will provide you with the all-round method.
Download Video from Any Website with Inovideo Downloader
If you need a professional, safe and stable way to effortlessly download videos from every website, Inovideo is highly recommended. Inovideo enables you to save videos, including flash videos from a variety of websites such as YouTube, Twitter, CNN, and others in original quality to MP4/WEBM or MP3.
Moreover, it is available for Windows 11/10/8/7/XP (SP3 or later) and Mac OS X 10.12 or above. It is without advertisements and is designed to be simple to use with impressive features:
✅Excellent offline displaying experience with 8K, 4K, 1080P, and 720P output. It means you don't need to tolerate the low quality output of video, even when you're offline. Just enjoy your great moment at anytime and everywhere.
✅Download videos in bulk from any websites at high speed. All of the videos added to the list can be downloaded at the same time, which is more effective. You may control the download process by pausing and restarting it for each video or for all of them.
✅Download videos in high output quality to MP4/MP3/WEBM. Formats in MP4/MP3/WEBM enable you to convert videos on any device. With high output quality of downloaded videos, you will have better experiences when watching them.
✅Download videos at high sound quality. When you find a song that you like most but isn't available on Spotify or it is just covered by an infamous singer on Youtube, Inovideo can help you download them with up to 320kbps sound quality.
✅Simple and user-friendly operation. Whether you are a beginner or a skilled person, Inovideo can help you download video from websites easily.
Tutorial: How to Download Video from Any Website on Windows/Mac
>>

Step 1: Get Inovideo
You can simply download and install Inovideo. Then, open Inovideo to start downloading videos from any website.
>>

Step 2: Copy the URL of the video that you want to download
After installing Inovideo, copy the URL from the address bar of your browser after opening the video page on the website. On some websites, you can use the right-click menu to select a video and copy the link.

>>

Step 3: Get the video analyzed
Now open Inovideo and put the URL you copied into the analysis window, and then click the Analyze button right beside it.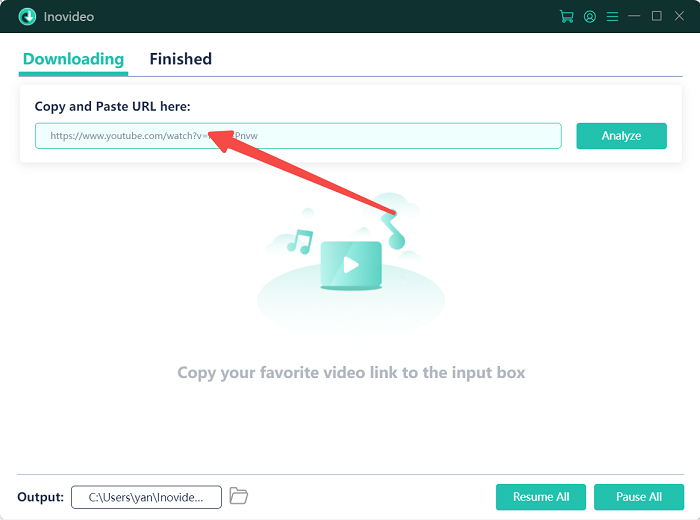 When you click the "Analyze" button, a window will appear in which you can select the video/audio output format. MP4, MP3, and WebM formats (Windows only) are supported by Inovideo. Click the "Download" button after selecting the output format and video resolution you require.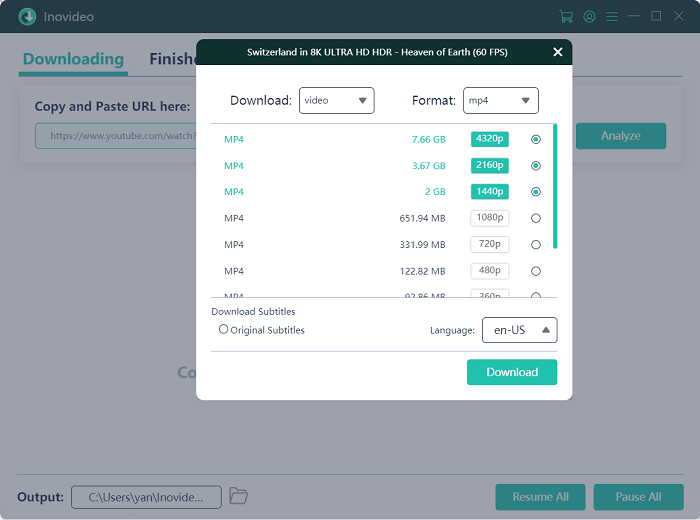 Inovideo Downloader allows you for bulk downloads. So you can repeat the previous procedures to get more videos.
>>

Step 4: Locate your downloaded videos
When the downloading procedure is complete, you can easily navigate downloaded videos to the "Finished" page.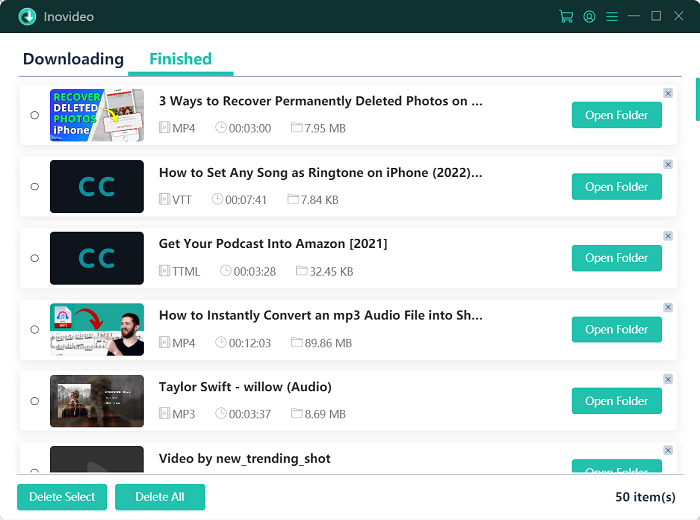 Download Video from Any Website with Chrome/Firefox Extension
If you frequently watch videos in browsers, using Chrome or Firefox extension to download them is suitable for you. Steps to download video from websites with extensions are introduced in the following. You can walk through the content below to download videos from websites.
Using Chrome Extension: Video Downloader PLUS
Video Downloader Plus is a fantastic Chrome extension that allows you to download videos from nearly any online content site such as Facebook, Twitch, and many more. This extension can easily identify videos on streaming websites and let you download them with a single click. It has remarkable features that include:
Download and save videos from nearly every online content platform.
Free use
Nevertheless, there are embedded ads that will make you download the incorrect content. What you need to do is refresh the website to download. And due to Chrome policies, downloading videos from YouTube with Ghrome extension is not allowed.
If you still want to conduct download with Chrome extension, steps for downloading video from any website with Chrome extension are provided below.
>>

Step 1: Go to Chrome Web Store to get the Video Downloader PLUS extension.

>>

Step 2: Open the video you want to download online
Head to the website that involves the video you want to get. Simply hit the puzzle icon on the upper right side of the present window and wait for Video Downloader PLUS to detect.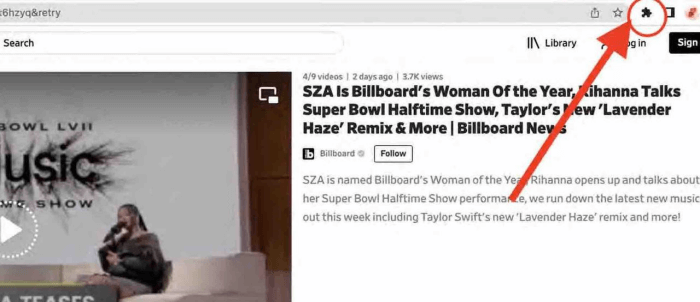 The detected video will be shown in a pop-up window. Just click the Download icon to get your video.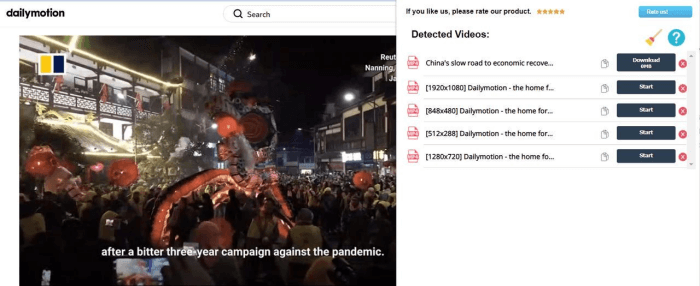 >>

Step3: Check the Downloads
When the download process is finished, there will be a pop-up window to let you set the location of the video.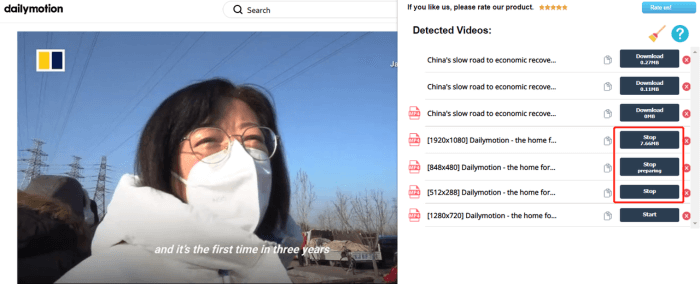 Using Firefox Extension: Video DownloadHelper
Video DownloadHelper is the most powerful tool for downloading videos and images from websites and saving them to your computer. A variety of streaming protocols are permitted by Video DownloadHelper: HTTP, HLS, DASH, and so on, making it unique among video downloaders. When a website applies unsupported streaming technology, Video DownloadHelper can record the media from the screen and build a video file. Features include:
Compatible with the majority of other major video sites, including DailyMotion, Facebook, Periscope, Vimeo, Twitch, Liveleak, Vine, UStream, and Dozens more.
Videos conversion supported. You can convert videos into MP4, WEBM, OGG and so on. Procedures for using Video DownloadHelper are as follow.
>>

Step 1: Install Video DownloadHelper
Move to the official page and hit the Add to Firefox icon. It should be noted that VDH5 requires Firefox 36 or higher. It is incompatible with Firefox 35 and previous versions.

>>

Step 2: Ensure that Video DownloadHelper is operational
Proceed to a page with the video you want to get. A colored 3-balls icon should appear in the Firefox browser toolbar. The fact that the colored icon implies that videos are available to be downloaded. To visit the main panel, hit on the button.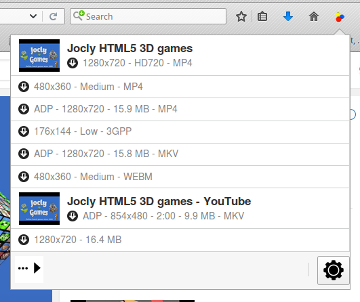 >>

Step 3: Download videos right away
To bypass the files saving dialog and save with the default filename and directory, click the 3-dots icon to the right of an item to open the list of actions. And then click the Quick Download button.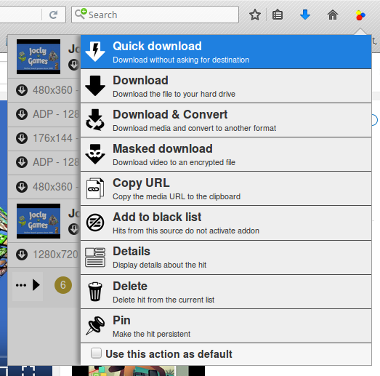 When you hold down the SHIFT key while clicking on a video entry in the tracking list, the Quick Download action begins without shutting the panel so that you don't have to reload the panel to every request, you can start multiple downloads quickly.
Download Video from Any Website via Online Tools
You can use online tools, SaveTheVideo.com, to download videos from Vimeo, Dailymotion, Twitter, Tiktok, Instagram, Facebook and other content platforms for free.
Here are the features of SaveTheVideo.com.
Download videos from Facebook, Instagram, Twitter, and other online video sites.
Videos can be converted into multiple formats, such as MP3, WEBM, AAC and so on.
It is even compatible with mobile devices. 
However, there is uncertainty about its safety, and it may become invalid and unusable. And the video may be watermarked. If you don't mind these limitations, you can follow these steps to download video from any websites.
>>

Step 1: Copy the URL of the video that you want to download
Copy the URL from the address bar of your browser after opening the video page on the website.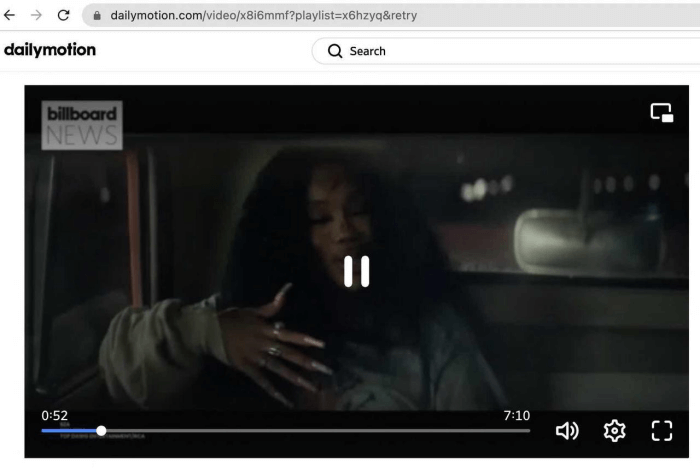 >>

Step 2: Get your download started
Click here to go to the online download tool. Then simply paste the URL you got into the bar and hit the Start icon.

>>

Step 3: Choose the output format you want
After the video link is analyzed, an interactive window will pop up. You can press the down arrow icon to open the drop-down menu and choose the format you would like to get. Then you can save the video to your device. Then the video will be located in the file you choose.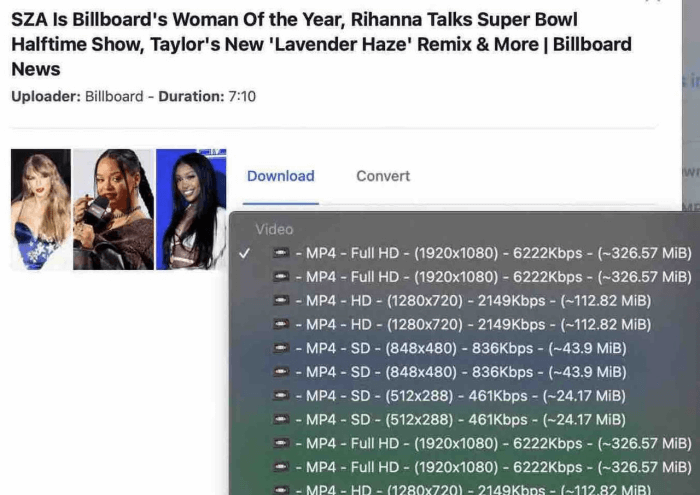 Save Video from Any Website with Fonepaw Screen Recorder
There is another effective way to get any video you want from any websites if the previous downloader does not meets your demands. You can record your desired videos, which is a method with a high success rate to save videos. FonePaw Screen Recorder is the best screen recording software on the market, which can suit practically all of your screen recording needs and is a wonderful screen recording for game livestreams. Can't wait to show you its strong functions:
✅Capture high-definition screen videos at a fps rate of up to 60 in order to maintain the output video quality.
✅Activate hardware acceleration to improve PC performance when recording video games or other processor-intensive screen activities.
✅Provide advanced appointment recording to automatically record games, live streams, and even live sports events.
✅Add real-time annotations throughout the recording process, which is useful for producing teaching videos.
✅Highlight the pointer in on-screen videos so that you can easily find it.
✅Hide desktop icons during recording. It will better protect your privacy.
✅Show a countdown before recording your computer screen.
If you want to try this out, please click. The instructions for recording desktop screens with FonePaw Screen Recorder are as follows.
>>

Step 1: Choose Video Recorder
Launch FonePaw Screen Recorder after it has been installed. Select the "Video Recorder" option from the main menu.

>>

Step 2: Start recording the video screen
You can record the entire screen or any size you like with the FonePaw Screen Recorder. So, in the Video Recorder's options, please customize the recording area as desired.

Simply press the large "REC" icon. FonePaw Screen Recorder will begin recording the screen area you have specified after counting down from three.
>>

Step 3: Save the recording file
After the recording is finished, please hit the red square button to stop the screen capture. Following capture, the clip can be previewed and edited.
The video will be saved to the location you specify, and it will also be accessible through FonePaw's Recording history.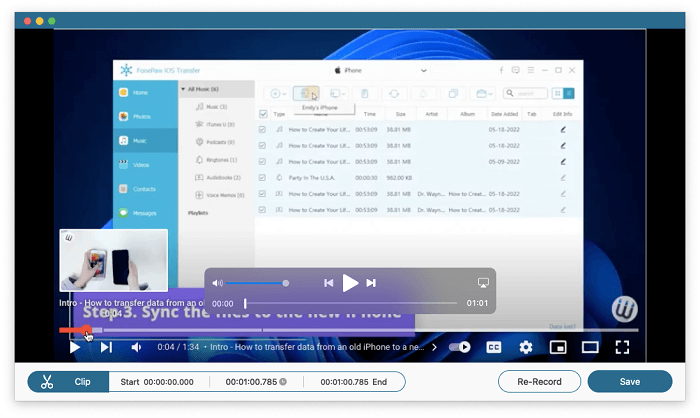 Conclusion
| | | | | | |
| --- | --- | --- | --- | --- | --- |
| | Download Videos from Various Websites | Output Quality | Watermarks | Output Formats Supposed | No Ads |
| Inovideo Downloader | With 128kbps, 320kbps download Youtube audios | up to 8K output | No | Mp4, mp3, webm, etc. | Yes |
| Chrome Extension-Video Downloader PLUS | except for Youtube | 1080p, 720p, 320p | Needs other extensions to download | MP4, WMV, FLV, SWF, MP3, etc. | No |
| Firefox Extension- Video DownloadHelper | dailyMotion, Facebook, Periscope and so on | 1080p, 720p, 320p | Watermark added when video downloaded | MP4, WMV, FLV, SWF, MP3, etc. | No |
| Online Tools | except for Youtube and other copyright materials | full quality | Yes | video to MP4, AAC, MP3, etc. | Yes |
| Fonepaw Screen Recoreder | recording supported | 60 fps | No | MOV, MP4, M4V, etc. | No |
Generally speaking, you may think of Chrome Extensions, desktop video downloaders, or online video downloaders like savethevideo.com when downloading videos from websites. These solutions allow you to download videos online under various conditions.
However, there are some upsetting inconveniences around you, such as downloading videos with watermarks, being unable to batch download multiple videos, and a low success rate of downloads. All of them will be removed when you try Inovideo, which downloads any video from any website stably and freely converts it to normal formats, like MP4, WEBM.