When it comes to downloading videos from websites, people would think of Chrome Extensions, desktop video downloaders, or some online video downloaders like savefrom.net. These tools are for people to download videos from websites under different conditions, but the truth is, none of them can grab every video from every website directly.
Besides, you can find many limitations when using the extensions or the online video downloaders such as security issues and video quality limitations. As a result, a powerful and safe video downloader Inovideo will be recommended today.
How to Download Video from Website with Video Downloader (Easy)
Inovideo allows you to download videos even flash videos from tons of websites like YouTube, Twitter, CNN, etc. to MP4/WEBM or MP3 of original quality. It's totally safe without ads and is designed to be easy to use with remarkable functions:
Download videos from over 50 popular websites with URLs;
Select multiple video resolutions (up to 720P, 1080P, 4K, 8K), audio qualities (up to 320kbps);
Detect subtitle files of the video, playlists, channels from websites such as YouTube, CNN;
Batch download videos from websites;
……
Now let's learn how to download videos from websites with Inovideo in the following.
Step 1. Get the Video Downloader
Download, install and launch Inovideo on your computer. This software works compatibly on both Windows and macOS.
Step 2. Copy the Video Link
Open the video page on the website, then copy the URL from the browser address bar. Some websites allow you to right-click on the video displayed and copy the video link from the options.

Step 3. Paste the URL and Start Analyzing
Now head to Inovideo and paste the URL you copied to the analyzing bar, then hit Analyze on the right. If you copied a link from a playlist, this program will ask you to choose if you download the entire playlist or just the single video.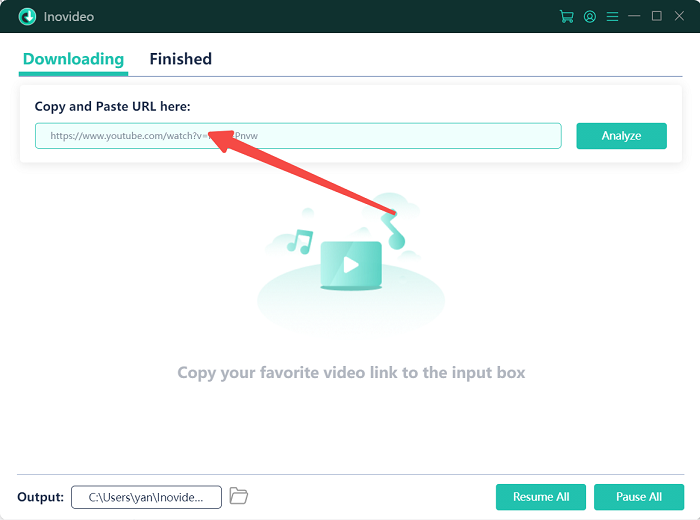 Step 4. Set up and Download Video from Website
Once the analysis is done, you will see a pop-up conversation of the output video setup. You can save the video to MP4 with multiple resolutions or switch the file type from "video" to "audio" and download the video music only from the website. After the setup, tap "Download".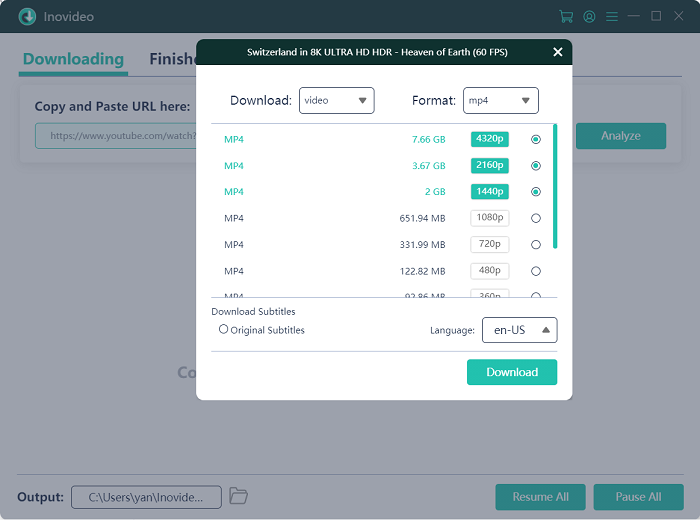 Tip:
Just put another URL to the analyzing bar during the current download session if you wish to batch download videos from websites.
Save Video off Any Website with Screen Recorder
Even though Inovideo is excellent, we need to admit that it can't download videos from any site due to some account issue or other reasons, and the same for the video downloader extensions or online video downloaders.
For instance, if you wish to download videos with premium directly from Crunchyroll, as far as I am concerned, it's impossible. Since you need to pay for it first then you can watch the full episode, and all video downloaders are not accessed to your Crunchyroll account.
In this case, you will need to turn to a screen recorder like FonePaw for help. With this professional tool, you can download videos from any website with high quality and no lag. Nevertheless, you have to spend much more time on the recording process.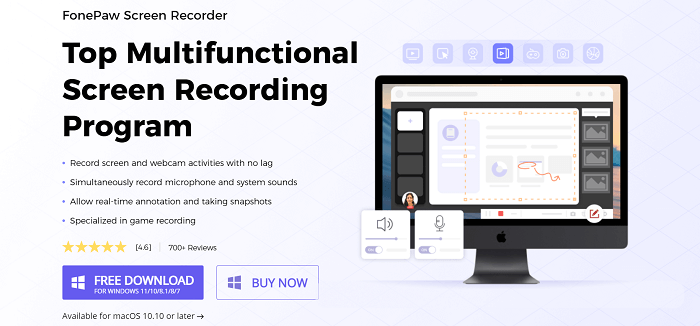 Here is a simple guide on saving videos off websites with this screen recorder.
Step 1 Launch the screen recorder and open the video web page that you want to save video from;
Step 2 Select a recording region, namely the video area;
Step 3 Hit record and play the video;
Step 4 Stop the recording and trim the video, then save it.
FAQs About Downloading Video from Web Page
Q: Why Not Download Video from Website Online?
As you can find on the results after you googled, there are various online video downloaders with similar structures. You can download a video from a website on them easily but it's not recommended to try.
If you've ever used them, you will find that some websites are not supported at all especially YouTube. Moreover, some of them don't provide HD video downloading and require you to pay for them. In terms of long video downloading, they provide you with a version without sound, and errors may occur during the download process.
Worse, there are tons of ads on their websites. After you click on the download button, the ad page will be open. This brings some potential risks to your device and your personal information.
Q: Can I Download Videos from Website on Chrome with Extension?
Yes, you can. Video Download Plus is a fine Chrome video download extension. Many websites are supported by it and you don't need to download any software to your computer.
However, you can't download videos from YouTube with extensions since Chrome Web Store doesn't allow that. And this extension charges for long and HD video downloads.
Conclusion
There is no doubt that you can easily download videos from websites with Inovideo. The simple and clear interface is friendly so you just need a few clicks to grab online videos/audios from websites.
Hope this article helps you download your favorite videos from any website. Furthermore, please make sure your downloading and the use of videos/audios are legal and comply with the website policy.