TikTok offers thousands of great videos and has gradually become one of the people's best laboratories for creating fun or decent videos. Sometimes, you may feel like saving your own TikTok video that is with special effects and filters and reposting it to YouTube, Instagram, or other social media sites, but frustratingly there's a TikTok watermark with your ID on it. And platforms like IG denote videos that are with TikTok logos.
To save you from that, an excellent TikTok video downloader without watermark Inovideo is developed and is ready now. Keep on reading and I will show you how to download TikTok videos without watermark. Also, if you've already downloaded a video with a watermark and gotten the original one deleted, don't worry, you can also learn to get rid of it.
How to Download TikTok Videos Without Watermark (Safe and Free)
Before we dive into the downloading procedure, you may wonder why we choose Inovideo instead of other TikTok video downloaders with no watermark.
Firstly, you can use this program for free. And if you get a bunch of TikTok videos waiting to download, you can finish it in bulk easily.
Secondly, it downloads TikTok videos without watermark of 1080P high quality (depending on the original one of course) to MP4.
Lastly, Inovideo is an all-in-one video downloader, meaning you can download videos to MP4/MP3 from other websites such as YouTube, Facebook, Instagram, Pornhub, etc.
However, every coin has two sides. It's versatile but can only be used on computers after a software installation. But it helps safely and stably download TikTok videos on PC and Mac without a watermark.
Here's how to download TikTok videos without watermark.
Step 1. Copy TikTok Video Link
If you are browsing TikTok videos on your computer browser, just click on the video and copy the URL from the address bar.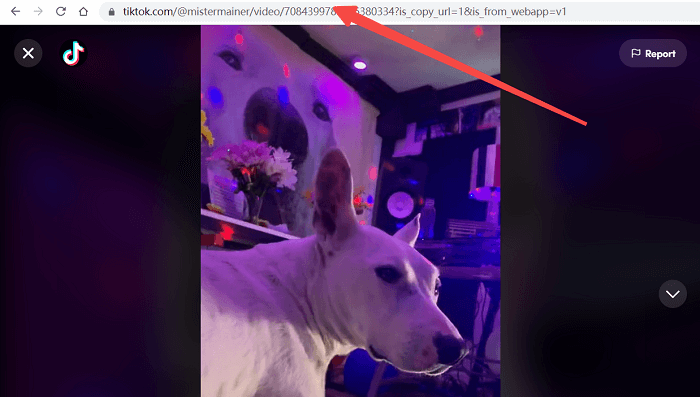 Step 2. Paste TikTok Video Link to Inovideo
Launch Inovideo, the TikTok video downloader without watermark. Paste the URL to the search bar on its interface and click on the Analyze button to get the video from TikTok.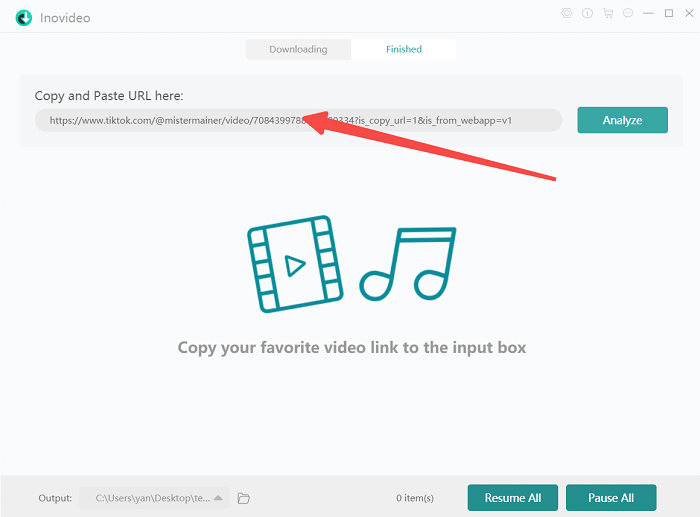 Step 3. Download TikTok Videos Without Watermark
After the analysis is finished, you will see many options here. If the TikTok video you are downloading is of high quality, Inovideo will provide you with multiple quality choices ranging from the original one to an SD one. You can also refer to the expected video file size and download the TikTok video without watermark in HD with a proper size.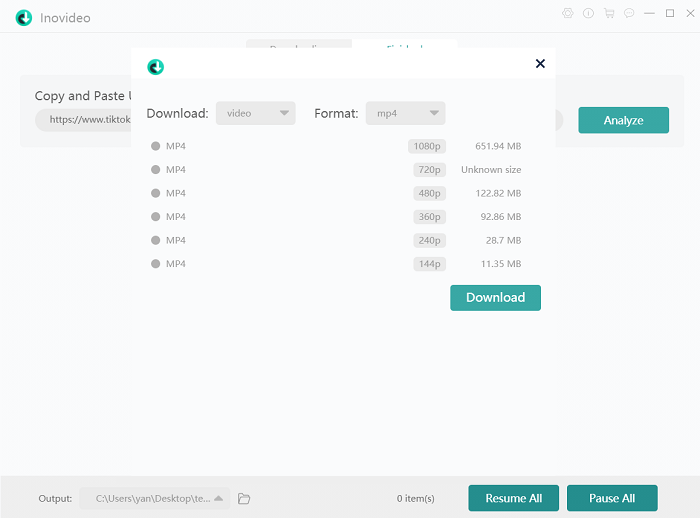 Now you can repost your TikTok video download without watermark to other sites. MP4 is the most compatible format so you don't need to convert it to another one.
How to Download Videos from TikTok with No Watermark Online
Downloading videos without watermark from TikTok can also be finished without software installation, that is using an online TikTok video downloader with no watermark. It's more convenient than using Inovideo but is less stable and not always safe. You can see tons of ads on the online downloaders and they sometimes don't download TikTok videos successfully due to server or other unknown issues.
Tip:
Online downloaders are usually fed by ads. If you hate seeing ads or fear malware and viruses, you should avoid using this method.
SnapTik is a well-known free online TikTok downloader site that allows you to download TikTok videos without watermark. It supports downloading TikTok to MP4 with the link of the TikTok video without limitation. Besides, it offers 3 servers for download which improves the success rate.
Nevertheless, whenever you click on the download button and choose to download other videos after it analyzes the current one, ads pop up. And private TikTok videos can't be downloaded on it. If you need to download private TikTok videos without watermark, you should use the Inovideo TikTok video downloader.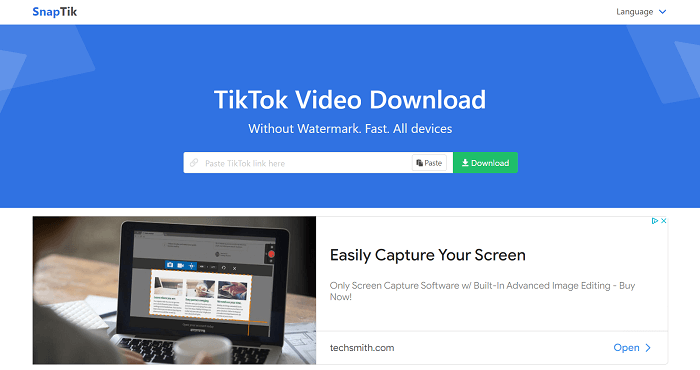 And here's how to download TikTok videos without watermark using it on pc:
Step 1 Copy the URL of the video. You can do it as said in part 1 Step 1, or you can copy the link of the video you want to download on your TikTok app and send it to your computer via iMessage, Line, or WhatsApp.
Step 2 Paste the URL to SnapTik. Open this online TikTok downloader website and put the video link in its search box. Then hit the download button.
Step 3 Download the video. Click on one of the download buttons after the link analysis. At this moment you will see an ad page. Close it and after a while, you can find the TikTok video without watermark in the Downloads on your computer.
How to Remove TikTok Watermark from Already Downloaded Video
Chances are you've saved the TikTok video with a watermark and the original one on TikTok has been deleted. Don't panic, there still be ways to remove the watermark. That is using a TikTok watermark remover. Although they can't completely remove the watermark as it never exists, a good remover can make the watermark nearly transparent.
Apowersoft Watermark Remover is a professional tool that can remove watermarks from an image or a video. Also, if you need, you can add your own designed watermark to your files. It's user-friendly and you can add multiple selection tools for different parts of the video. This is important as TikTok watermarks sometimes show at the upper left corner and sometimes appear at the bottom right corner.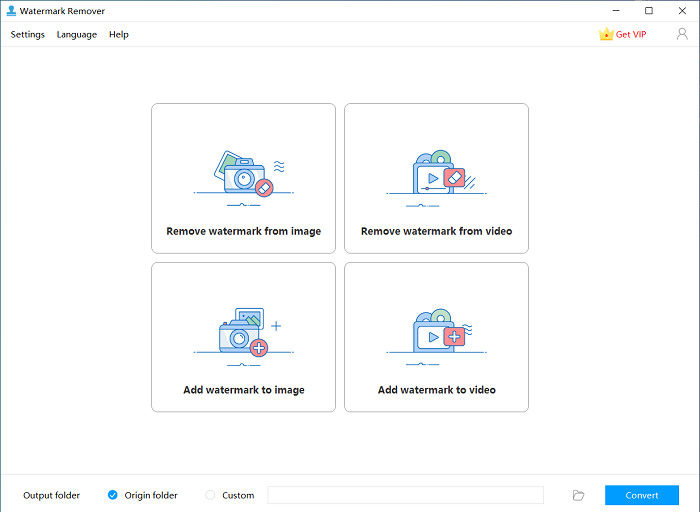 Here's a simple guide for using Apowersoft Watermark Remover and after that, you can enjoy the TikTok download without watermark.
Step 1 Get Apowersoft Watermark Remover and the TikTok video ready on your computer.
Step 2 Drag the video to this tool. Play the video and change the watermark duration on the left panel.
Step 3 Hit the Selection Tool. Drag the tool display on the video and adjust it until it fits the dimension of the watermark.
Step 4 Next to the Selection Tool, click Add Part. Then you can change the duration of the second part of the video with another watermark.
Step 5 Repeat Step 3 and you can add another selection tool that covers the second watermark.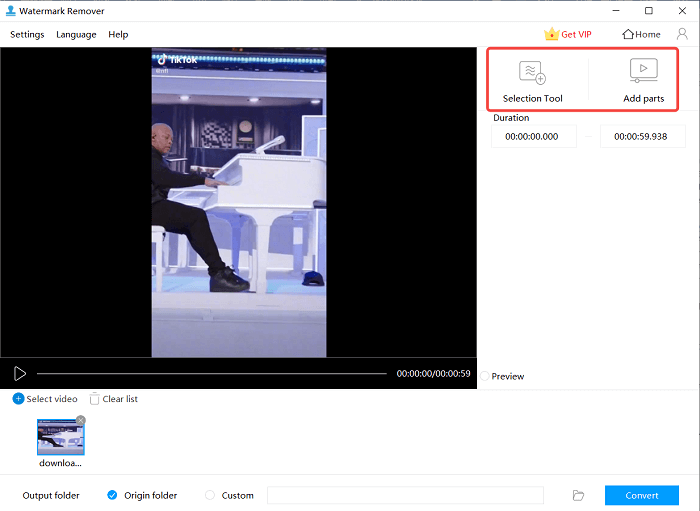 The Bottom Line
All of the methods work on both Mac and Windows. Inovideo can download TikTok videos without the watermark safely and can download videos from other websites such as Vimeo, Twitter, Daimymotion, etc. Even though you need to install the software, it's free.
It's easy to use an online TikTok downloader without a watermark but they sometimes don't work or ads on them can be annoying or device security threatening. A watermark remover can help you fix the downloaded video but it still looks worse than the original one. Concerning all aspects, Inovideo is the most decent choice.