Nowadays, there are countless videos on YouTube bombarding us with great music or audio dramas. And the playlist allows us to enjoy the ones we love in turn. However, there are times when you can't always keep the screen on or don't have network access. You will need to download YouTube playlist to MP3 for offline enjoyment on iTunes or other players.
Fortunately, there are 3 ways you can convert the YouTube playlists easily for free. The first one is using the desktop YouTube playlist downloader, Inovideo, to rip the audio; the second one is using an online YouTube playlist downloader.
How to Convert YouTube Playlist to MP3? [Safely in Bulk]
Inovideo is a professional YouTube playlist to MP3 converter that allows you to download the entire playlist in one go on both Mac and Windows. It's a piece of desktop software that is designed with a clear and user-friendly interface. More surprisingly, with this versatile app, you can also:
Batch download YouTube playlists
Download the entire playlist in one click
Grab private playlist to MP3 without login
Convert playlist to MP3 with original quality
Rip videos/audio from hot websites such as YouTube, TikTok, Instagram, Facebook, Dailymotion......
Merge or download YouTube subtitles if any
……
Video Introduction of Inovideo
Now let's check how to download MP3 from YouTube on Inovideo.
Step 1. Copy the Playlist URL
Move your mouse cursor over the video you are watching, right-click on it and hit "Copy video URL". Or you can directly copy the link of the playlist or that of the video from the playlist in the address bar on your browser.

Step 2. Paste the Link to Inovideo YouTube Playlist Downloader
Launch Inovideo and paste the URL you copied to the search bar, then click the green "Analyze" button.
Very soon you will see a pop-up conversation asking you if you wish to download a playlist or a single video. Click "Playlist" and it will start analyzing the whole list.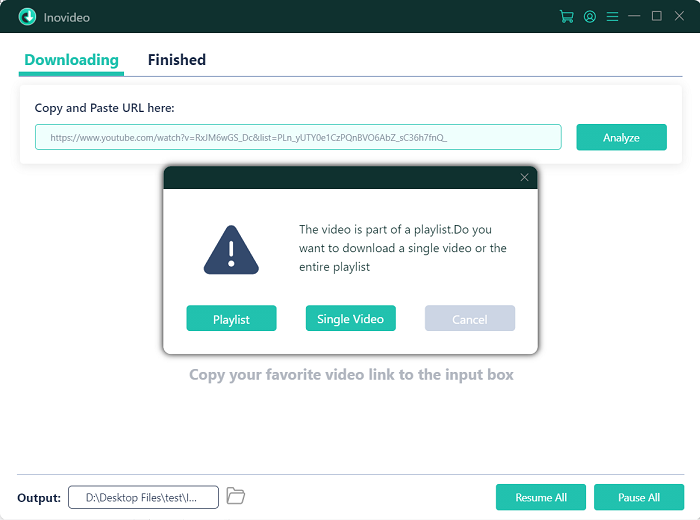 Step 3. Set Up for YouTube Playlist Download
After a while, the songs in the playlist will be displayed on Inovideo. The more items contained in the playlist, the longer it will take.
Switch the Download Type from "Video" to "Audio", then you can select all to download the entire YouTube playlist or uncheck the ones you don't need. The songs in a playlist may be of different quality, select "best" and Inovideo will get them downloaded with the best quality of each MP3 downloads.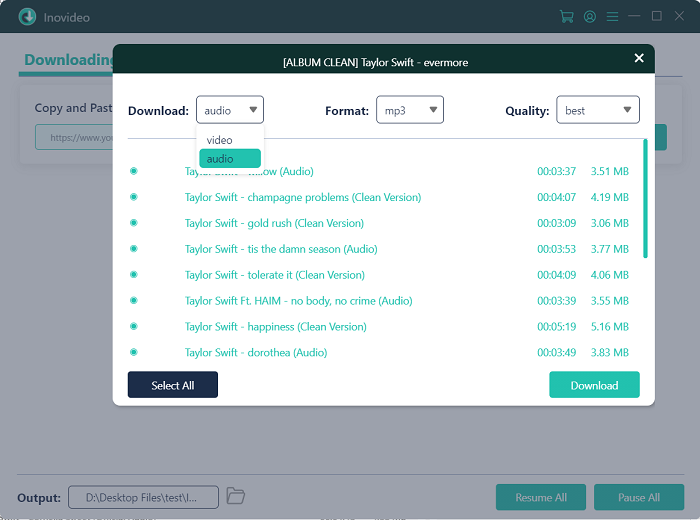 Step 4. Enjoy the Songs or Download Another Playlist
Click "Download" and the songs will be downloaded simultaneously. If you have several playlists that your want to rip, just put the next links to the search bar and download them. When the YouTube playlist to MP3 is done, you can find it on the "Finished" tab.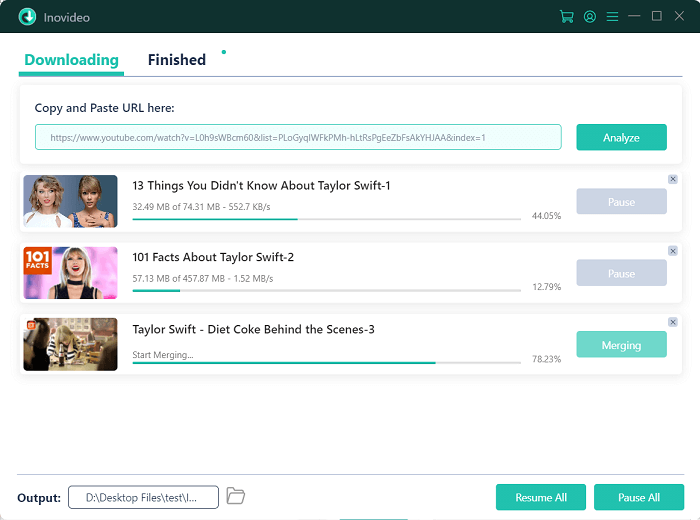 How to Rip YouTube Playlist to MP3 with By Click Downloader
By Click Downloader is another tool that can help you download YouTube videos from a playlist to MP3 easily. It supports downloading YouTube playlists in bulk and you can also personalize how many MP3 are to be downloaded simultaneously. This is not only a YouTube playlist downloader but also a converter to download videos from Instagram.
However, you can't download private YouTube videos from it. And there are ads on its free trial. What makes you disappointed is that you can only try it free for 24 hours. After it, you won't be able to use this software anymore until you buy it.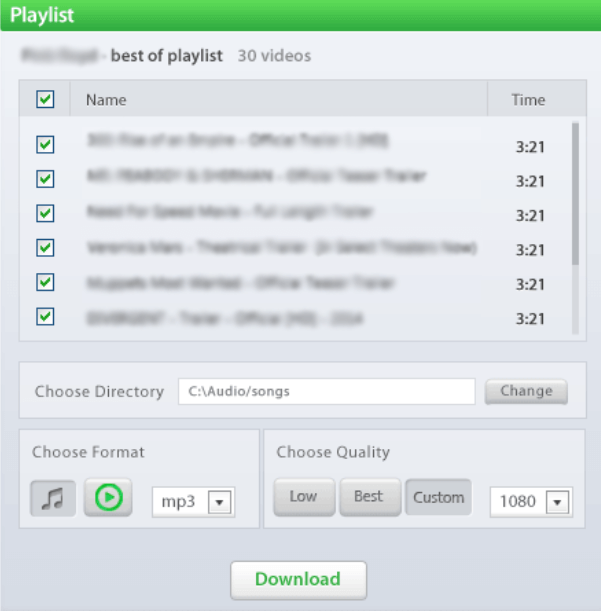 Here's how to download a YouTube playlist to MP3 files on it:
Step 1 Copy the playlist URL from YouTube on your browser.
Step 2 Paste the URL to By Click Downloader by clicking on the "Paste URL" button o the upper right. It will take you some time to analyze the playlist.
Step 3 Select the videos you want to download as MP3 files.
Step 4 Choose the output audio format and quality. Then click the download button.
How to Download YouTube Playlist to MP3 with Loader.To
You may think of downloading YouTube playlists without downloading software on your computer. Then you can try an online playlist to MP3 converter. Most of them are free and easy to use with a simple interface. With a correct playlist URL, you can grab YouTube playlist to MP3 successfully.
However, you can only download public items with converters online, which means playlists that are private or private videos in a public playlist cannot be detected by them. If you need to download a private playlist you saved from others or on your own, you will need to use Inovideo instead.
Next, let's see how to download the YouTube playlist to MP3 with the converter online. There are plenty of online tools for YouTube playlist downloading. I will take Loader.To as an example.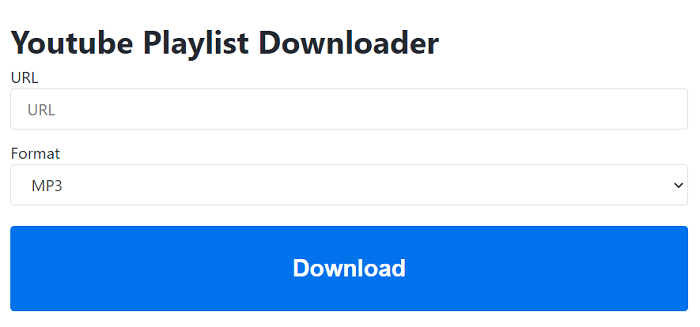 Step 1 Copy the URL of the playlist and paste it to the search bar;
Step 2 Select the output format as "MP3" and hit "Download";
Step 3 Wait for the analysis till you see the "Download Playlist" button.
Step 4 Hit the button and you will see the playlist pop-up on the right panel.
Step 5 Click on each "Download" button from the panel of the songs that you want to download.
FAQs on Downloading YouTube Playlists to MP3
How Do I Download Multiple YouTube Playlists to MP3 from YouTube?
Inovideo supports parsing the new-added URL. To download more than one playlist to MP3, you can copy and paste another YouTube playlist URL to the search bar and get it analyzed when the previous one is downloading.
How to Add YouTube Playlist MP3 Files to iTunes?
Before you add the YouTube playlist to iTunes, you need to have the music files in your computer folder. Then add the folder to the iTunes library. Let me walk you through each step needed.
>> Step 1. Create a Folder for the YouTube Files
Create a folder to keep the song files that are about to be downloaded from a YouTube playlist. This is important because you can't delete them if you want to listen to the songs on the computer.
>> Step 2. Change the Output Folder on Inovideo
Launch Inovideo and click on the upper arrow on the bottom left of the program. Hit "Browsing" and select the folder you created.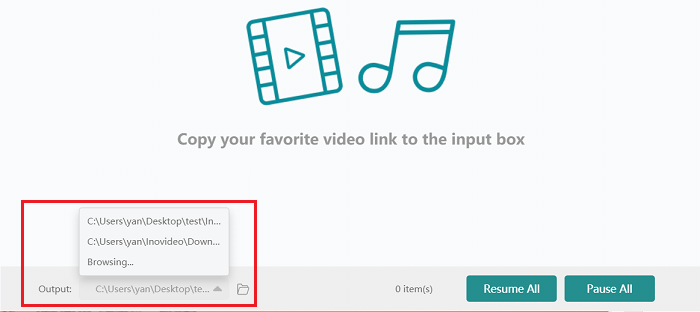 >> Step 3. Download YouTube Playlist to MP3 onto Computer
Follow the steps in part 1, namely copy the URL and paste it, then download the playlist to MP3. After they are all finished, open the folder.

>> Step 4. Add YouTube Playlist to iTunes
Launch iTunes, head to the "Music" page, right click on the left panel under "Music Playlist" and hit "New Playlist". Now drag the files from the folder to the playlist, and you'll get YouTube playlist to MP3 on iTunes.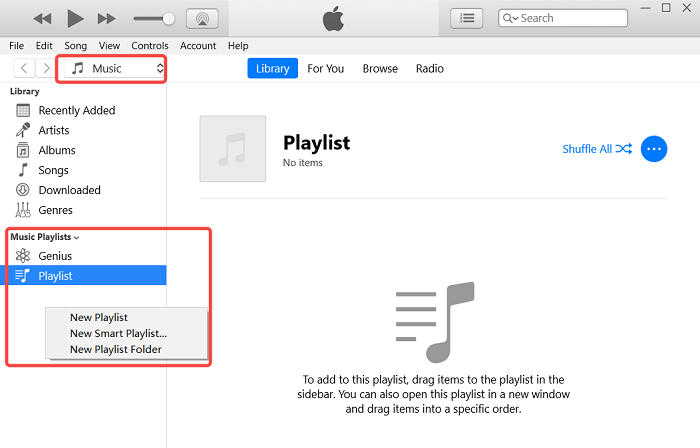 Final Words
All in all, using Inovideo to download YouTube playlist to MP3 is the most convenient and safest. Besides, with this software, you can also download videos or audio from 50+ popular websites with ease.
Disclaimer: You must have the permission of the video/audio owner before downloading the playlist from YouTube.