YouTube is a popular video streaming platform, which provides a large number of videos of different types for people to watch for free with high quality. However, online YouTube video players may perform many different errors such as buffering, a web page down, or YouTube videos unavailableness, and even more. Luckily, things become different if you download YouTube videos to MP4 for watching offline.
Today, when there are more and more YouTube video downloaders appeared, you may find it hard to get the best option. Here, we select a reliable one you can try freely without cost.
How to Download a YouTube Video to MP4?
Inovideo provides reliable and professional YouTube video download for Windows and Mac users to easily save online videos from YouTube to MP4 at a high quality like 1080p, 4K, and even 8K. The batch download and fast speed service provided by Inovideo lets you easily download more YouTube videos at once without wasting much time. Actually, except for YouTube, Inovideo also supports downloading videos from other 50+ websites, allowing you to enjoy online videos in a more convenient way today.
Key Features of Inovideo:
Supports the common MP3 and MP4 format to download YouTube videos
Provides high-quality options to download online videos such as 8K, 4K, 1080P
Allows to download online videos from 50+ websites including Instagram, Twitch
Keeps high speed to download YouTube videos and even playlists in batch
Needs very easy steps to download online videos
Supports downloading YouTube subtitles, channels, playlists inside one software
Merges videos with detected subtitles during the downloading process
Here are the steps to Download A YouTube Video to MP4:
Step 1. Install Inovideo on Windows or Mac
Inovideo is a piece of software for desktop users. It now supports Windows and Mac systems. So at first, you can click the "Download" button provided here to install the software on your computers based on the operating system you are using.
Step 2. Copy and Paste YouTube Video URL
You need to go to YouTube and find the YouTube video you want to download to MP4 in the browser and copy its URL.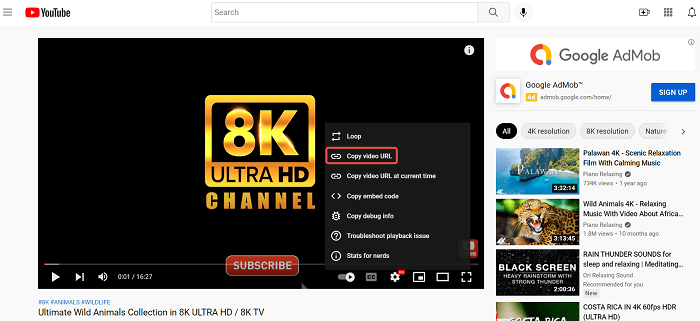 After copying the URL of the YouTube video, you can open Inovideo for entering the downloader, and paste the URL to the search bar. Also, click the "Analyze" button to start converting it.
Step 3. Download YouTube Video to MP4
When Inovideo finishes analyzing the YouTube video, it will provide some output options, with formats and quality for you to select to download the YouTube video offline. You should choose "MP4" as the output format and then select one quality below. Finally, click the "Download" button to start downloading the YouTube video to MP4 offline.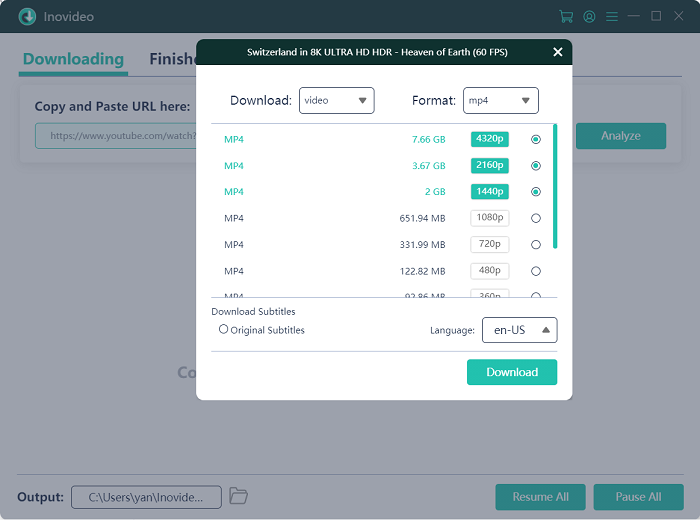 How to Download YouTube from Playlists to MP4?
As introduced before, Inovideo can also download YouTube playlists powerfully. It means that you can directly download all videos contained in a YouTube playlist to MP4 at once. So the tutorial here will show you the correct way to download YouTube playlist to MP4 using its powerful playlist download function.
Step 1. Copy YouTube Playlist URL
Just like downloading one YouTube video, the first thing you need to do is to go to YouTube and find the YouTube playlist you need to download offline. After clicking into the playlist playback window, copy the URL of it.
Step 2. Convert YouTube Playlist in Inovideo
When you get the URL of the YouTube playlist, open Inovideo and paste it to the search bar for converting. When you click the "Analyze" button and Inovideo detects it is a playlist link, it will ask you whether to download a whole playlist or just one YouTube video. You need to select the "Playlist" option here.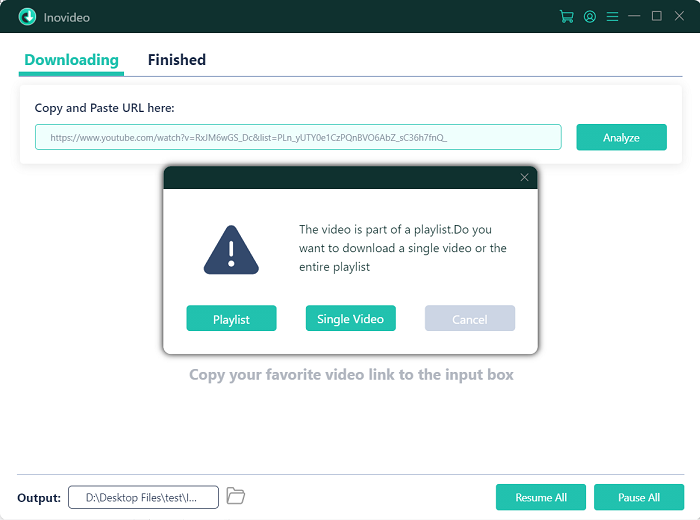 Step 3. Download YouTube Playlist to MP4
It would take more seconds to detect an entire YouTube playlist if it contains more videos. When the format selection menu also shows up, directly choose MP4 and the download quality you like. By pressing the "Download" button, all the selected YouTube videos in the playlist will be downloaded to MP4 offline.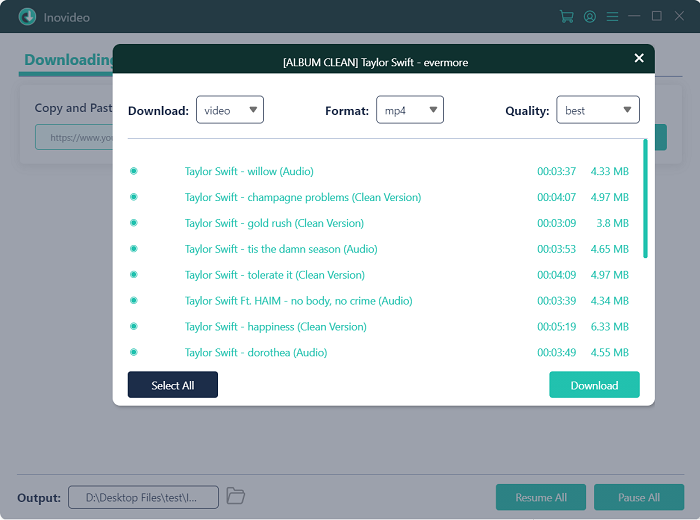 FAQs on Downloading YouTube to MP4
Q1. How to Download YouTube to MP4 with Subtitle?
When the YouTube video you are going to download contains subtitles, Inovideo can also detect it and download the subtitles for you. There are two ways to use the subtitle download function provided by Inovideo.
Way 1. Download Subtitles Separately
When the YouTube video is detected with the subtitle files, Inovideo will show the subtitle download option in the output format selection menu. By choosing the option with the subtitle language you need, Inovideo will defaultly download it as a separate file offline.
Way 2. Merge the Subtitle with YouTube Video While Downloading
Instead of downloading a separate subtitle file, Inovideo also allows you to directly merge the subtitle to the YouTube video file when it is possible. The only thing you need to do is go to the "Preferences" settings and select the "Merge subtitles in video file if possible" option. Then when you select to download subtitles, they will be merged into the videos without the need to download an extra subtitle file.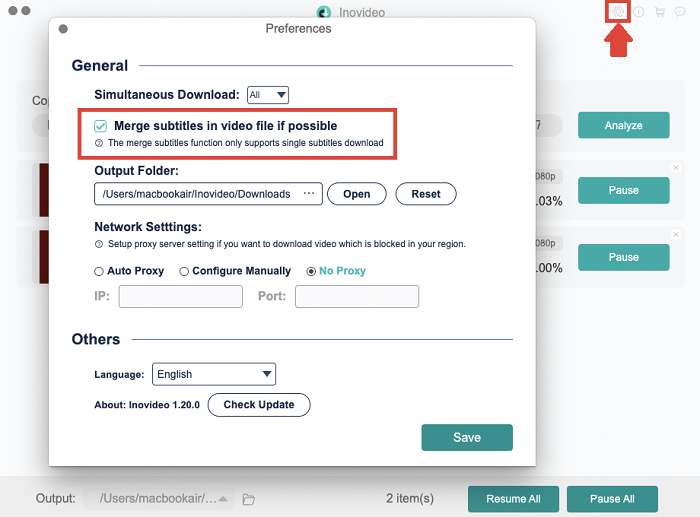 Q2. How Can I Download YouTube as MP4 in Batches?
To batch download YouTube videos in Inovideo, you can choose to download a whole playlist at once. Once you click the "Download" button, all the selected videos in the playlist will be added to the queue and start to be downloaded in batches.
If you are not downloading a YouTube playlist, but still need to batch download several URLs at once for saving time, after clicking the "Download" button to start downloading a video, you can immediately enter another video URL for analysis. In this way, you can do the video download in batches.
Q3. Are There Other Good YouTube MP4 Downloaders?
Except for Inovideo, there are also other good YouTube downloaders that allow you to easily download YouTube to MP4 in good quality.
Desktop – VideoHunter
VideoHunter is another top downloader supporting downloading online videos from YouTube and other 1000+ websites in great video quality, which can be up to 8K. Its downloading speed can even reach the highest at 6X faster.
However, the only disadvantage of VideoHunter should be the fact that you can only use the free account to download videos at the highest quality at 480p, and only one video from a playlist. To break this limitation, you have to pay for the upgraded plans.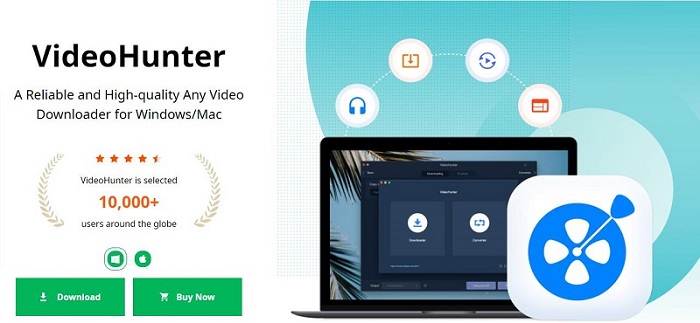 Online Platform - Y2Mate
Y2Mate is an online platform, offering the downloading function for you using all devices to download YouTube videos. By using Y2Mate, you don't need to download the software again. However, Y2Mate has lots of ads on the web pages, which may bring viruses to the computers easily, and make your personal information at risk. To download YouTube videos to MP4 safely, it's better to use a trustworthy program like Inovideo.

Final Words
After reading the whole article, it is obvious that Inovideo provides a better YouTube video download function to you. So if you also have the need to download YouTube videos to MP4 for offline playback, Inovideo is the best choice for you.