"Why can't I save certain videos on TikTok?"- Quora
Some people may want to download TikTok videos for sharing or collecting purposes. Knowing this need, TikTok sets a "Download" icon under each video in "Share". But in some cases, the download icon would miss. This is not because a bug occurs in TikTok, but the fact that the video creators want to prevent viewers to save their videos, probably due to copyright or personal issues.
To get around this restriction and download TikTok videos in an easy way, I will introduce the best method to save TikTok videos on Mac, Windows, iOS, and Android. Scroll down and read!
Note: It is important to show your values to the creators when you download their videos.
Hassle-Free Method - Download Tik Tok Video Easily? (Mac/Windows)
To download all TikTok videos including the ones that can't be saved, you will need an excellent TikTok video downloader app. Inovideo is one of the best software on the internet enabling you to download videos from TikTok as well as other 1,000+ video streaming sites, including YouTube, Facebook, Dailymotion, and so on. It brings easy-to-grasp procedures to download an online video with the best resolutions.
The key features of Inovideo can be concluded from the following aspects.
Save videos to MP3, MP4, or WebM without watermark;
Download videos to HD 720p, 1080p, 4K, and even 8K;
Batch download videos simultaneously with accelerated speed;
Download private TikTok videos.
Video Introduction of Inovideo
Here's how to download TikTok videos on pc:
Step 1. Get TikTok Link Downloader
Click the download options provided above to install Inovideo to your Windows or Mac desktop. When the installation completes, launch the software.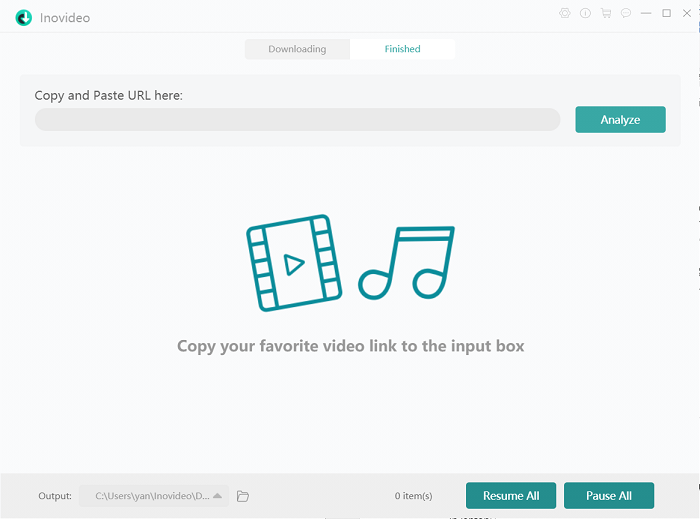 Step 2. Copy TikTok Video URL
Go to TikTok on your web browser and start browsing the short video you like. When there occurs one you desire to download, right-click the browser address bar and copy its video URL.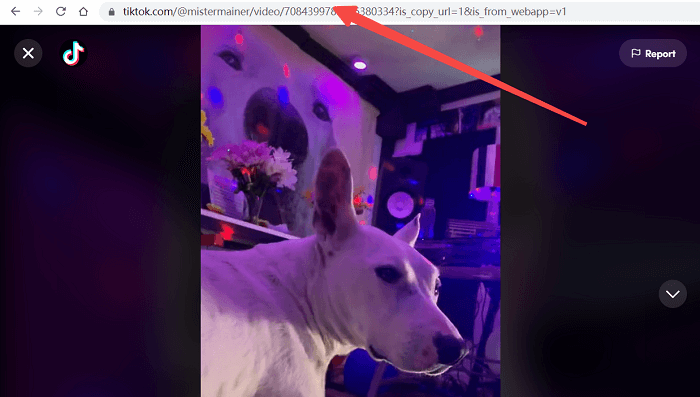 If you are browsing a video on your handset, copy the video link through the share button on the bottom right, then send it to your computer via Line, iMessage, or Email.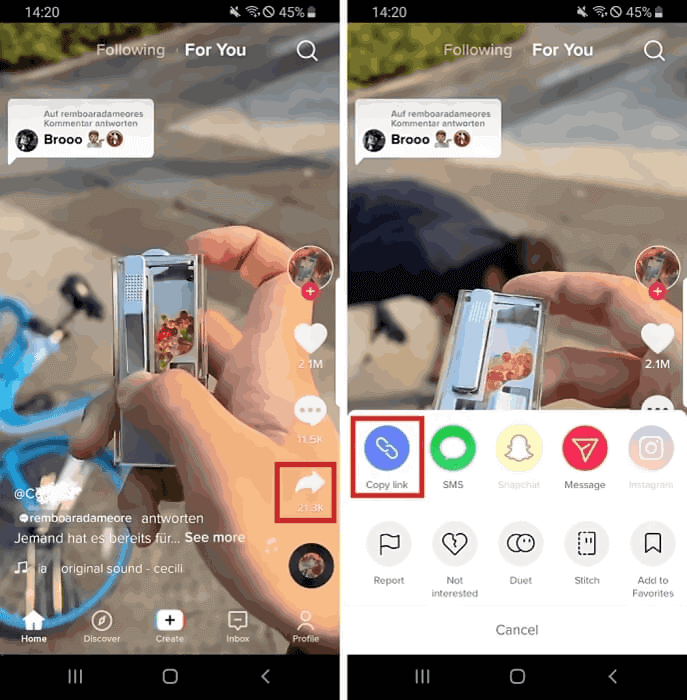 Step 3. Paste TikTok Video URL to Inovideo
When you get the TikTok video URL, go back to the TikTok video downloader and directly paste the URL into the blank bar. Then hit the "Analyze" icon to start converting it.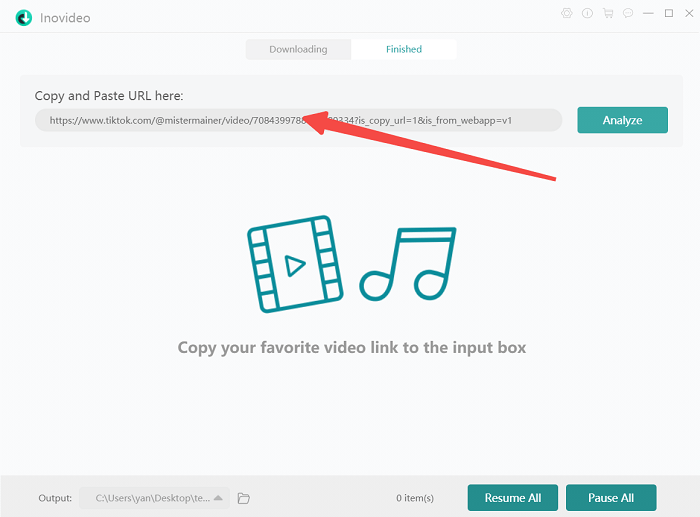 Step 4. Download TikTok Link
After the analysis, the TikTok link downloader will pop up a window that brings several output choices to you. You just need to select MP4 and the wanted quality for saving the TikTok video. Hit "Download" and the downloading process will start.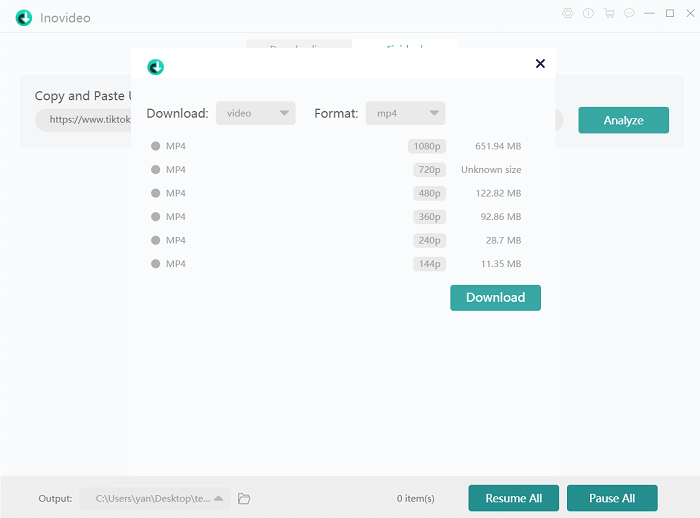 Now you've saved the TikTok video to your computer, isn't it easy? And if you wish to enjoy it on your phone, you can just send it via your email or Google Drive.
How to Save Videos on TikTok Directly (iOS/Android)
Actually, you can always check the share button first to see if there is a download button for the video. As long as the video owner allows other users to save his/her video to their camera roll and enable the feature, you will see the icon. Whether you are a newbie on TikTok and don't know that some videos are allowed to be saved or you haven't tried this option provided by the TikTok official app before, you will learn it now. It's extremely easy.
Here's how to download TikTok videos directly on Android (It's similar on iPhones):
Step 1 Check the share options from the share button which is a curved arrow icon on the right-hand side underneath the comment button.
Step 2 If you see the "Save video" option from the page occurring, click on it and the video will be saved directly to your gallery/camera roll.
How to Download TikTok Videos that Can't Be Saved? (iOS/Android)
Some TikTok video owners will prefer keeping their viewers watching the videos on this app instead of offline watching. To achieve this, they will disable the download feature and you can't see the "Save video" button from the sharing options.
To download TikTok videos that can't be saved directly on your handset, you should take help from third-party TikTok video downloader apps. They can help you solve your problem, but you need to allow them to access your device storage even the contact permission, which might lead your phone to information leakage or some potential danger.
Save TikTok to Camera Roll on iOS
SaveTok is a famous TikTok video downloader for iOS. Not only can you download TikTok videos from it, but also you can create and share your TikTok playlists and share bookmarked TikTok. But the ads options are more obvious than the save button which may lead to misoperation.
Tutorial on how to save a TikTok to camera roll on iPhone:
Step 1 Get SaveTok installed on your phone.
Step 2 Head back to the TikTok video that you wish to download. Click on the Share button on the right and hit the Copy link option.
Step 3 Launch the TikTok video downloader and it will start detecting the video. When it's done, hit the Save Now button at the bottom to download the TikTok video.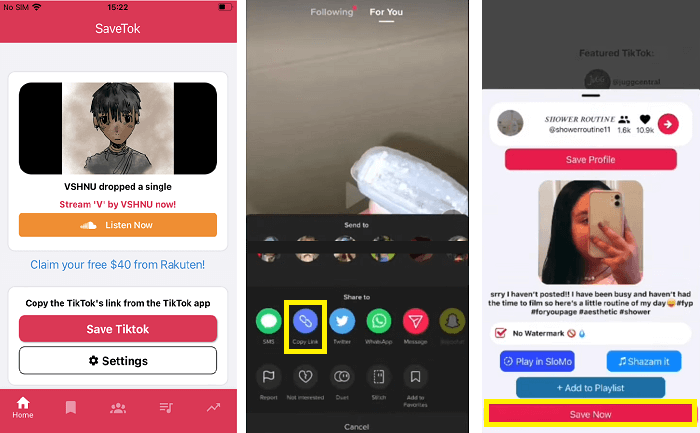 Save TikTok Videos to Gallery Android
Downloader for TikTok is a decent TikTok link downloader app for Android and can save TikTok videos to Android Gallery without watermarks. But sometimes it will keep spinning when detecting the video link and video ads occur occasionally.
Simple steps for downloading TikTok videos on Android:
Step 1 On the TikTok app, click the share button the copy the TikTok video link.
Step 2 Download and launch the downloader for TikTok.
Step 3 Paste the TikTok link to the downloader.
Step 4 Hit the download button after you see the option and the video will be downloaded to your phone gallery.
FAQs on Downloading TikTok Videos
Does TikTok Notify When You Save Someone's Video with Inovideo?
No. No matter what website you download video from with Inovideo, there will never be an alert to the video owner. But it's ethical to ask for the video owner's permission before downloading the video.
Is It Legal to Download TikTok Videos?
It's legal to download TikTok videos with the owner's permission for personal use like offline enjoyment. But getting benefits out of them will infringe the copyright of the owner and it's illegal.
Final Words
Inovideo is worth trying when it comes to downloading videos from TikTok, Facebook, YouTube, or other online video-sharing websites. It can easily download TikTok videos with original quality to MP4 HD without watermark and even the blocked videos can also be downloaded on it.
Also Download from: Niconico | Instagram | Twitch | Fmovies | Udemy | Netflix