Offering online courses in areas such as IT, business, design, and so on, Udemy is one of my favorite streaming sites. It's convenient to use it because it marks your streaming process and you can continue to watch the course where you stop the last time. However, when it comes to an unstable network environment, you'd wish you have downloaded them before. Well, can you download Udemy courses offline? Is it possible to download them to MP4 on PC?
1. Can You Download Udemy Videos?
In fact, Udemy lessons are not available for download directly unless the teachers enable the download option. If the teacher does enable the download feature, you can download Udemy courses to MP4 directly on PC or on your phone Udemy app.
Nevertheless, some offline lessons provided on the mobile Udemy app will be expired after 30 days. If that happens, you will need to clear them and re-download them for offline watching. Besides, these videos can only be played on Udemy, if you wish to edit them or share them with your friends with an MP4 file, you'll need to use your computer.
How about those Udemy courses that are without a download option? The teachers disable the feature to protect their work from being commercially stolen, but you just wish to watch them offline on your PC. For this purpose, you can seek help from a third-party Udemy downloader.
📝What you need before downloading Udemy videos on PC:
A course URL (from the course detail page or a single clip)
A Udemy downloader – Inovideo
A Windows/Mac computer with a network connection
📌How to download Udemy courses on PC in 4 steps?
Download Inovideo Udemy downloader
Copy the course URL from the address bar
Paste the URL to Inovideo and analyze it
Select the resolution and download the Udemy course to MP4
2. [Detailed] Download Udemy Courses on PC Easily (Fast & Bulk)
When it comes to lectures that are not available to be downloaded directly on PC, you will need to use a reliable desktop Udemy downloader - Inovideo - to download the courses easily. This software offers a high-quality video downloading function to save videos from more than 1,000 platforms, not only Udemy but also Dailymotion, YouTube, Facebook, and so on. What's more, Inovideo provides reliable features that bring user-friendly service to download Udemy videos easily.
Download Udemy Videos to MP4 with Inovideo
✔ Batch download Udemy cources to MP4
✔ Extract course audio to MP3 up to 320kbps
✔ Download videos from other 1000+ websites
✔ Rip Udemy course CC subtitles
✔ Merge subtitles into Udemy video downloads
✔ Download files freely and safely at a fast speed

Supported OS:
Mac OS X 10.12 or above; Windows 11/10/8/7/XP (SP3 or below)
Step 1. Install and Launch the Udemy Downloader
Click on the "Download" button provided above, you can free download and then install Inovideo to your computer of Windows / Mac operation system. When the program is installed, run it.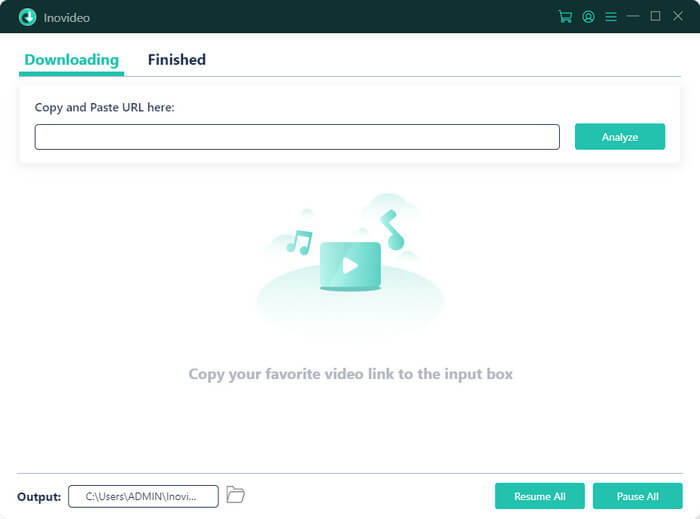 Step 2. Copy Udemy Video URL
Open the Udemy website in the browser. Head to the Udemy lesson that you need to download, copy its URL from the browser address bar.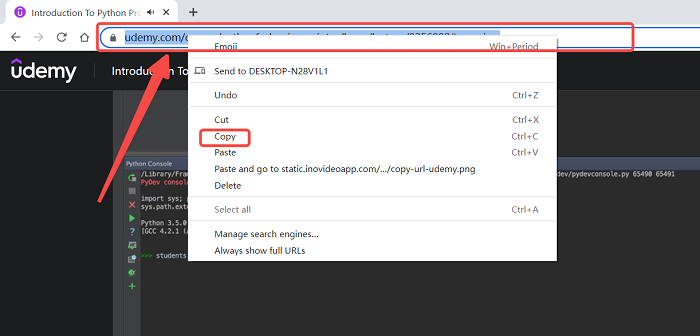 Step 3. Paste Udemy Video URL to Analyze
After getting the URL of the course, go back to Inovideo and paste the URL into the input box. Then press the "Analyze" button.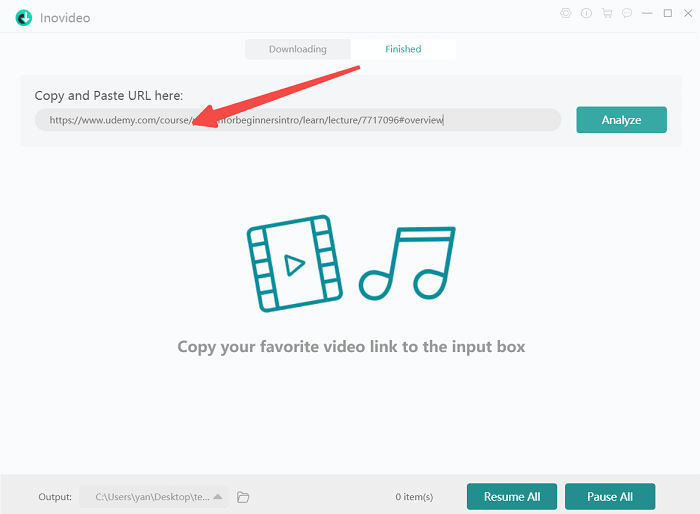 Step 4. Download Udemy Courses Offline
Wait for a moment and Inovideo will pop up a window that provides some format and quality choices to download Udemy video. You can select the format and quality according to your need, then by clicking "Download", the Udemy lesson can be downloaded.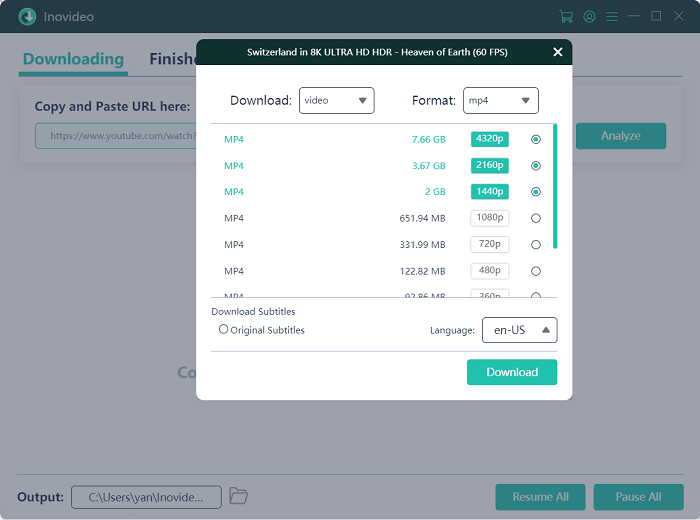 3. How to Download Udemy Videos Using Built-in Download Button
Some Udemy courses are enabled to be downloaded so that you can save them offline on your computer or your handset. When you can find the download button on the course, just download the video directly to your device. The one downloaded on the computer will be an MP4 file and that on your smartphone will be able to be played on the Udemy app offline directly.
Download Udemy Courses on PC Directly
Step 1 Start the course and play the session that you wish to download;
Step 2 Move your mouse cursor over the video playing;
Step 3 Click on the gear icon at the bottom right corner of the video;
Step 4 Hit "Download lecture" if the texts are white instead of grey;
Step 5 After the playback page is loaded, click on the three dots when the video is buffered;
Step 6 Tap the download button.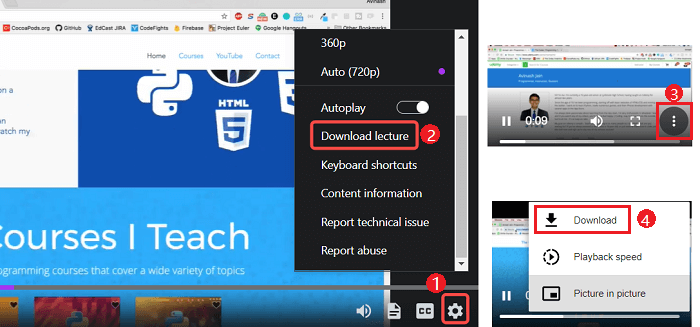 Download Udemy Courses on Android/iPhone/iPad
Step 1 Open the lecture in the Udemy app on your phone. In the "Lecture"; list, you can see all the available lessons on this topic.
Step 2 Click the grey download icon behind the lesson, and the Udemy video will start to be downloaded. You can also press the download icon set on the top of the right side above the lecture list for downloading all the included lessons at once.
Step 3 After the lesson is downloaded, the download icon will be colored, and you can directly play the lesson even there has no Internet connection.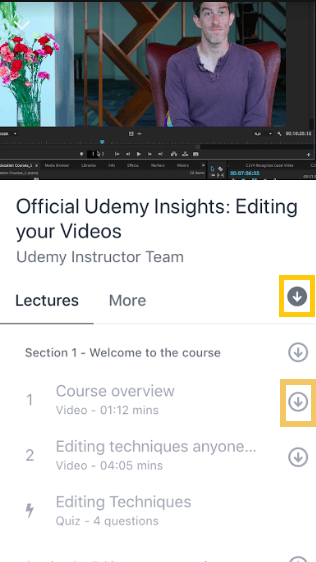 Tip for Android:
For Android phones, you can change the Udemy lecture download path from the Internal storage to an external SD card to free up your system space via Account > Download options > toggle "Download to SD card".
4. How to Download Udemy Courses to MP4 with Screen Recorder
Here comes the last method for Udemy course downloading, screen recording, which is not a typical download but with great help. With an excellent screen recorder, you can get any course online saved onto your computer to MP4.
VideoSolo Screen Recorder is a professional program for screen recording that is compatible with both Mac and Windows. With this recording program, you can record the course with sound. More surprisingly, you can add text, line, circle even voice annotations during the recording process. If you are not available during the process, you can set a task schedule and it can start and stop the recording all by itself.

Here's how to download Udemy courses with VideoSolo Screen Recorder:
Step 1 Open the video page and move the process slider to the start point.
Step 2 Launch the recorder and hit "Video Recorder".
Step 3 Select the recording area. You can either make it the size of the Udemy course or of your computer.
Step 4 Hit the start button and play the Udemy course. When it's finished, stop the recording.

Pros:
Grab any course or other video on the internet
Record screen without watermark
Provide auto-start-stop recording function
Add annotations when recording the course
Cons:
Only free for 5-min recordings
Take much more time than a Udemy downloader
Doesn't support batch Udemy course downloads
5. How to Download Videos from Udemy with Browser Extension
Except for Inovideo, you can also download Udemy courses for free with extensions on your browser. Once they are installed, you can use them quickly and download videos freely.
Video DownloadHelper is a browser extension for Chrome and Firefox. When you open the Udemy video lesson on the browser, click this extension and it can detect the video, which allows you to save the video at once.

Let me show you how to download videos from Udemy with Video DownloadHelper:
Step 1 Go to Video DownloadHelper from the Chrome web store, then add this extension and pin it.
Step 2 Open the Udemy course page and play the video you wish to download, click on the icon from the bar.
Step 3 Click othe title from the list and download the Udemy cource.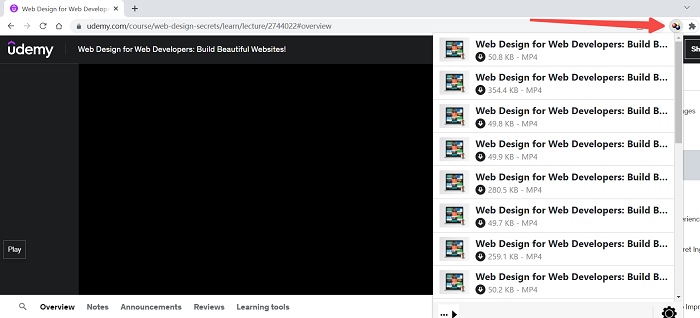 Pros:
Support downloading videos and image galleries online
Convert local media files
Manage several downloads at once
Cons:
Only available for free Udemy courses
Sometimes would fail to read the videos shown on the web pages
Can't download Udemy videos in bulk
6. Download Udemy Courses Offline with Browser Inspect
This method may sound unfamiliar to you if you are a newbie in codes. Browsers like Chrome or Firefox provide the Inspect Element for developers so that they can check their websites. And using this method is kind of like hacking into Udemy with your browser without actually knowing "code things".
It's simple if you follow the steps below and it's useful because videos from some other websites can be ripped in this way too. Normally, these downloads will be MP4 files. But you can only download free courses from Udemy to your computer using Inspect Element. And if you wish to download Udemy paid courses, you still need the Inovideo Udemy downloader.
Here's how to download Udemy videos using Inspect:
Step 1 Navigate to the Udemy course you wish to download, then start it.
Step 2 Hit "Ctrl + Shift + i" and you can see the Inspected Elements.
Step 3 Select "Network" from the tabs on the top. You can see "Elements, Console, Sources" in the sequence.
Step 4 Then click "Media" in line three in the tab "Network".
Step 5 At this moment, you may find it's empty in the "Media". Now refresh the page and play the course.
Tip:
If you are to download all videos from this course, you can hit the right arrow to play each clip and all sources will be displayed from the Inspect Element. And you don't need to finish the playback. Keep clicking on the arrow until all clicks are finished.
Step 6 Right-click on the file and choose "Open in new tab".
Step 7 Then in this newly-opened tab, you can see the Udemy course clip. Hit the three dots at the bottom right corner and hit "Download".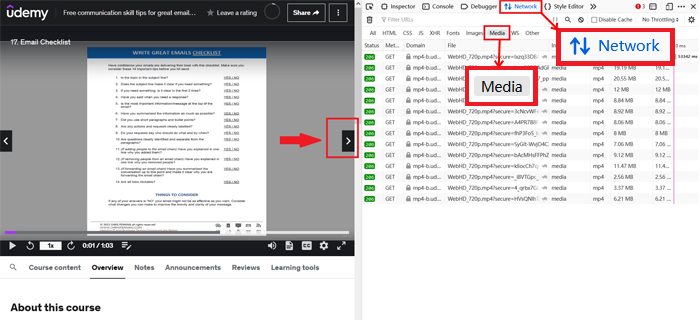 Pros:
It's totally free
All free courses can be downloaded to MP4
Cons:
Paid courses can't be downloaded
It's complicated for beginners
Can't batch download Udemy courses
Conclusion
Compared to the browser extension and the screen recorder, using Inovideo to download videos from Udemy has obvious advantages. For example, the quality is higher and the downloading would be stabler. Nevertheless, you can download many other videos from top websites such as YouTube, Facebook, Vimeo, Instagram, etc. As a result, Inovideo can be the top 1 Udemy downloader.