Every day, there are a lot of videos and pieces of music that are being shared on numerous sites on the world of the internet. Did you think that the videos you watched or listened to earlier could be downloaded? Yes, it is possible! Using these top seven convenient URL video downloaders, you can convert URLs to videos or even audio files.
This review presents Inovideo, 4K Video Downloader, VideoHunter, PasteDownload, Y2Mate, SmallSEOTools, and Keepvid Video Downloader. These are the best URL Video Downloader that you can use for free. Some of them can try online, and some of them can be tried upon downloading the tool. Please do not waste time anymore, copy the URL of your favorite video now and convert it to video and watch it offline!
The Best URL Video Downloader - Inovideo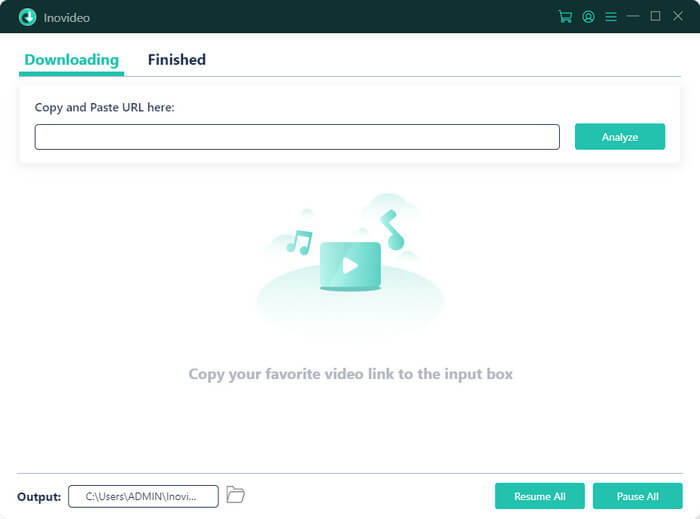 Inovideo is one of the best URL Video Downloaders, and it has the power to download online videos from more than 50+ websites. The good thing about this downloader software is it can convert video URLs to MP4 with a fast feed with an excellent quality. Please take note, not only a video, but it can also download music or download the entire YouTube playlists. Moreover, Inovideo allows you to use their software for free. However, with limitations. Furthermore, below, let us learn more about its main features. Please, see them one by one:
Inovideo URL Video Downloader
✔ Batch download videos from 1000+ websites
✔ Save MP4,3GP, WebM up to 8K, 4K, 1080P, 720P
✔ Extract MP3 up to 320kbps
✔ Grab Private/blocked videos
✔ Rip the playlist, channel, subtitle, etc. if any
✔ Merge subtitles into video if any
✔ Download files freely and safely at a fast speed

Supported OS:
Mac OS X 10.12 or above; Windows 11/10/8/7/XP (SP3 or below)
We now have an idea of what Inovideo is and its main features. Now, let us tackle how to download videos from URLs using this fantastic software.
Step 1 Copy and paste the URL of the video or music that you like to download. After the copying or pasting process, tap the Analyze button.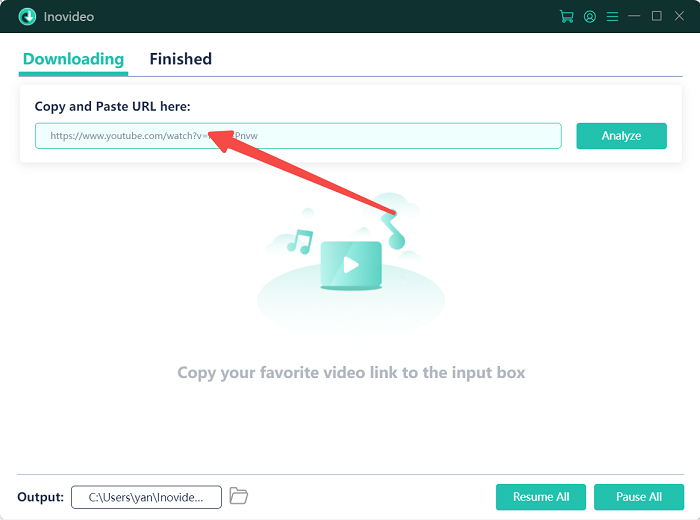 Step 2 A dialog box will appear after clicking the "Analyze" button. Inovideo will allow you to choose between video and audio. Also, it will enable you to select a format such as .mp4, .3gp, and .webm.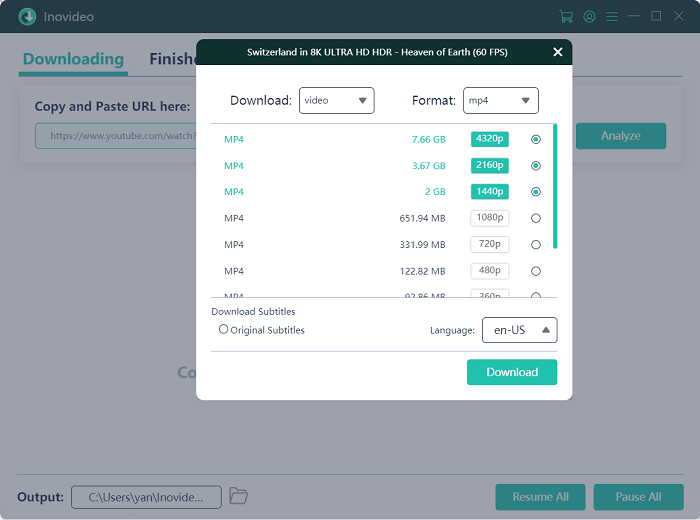 Step 3 After choosing and selecting a format, click the Download button on the right lower side of the dialog box.
Step 4 After the downloading process, the file will be moved to the Finished on the URL video downloader. Click the Finished on the upper part, and you will see your download video or audio. After that, you can also tap the Open Folder button to see your download video or audio on your computer.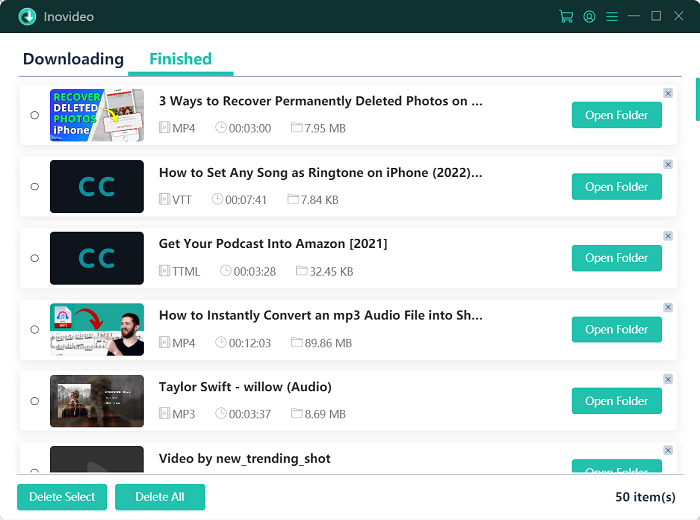 Download from: Tumblr | Reddit | Niconico | CNN | Pornhub | Instagram | SoundCloud | Twitch
Top 2. 4K Video Downloader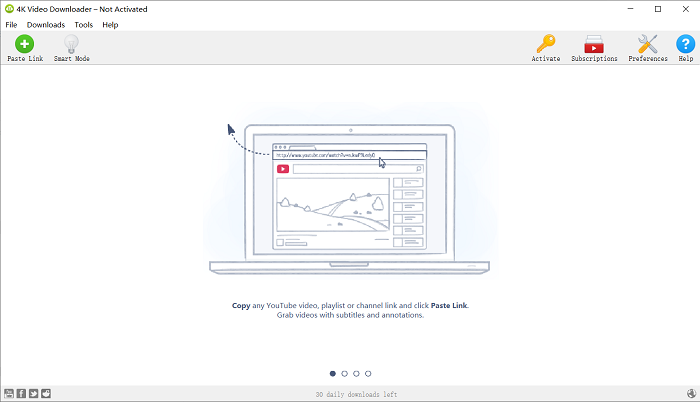 4K Video Downloader is software that can convert URLs into a video and audio. To do that, you need to copy the video or audio URL. Then, paste it into a 4K Video Downloader. That is it. In addition, the files you downloaded using the 4K Video Downloader can be customized with the resolution quality, format, and subtitles.
What's more? It is also compatible with Mac, Windows, and Ubuntu. Furthermore, here are the advantages and disadvantages of the 4K Video Downloader. Please see them below:
Pros
It is user-friendly.
It provides subtitles in the downloaded videos.
It also provides batch conversion.
It lets you transfer the downloaded files to different devices.

Cons
It has unpredictable download time.
It has a limit on the playlist with the number of videos.
Top 3. VideoHunter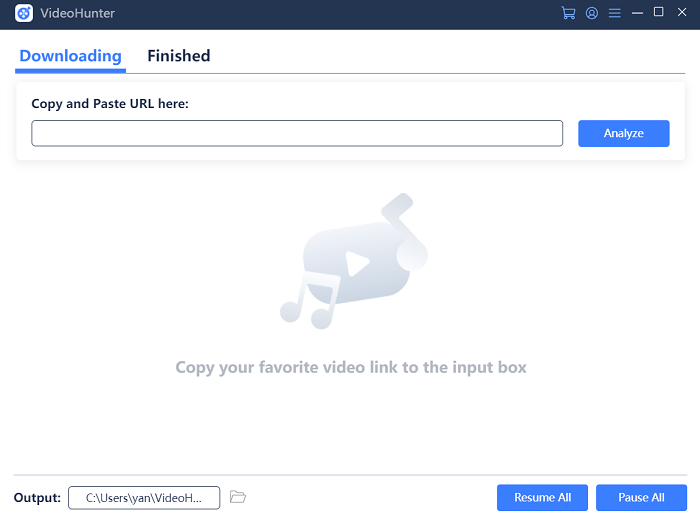 VideoHunter is one of the popular URL video downloaders online, and it is not impossible because it can download videos from up to 1000 sites! In addition, VideoHunter can achieve the best quality for your downloaded videos up to 4K . The good thing about this software is it has a batch conversion. It means you can paste many URLs and download them simultaneously. Below: you will see the pros and cons of VideoHunter.
Pros
It provides high-quality video and audio output.
It has an excellent and user-friendly interface.
It has a built-in Proxy Integration.
It is lightweight.
It has a clear and straightforward UI.

Cons
It takes too much to install.
It crashes sometimes.
You need to sign in before trying it for free.
Top 4. PasteDownload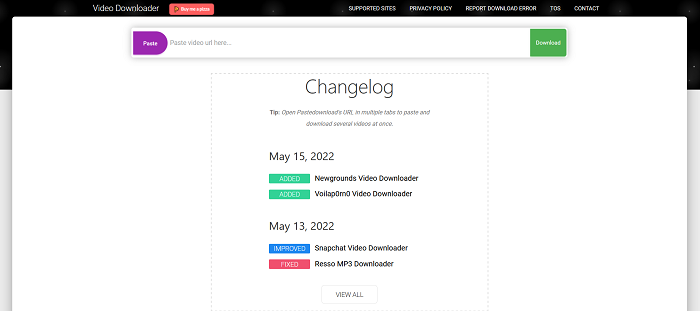 PasteDownload is a URL video downloader online. Therefore, you do not have to download the software, and you can download your URL video or audio instantly! That is great, right? This free online video downloader aims to help every user download their videos and audio with ease, especially for free. Moreover, it is effortless to use. Since you do not need to install the software, you can save time downloading URLs and be ready to see them immediately. There's more you can learn about PasteDownload. See them below:
Pros

It is a free and online tool.
It is convenient and manageable to use.
It supports many websites.
It has a resume Download Support.
It provides high-quality downloaded videos and audio.
Cons

Since it is a free online tool, too many ads are popping up.
It crashes when analyzing long videos.
It doesn't support playlist download.
You can't download videos in batches.
Top 5. Y2Mate

Y2Mate is another free URL downloader online. Again, since it is an online tool, you no longer need to install Y2Mate. And the advantage of it is you can save time because you will download the URL directly to the main page of Y2Mate. In addition, it has a simple online interface and it is not confusing to use. It is perfect for beginners because it is simple to use.
Moreover, Y2Mate lets you download with numerous sites and make the output file with great quality. What else? It has no limitations on downloading URLs, it will not require you to sign up, and it supports almost all file formats. There's more, please see the pros and cons of Y2Mate in the lower part:
Pros
It is a free and online URL downloader.
It can convert URLs to MP4 file format.
It is easy to use.
It is a high-speed URL video downloader.

Cons
It has a few features.
You are not sure of its safety.
It can't batch download videos with one URL.
You can't download YouTube playlist videos.
There are ads when you download videos.
Top 6. SmallSEOTools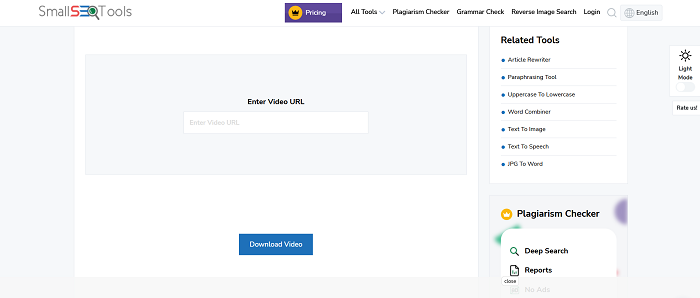 SmallSEOTools is another free online URL downloader, and it is super convenient to use. Just paste the URL you like to the address bar. Then, click the Download Video button, wait for a while, and the downloaded video or audio will be ready. In addition, this online tool is not just a URL video downloader. And it has many scopes like a logo maker, spellchecker, etc.
Besides, SmallSEOTools lets you download URL videos and watch them without connecting to the internet. On the bottom part, you will see the advantages and disadvantages of SmallSEOTools.
Pros
It is a free online URL video downloader.
It focuses not only on video downloaders but also on many features such as Logo Maker, Internet Speed Test, SEO Checker, etc.
It is fast at converting URLs to video or audio.

Cons
It has too many Ads.
It does not have enough features with a URL downloader.
It has a plain interface.
It has no batch conversion.
Top 7. Keepvid Video Downloader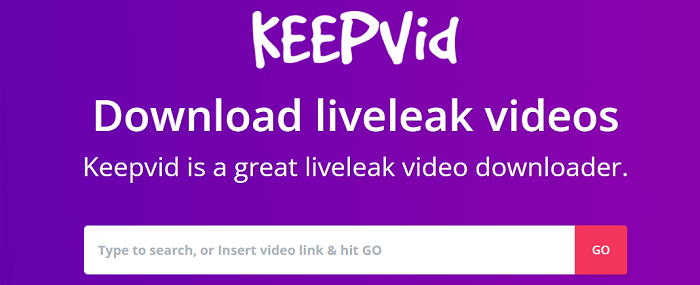 This URL Video Downloader can download videos from URLs effortlessly! It is also one of the included online video downloaders yet satisfies every user's need. The great thing about this is that it can download URL video and URL audio to various file formats. Keepvid Downloader will not also fail you with its quality up to the maximum good quality! Moreover, it can download URLs from different sites such as Facebook, Instagram, YouTube, and more!
Pros
It lets you download multiple times for free!
It supports more than 100 sites.
It will not require you to sign up.
It can download YouTube subtitles.

Cons
It crashes on the YouTube site sometimes.
It doesn't provide batch conversion.
You can't download YouTube playlists.
It shows ads when you click the download button.
Conclusion
In this post review, we know the seven most convenient URL Video Downloaders. We talked about their advantages, disadvantages, and primary features. And Inovideo is overall the best URL Video Downloader among them. Not only can you download URL to MP4, but also you can convert the playlist to MP3 . You can free download it and try it from the download button below.