SaveFrom.net not working while you need to download videos from YouTube? You are not alone as so many people have met the same problem.
As a famous online video download platform, SaveFrom.net runs well in most cases, in other times it just doesn't work for no reason, for example, "the download link not found". This is very annoying particularly when you are in great need of downloading video from YouTube.
So, we collect the problems you might encountered in today passage and we wish the solutions we provide can settle your problem in downloading video online.
Also Free Download Videos from:
Discontinuation of Service in the United States
Savefrom.net is no longer available in the US since April 16, 2020 due to the copyright issue. Both the website and its extension have terminated the service. So, if you are using the US Internet server, you will continue to see the note below.

But actually, if you use a VPN that provides you a virtual IP from other states, you can continue using Savefrom.net. It's a decent tool to download online videos without software if you are a fan of it. Otherwise you can directly use a Savefrom.net alternative.
If you are still using Savefrom.net without the US server, and encounter some problems when downloading videos on the extension tool, the next part may help you.
Why SaveFrom.Net Is Not Working on Chrome [Solution Include]
Although you have successfully installed the extension, SaveFrom.net Helper just won't work. Perhaps it is because the download link is not found in SaveFrom.net or the download button doesn't show. Here comes a list of problems in using SaveFrom.net. Some of them are offered workarounds while others not due to its some known and unidentified factors.
>> 1. I can't use Savefrom.Net extension on Chrome to download YouTube videos.
Solution: Now, no Chrome extension is able to download YouTube videos. If you want to do that, try its website or use other download tools.
>> 2. It appears an error, saying "suspicious extensions are blocked" in Google Chrome.
Solution: Google Chrome blocks installation of any extensions not registered in online Chrome store. We suggest installing other supported websites, like Opera .In case Opera is not suitable for you, you can use any other browser that supports SaveFrom.net helper extension: Mozilla Firefox, Comodo Dragon.
>> 3. How to continue downloading if the download accidentally stopped.
Solution: Use download managers to solve problems with downloading.
>> 4. "I used to be able to download videos with a click of the green button but now it only pops up a playback window instead of a download dialog."
Solution: After showing the playback, click on the video with the right button and select "save as".
>> 5. Cannot download YouTube video in Safari browser.
Solution: Before downloading a video, hold down thebutton and then the download button.
>> 6. After updating my Tampermonkey user script, my downloader stopped working.
Solution: Remove the extension from Tampermonkey and re-install the SaveFrom.net Helper again.
>> 7. No extension coming in Facebook for download, not showing the green arrow for download.
Solution: Make sure you have already updated your website and SaveFrom.net to the latest version. And then re-install the extension.
Other common troubles in using SaveFrom.net to download website videos:
I have the green arrow, but it just won't download. Instead, I get a "No Links were Found Message". / Download links not found in Facebook.
Can't download 1080p video/ only audio track/Twitch.
Pop up advertisements after clicking on the download option and see no new download task.
While downloading a video, it suddenly stops and then starts again. But after the download is completed, the video is not playing.
Solution: Due to technical issues, some problems remain to be solved. The best solution is to try a SaveFrom.net alternative.
Also Download: HTML5 Videos | Udemy Videos | Fmovies
100% Effective SaveFrom.net Alternative - Download Video from YouTube Easily
So, here I introduce Inovideo which is the optimum alternative of SaveFrom.net. It's a multipurpose desktop video downloader. The reason I don't recommend online tools is that they inevitably have some drawbacks and you can also find many of them on Google result page.
Compared with online tools, Inovideo is more stable, faster and safer. It has clean main interface with no ads or pop-up windows. You can download an online video by copying and pasting the video link, the same steps as for savefrom.net. But Inovideo performs more stable and not affected by any other unknown factors and restrictions. Batch download in a quick speeed is also available in this powerful software. It is so versatile that it can convert the video into the audio of MP3 to satisfy your utmost demand.
What Can Be Done with Inovideo?
✔ Batch download videos from 1000+ websites
✔ Save MP4,3GP, WebM up to 8K, 4K, 1080P, 720P
✔ Extract MP3 up to 320kbps
✔ Grab Private/blocked videos
✔ Rip the playlist, channel, subtitle, etc. if any
✔ Merge subtitles into video if any
✔ Download files freely and safely at a fast speed

Supported OS:
Mac OS X 10.12 or above; Windows 11/10/8/7/XP (SP3 or below)
Here are the steps with YouTube video download as an example.
Step 1 Download Inovideo from its official site. Please note that choose the right version (Windows/Mac). Then launch the powerful tool.
Step 2 Open the page to play your favorite video that you want to download, and copy the link from the address bar above the browser by right-clicking or hotkey (Ctrl+C).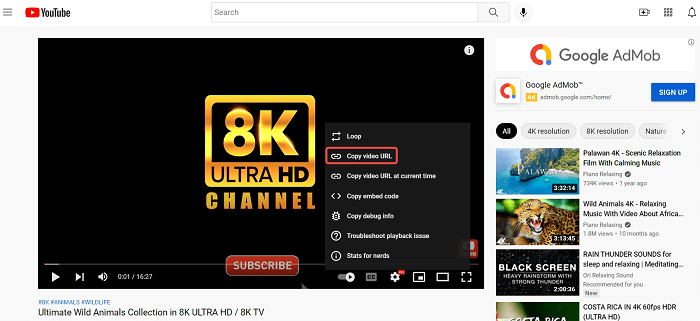 Step 3 Go back to Inovideo. Then paste the copied content into the text box. Press "Analyze" button to next step.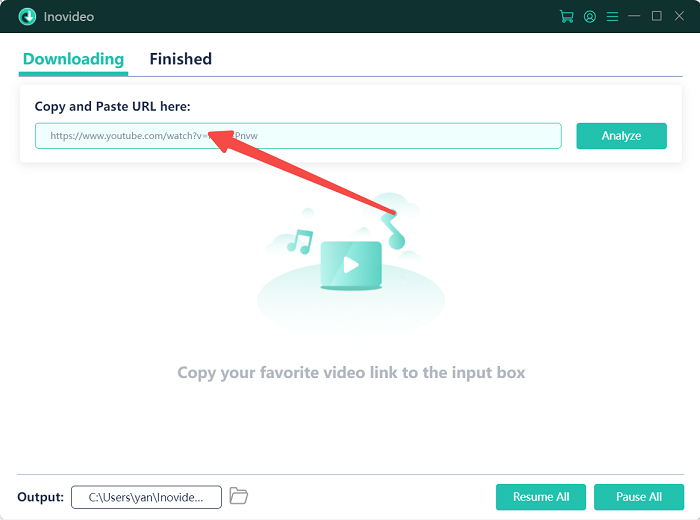 Step 4 After analyzing, it will pop up a window for you to choose the video format or quality. Make your choice and then select "Download" to start downloading the YouTube Videos.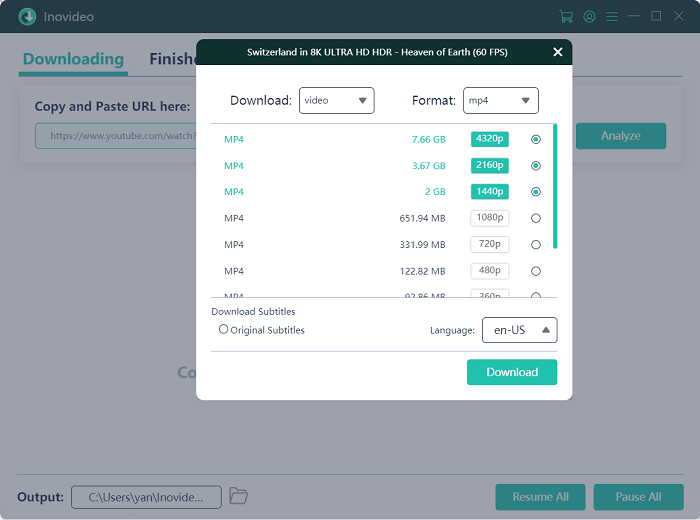 So far, I have not met any problems while using Inovide to download videos from Internet. To my amazement, it can download videos in batches and in good quality. What's more, it has a professional support team which can help you solve problem in 24 hours.
FAQs About Savefrom.Net
Is Savefrom.Net Safe or Net?
It's hard to say. Savefrom.Net is like other online downloaders that contain lots of ads. And you will be redirected to its ad sites after clicking the download button. Sometimes they are just normal websites, but no one can claim that you won't be led to adware or even malware downloads. It's not 100% safe being a downloading site.
How Do I Install Savefrom.Net Extention?
On you Chrome, you can go to the web store and install it to your browser. Click the "Add to Chrome" button and it will start downloading and installing the extention.
Conclusion
Savefrom.Net is not working sometimes if lacks instant maintenance. If you find you can't fix your problem with the solutions above. Just try some alternatives. Inovideo should be a nice replacement that helps you download any videos off the internet for free. You won't be regretful using it.