If you want to watch interesting videos on browsers, you must resort to the proprietary Adobe Flash plugin in the past. Installing Adobe Flash might waste your time and the storage of your devices, which is very inconvenient. However, since 2020, with the emergence of HTML5 videos, the Flash has been phased out.
Nowadays, a majority of mainstream media platforms such as Facebook, Twitter and Instagram widely support the HTML5 video element. This video element can bring you a smoother watching experience and cost a shorter cache time.
While you are browsing different websites, you may have a need to download entertaining videos or some training course videos for later review. Hence, in this post, we will recommend you 3 best ways to download these HTML5 videos.
How to Download HTML5 Videos with Inovideo
With regard to efficient tools for downloading HTML5 videos, the software lnovideo can be our first recommendation. It is a high-rated and professional online video downloader which can help you to download your favourite Internet videos from various websites and then save them to Windows or Mac computers. Just with several simple clicks on Inovideo, you can get high-quality HTML5 videos swiftly. In order to improve your user experience, you are also allowed to have a permanent free trial period.
Here are Key Features of lnovideo.
Support downloading on multiple platforms
The lnovideo supports downloading online videos on over 1000 popular platforms ranging from YouTube, Twitter, Instagram, Dailymotion to Facebook. In this way, you don't need to worry about the compatibility of Inovideo with existing websites.




Incredible output quality ensured
The advanced download technology of lnovideo can ensure 100% lossless video quality for an optimal watching experience after downloading. It can achieve 8K, 4K, 1080P and 720P resolution of downloaded videos to fulfil your needs at best.




High efficiency in downloading
To promote efficiency, the downloading speed of lnovideo app can be maintained at 6X faster at least. The batch download is also an important function for saving time. You can download shortlisted videos with one click concurrently.




Flexible and customized output setting
This tool can help you download online videos in MP3 or MP4 formats. It can also extract audio from video and save it to any device.
With a straightforward interface, the downloading process can be conducted quickly with simple clicks. The following step-to-step guide will teach you how to download Internet videos to your computers with Inovideo, taking the Windows version as an example.
STEP 1. Install and launch the Inovideo app
By tapping the following download buttons, you can easily install the Inovideo on your Windows or Mac computers. After installing it, please get the app ready for later operation.
STEP 2. Copy your desired video links
Navigate to your webpage and copy the links of your favourite videos. After that, you should go to the interface of Inovideo and put the URL in the input box. Then, tap the green "Analyze" button to search for videos.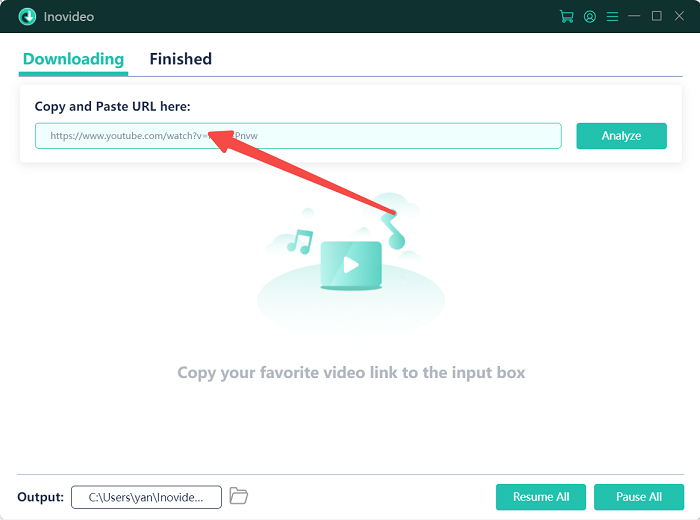 STEP 3. Set the output formats and video resolution
After the analyzing process is finished, you will see a window for selecting video, audio formats and the resolution. Once you confirm the settings for videos, you can click the "Download" button to start downloading process.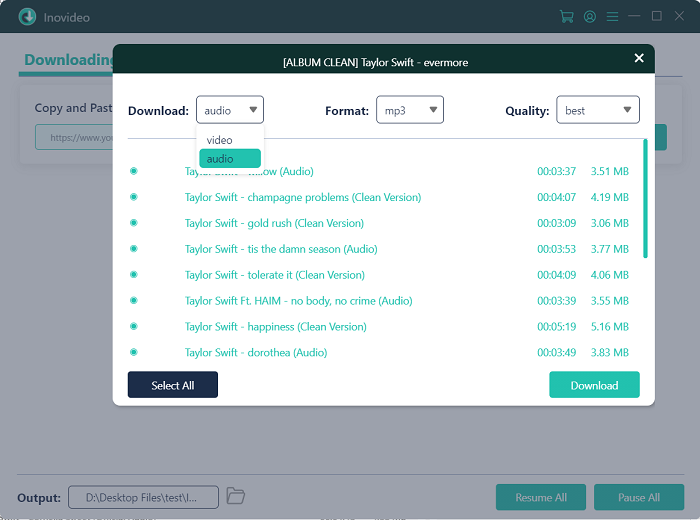 STEP 4. Start the downloading process and check your downloads
The downloading process is swift and you can repeat step 3 to grab more videos because it supports batch download. Once completed, you can click the "Finished" icon to check and locate your downloaded videos.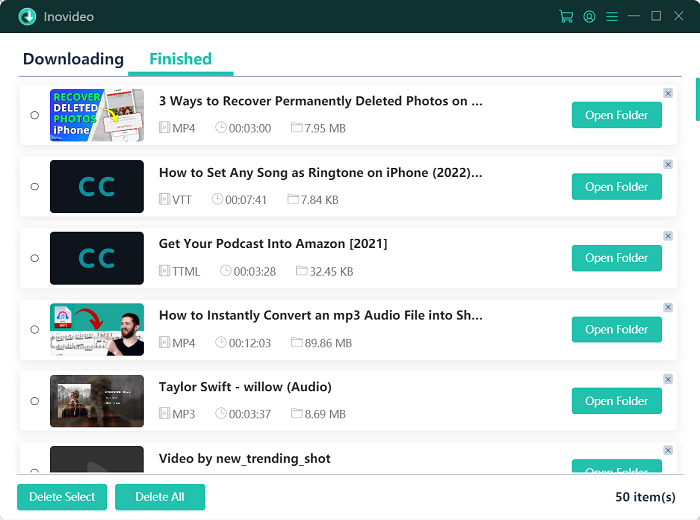 How to Download HTML5 Video with Free Online Downloader
The second recommendation is a free online downloader, YooDownload. This is a convenient tool without requiring you to install any programs on your computers. You can go to the webpage of YooDownload directly and it supports a variety of platforms such as Youtube, Vimeo and Twitter. However, since it is free, network security remains to be strengthened and you need to be cautious. If you would like to try this online downloader, here is a brief guide to download HTML5 video.
Step 1. Go to the video platform and copy the link of the videos that you want to download. Then, please go back to YooDownload and paste the URL into its upper search box.
Step 2. Tap the "download" button and select the video quality on its pop-up window. Then, you should click the right download arrow and also choose the file location.
Step 3. The downloading process will be fast. Once finished, you could go to your selected folder to check downloaded videos.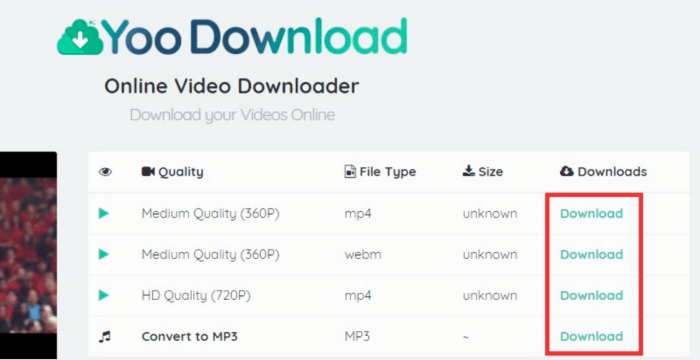 How to Download HTML5 Video with Chrome/Firefox Extension
The third recommended tool for downloading HTML5 videos is a browser extension named Video DownloadHelper. It is a popular plug-in which can assist you to download Internet videos quickly without installing any other applications. It is worth mentioning that Video DownloadHelper is compatible with Chrome and Firefox browsers. For Chrome version, you can install here to install this extension and for Firefox version, you can install here.
However, there exist some limitations while using Video DownloadHelper. The Chrome version prevents you from downloading YouTube videos due to YouTube private policy. Besides, the tool only provides downloading services without extra functions such as conversion or audio extraction. Here are some simple steps for operation.
Step 1. Navigate to the Chrome or Firefox version of Video DownloadHelper and then add it to your browser as an extension.
Step 2. Open the video website that you want to visit and locate to your desired videos for downloading.
Step 3. Click the Video DownloadHelper on the right side of the browser. Then, there are video qualities to choose.
Step 4. After the settings are completed, you can simply start the downloading.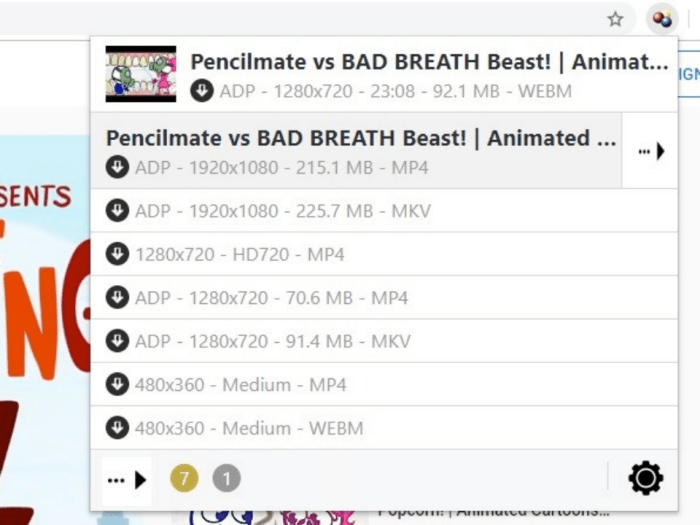 Conclusion
Overall, in this post, we have recommended three convenient tools for downloading HTML5 videos to your Windows or Mac computers and enjoying playback during break time. The first recommendation is an efficient software lnovideo which can download HTML5 videos with incredible output quality. This app supports a wide range of video streaming websites, format conversion and swift batch download. For its operation, we have presented a specific user guide.
Then, we also introduced you to a free online downloader, YooDownloader and the Chrome/Firefox plug-ins. Even though they are all user-friendly, they do show some weaknesses, such as online security and limited functions. We hope the above explanation of three tools can help you choose a suitable one for downloading HTML5 Internet videos.