As is known to all, SaveFrom.Net is one of the most popular online video downloader websites. It does help us download videos from various websites such as YouTube, Instagram, Dailymotion, etc. However, it no longer works in the United States since April 28, 2020. Even though it works in some other regions, there are still many limitations when using it. Luckily, we've got a perfect SaveFrom.Net Alternative, namely Inovideo, that allows you to batch download videos to MP4, MP3 of original quality from more than 50+ famous websites on both Windows and Mac.

Limitations When Using SaveFrom.Net
SaveFrom.Net now supports us to download videos to MP4 from many websites free online, such as YouTube, Instagram, Twitter, Dailymotion, and so on. It analyzes the URL fast and as long as the website is supported by it, you can download the video in one click. Nevertheless, it meets our basic needs only. When it comes to downloading long HD videos with audio, it cannot help you out. Below are the possible limitations that you may meet when using SaveFrom.Net:
Videos whose quality is better than 1080P are silent
Cannot download audio only
Long-length videos will be severely compressed
Doesn't support downloading videos in bulk
Can't download an entire playlist/channel in one click
Only Chromium-based browsers can run it
Errors may occur during downloading
The download button takes you to an advertisements page while downloading (potential malware/virus might be brought)
Best All in One Alternative to SaveFrom.Net
In fact, there are tons of SaveFrom.Net alternatives on the market but none of them can download videos from any webpage. So, the key point is to find the best one that's trustworthy and is multiple websites supported. And Inovideo is the one.
Comparison of SaveFrom.Net and Inovideo
With Inovideo, not only can you batch download videos from websites, but also you can download the subtitle with the video or merge the subtitle into the video file. Also, unlike SaveFrom.Net, Inovideo can download the playlists, videos from a channel, or a user page, convert the videos to MP3 directly.
What SaveFrom.Net & Inovideo Can Download?

Single Video

Playlist

Channel

Audio

Subtitle

Inovideo

√

√

√

√

√

Savefrom.Net

√

X

X

X

X
#Video Quality
In terms of video quality, Inovideo excels at it. It downloads the video or music with original quality (up to 8K resolution) while you can only download video with resolution up to 720P with sound. If you need 1080P or a better one, the video will be with no sound.
#Video Length
When it comes to downloading long-length videos like a full live show, Inovideo will analyze it in a few seconds and you can download it to an HD video. But SaveFrom.Net will compress the video to SD (unless you need a silent 1080P one), and you may fail to finish the downloading due to some server issues.

#Batch Download
What's more, when you are downloading a YouTube playlist on Inovideo, all you need to do is some simple clicks and the whole playlist will be downloaded to your computer automatically. Compared to it, SaveFrom.Net loses because it requires you to download the items one by one.
#Security
Last but not least, security, which means the most when downloading something on your device, you can find that before you get to download the video after the analysis on SaveFrom.Net, the current webpage on your browser will be switched to an unknown one. We can't tell if the pages are safe or some malware will be downloaded after that. However, Inovideo is clean and safe and you won't see any advertisements on it.
These are the highlight features that make Inovideo the best SaveFrom.Net alternative, and you can tell them easily with the table below.
| | | | | | |
| --- | --- | --- | --- | --- | --- |
|   | Batch Download | Ads Free | Output Formats | Supported Sites | Quality |
| Inovideo | √ | √ | MP4, WEBM, MP3 | 50+ | 8K (All with sound) |
| SaveFromNet | × | × | MP4, WEBM | 40+ | 720P with sound/1080P-4K without sound |
How to Download Videos with Inovideo?
To download a video on Inovideo, all you need is this professional software and the URL of the video. Let's get it started.
Disclaimer: You must have the permission of the video/audio owner before downloading the videos/audio.
Step 1 Download, install and launch Inovideo
Step 2 Copy the URL of the video from the address bar

Step 3 Paste the address link you copied onto the searching bar on Inovideo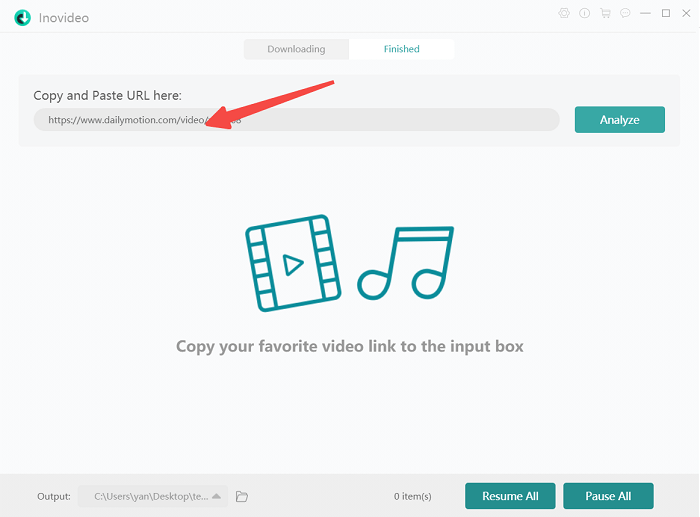 Step 4 Select the output format and the resolution for the video after the analysis. If there are subtitles from the video, you can tick off the option and select one language at the bottom if you need one.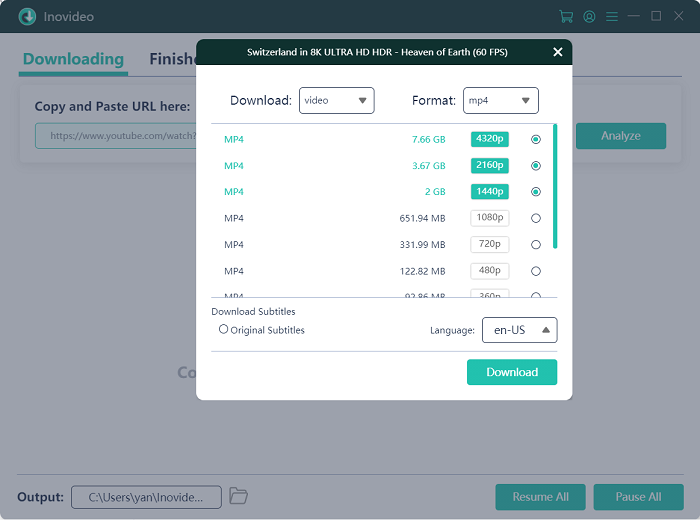 Tip:
To download videos with subtitle built in from websites such as YouTube and CNN, you need to select the option via Gear icon > General > Merge subtitles in video file if possible.
Step 5 Hit the Download button and you can check them on the Finished tab.
FYI: You may find the pop-up conversation differs when you are downloading a playlist, here's a tutorial on how to download an entire playlist.
Final Words
In a word, Inovideo is the best SaveFrom.Net alternative that you should never miss. Regardless of the fact of software downloading, it contains all advantages that SaveFrom has and does better than it in supported file types, video quality, user experience, and most importantly, security.