It is an easy thing to download a public Facebook video because there are lots of online tools and Facebook downloaders around. You only need to find such tools and use them to download public Facebook videos straight from Facebook, even for free. However, many such Facebook downloaders are not able to download private Facebook videos offline, so it means that you would need a more powerful tool to help.
Now in today's article, there are 3 workable and easy methods introduced to help you easily download private videos from Facebook with good quality, even when there provides no download button on the platform. Have a look and choose the best way for yourself to use it now.
How to Download Private Facebook Videos (Easily and Safely)
There are still a few Facebook downloaders that support downloading both public and private Facebook videos in the same way, and Inovideo is such software you can try. Inovideo provides a powerful video download function, letting both Windows and Mac users enjoy a stable experience for downloading online videos from 1000+ famous websites. For Facebook videos, both the public and private videos are supported to be downloaded using Inovideo, so for people with high needs in downloading Facebook videos safely, Inovideo is the best choice.
Key Features of this Private Facebook video downloader:
Offers a clear and user-friendly UI
Downloads private Facebook videos without accounts logging in
Sets simple operation but can powerfully download videos from 1000+ sites
Supports fast speed and batch download to make quick video download possible
Supports 8K, 4K, 1080P, and 720P resolution according to the original
Allows to download playlists, channels, and subtitles for some sites as well
Converts music to MP3 format with the best music quality
A detailed guide to downloading private Facebook videos on Inovideo:
Step 1. Copy Private Facebook Video URL
When you find a private Facebook want to download for offline watching, you need to get its URL from the Facebook platform. You can directly copy it from the browser address bar, or click on the three dots to grab it.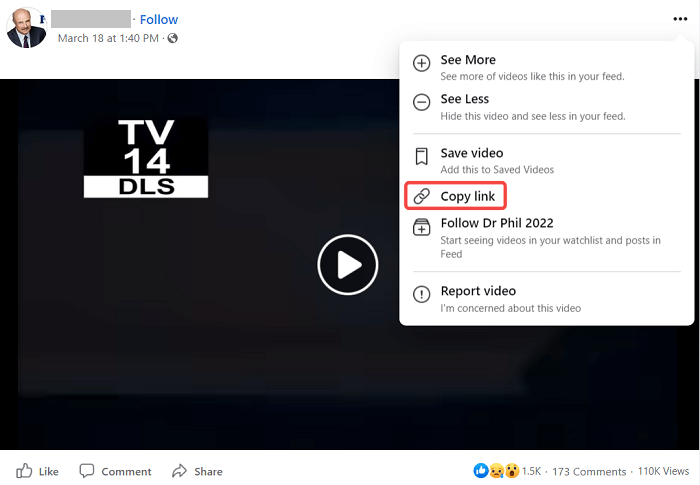 Step 2. Paste Private Facebook Video URL and Convert
Now, you need to launch Inovideo and directly paste the URL of the private Facebook video to the search bar. After clicking the "Analyze" button, the downloader will begin to convert the video for you.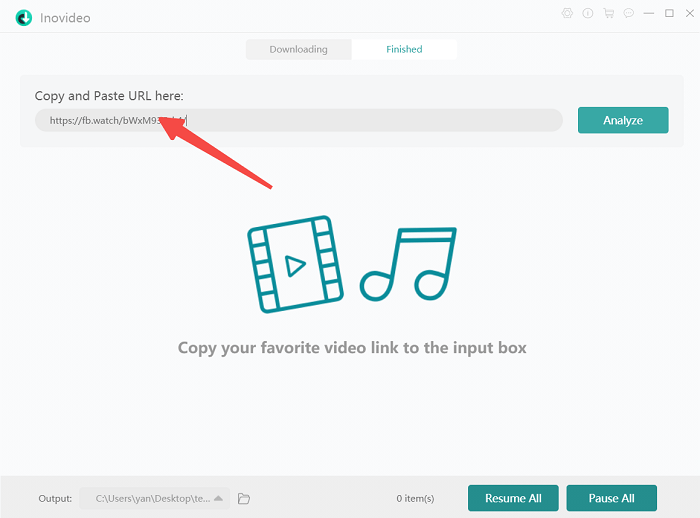 Step 3. Choose Format and Quality to Download
When Inovideo converts the private Facebook video successfully, you can see the download options provided then. Just choose the format and quality you want, and click the "Download" button. Then Inovideo will begin to download it for you offline.

How to Download a Private Video from Facebook Online
Using online video downloaders to download Facebook videos is still a popular way many people would choose. But for the private Facebook videos, you need to find out which of them would support. Here are two online tools allowing you to download Facebook private videos only with a web browser online.
However, I should still get you aware of some potential risks that an online private Facebook video download may bring to you. There are tons of ads on online websites. Some are obviously displayed on the homepage; some are hiding in the download button or even the analyzing button. These ads can bring you to a new website or link to a Trojan plug-in download, which may be adware or malware. The online downloaders introduce in the following are just workable, but we can't assure you the safety. You need to make sure that you trust it then you can try it.
Vidsaver
Vidsaver provides a simple service letting people easily download both private and public Facebook videos without downloading other software as a companion. You only need to get the video URL and paste it to the search bar on Vidsaver, then the tool will analyze it and offer the download options to you.
Except for this, Vidsaver also provides a Chrome extension. By installing it you can directly detect the private Facebook and download it when finding the content you want while browsing the Facebook videos on a computer browser.

Pros:
Provides an easy-to-use function to download private Facebook videos
Doesn't need to sign in to an account to use the online service
Cons:
When you click the web page, there will be a new page popping up with ads on it
The downloading speed is slow
You can't batch download several Facebook videos at the same time
SnapSave
SnapSave is another online private Facebook video downloader you can use, with which you can easily download private videos from Facebook without the help of extra software or extension. But it has a difference from the Vidsaver - instead of copying the Facebook video URL, you need to click the posting time of the video and then right-click the page for copying the whole codes in "View page source". Then by pasting the code to SnapSave, the private Facebook video can be directly downloaded with the quality you need.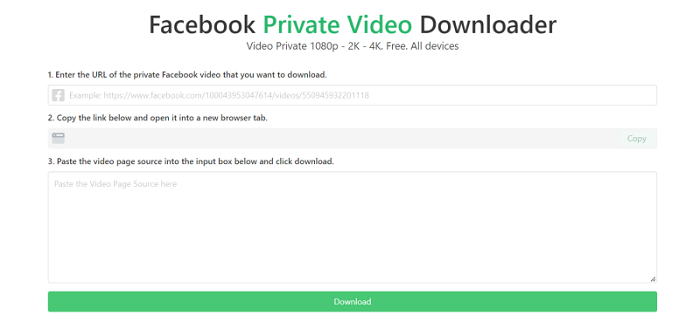 Pros:
Supports different quality options to select freely
Offers online private Facebook video download without cost
Cons:
Needs to copy the whole page source for downloading the video, which is more complex than copying a URL
The performance is not stable enough
FAQs on Downloading Private Facebook Videos
Q1. How to Download Videos from a Private Facebook Group?
The process of the whole private Facebook group is the same as downloading one single Facebook video. Copy the link of the video from the private Facebook group, paste the link to Inovideo and then you can download the video.
Q2. Is it Ethical to Download Private Facebook Videos?
If you have gained the agreement from the authors of the Facebook videos, and also, you only download the videos offline for personal playback instead of making extra benefits, then it is ethical and legal to download Facebook videos, including the public and private ones.
Conclusion
We have listed both the desktop downloader Inovideo and the online tools that are workable for private Facebook video download. By comparison, Inovideo provides faster performance by offering safe, stable, and batch conversion to download private Facebook videos. Although online tools are more convenient, they bombard you with ads. And the performance would be less stable and they can't download videos in batches. So, in conclusion, Inovideo would be more reliable and easier to use.