Unlike other social media such as Facebook and Instagram which won't let you download videos offline, TikTok provides a download button for you to save the video if the video creator allows you to. But a problem is not all of them or they don't always allow this, leading to some TikTok videos being unsavable. So how to save TikTok videos that can't be saved? Today's article will show you the best way to solve it.
Why Can't I Save a TikTok Video?
Normally, TikTok videos would fail to be saved offline when the following situations exist.
1. The Video Owner Disables the Download Feature
TikTok gives the right to the video owners to set their videos whether are available for download or not. When the video creators don't want others to save their TikTok videos offline, they would disable downloads from the post, so that you won't see the download buttons provided to save such videos offline.
2. The Memory Space of Your Device Is Insufficient
When you find the TikTok videos fail to be downloaded offline, you can also check whether the memory space of your device is insufficient now. If it can't provide enough space to save the downloaded TikTok videos, the app will also stop you from saving them offline.
3. The Network Connection Is Poor
If the TikTok videos have provided the download buttons, but when you try to download them, the process is getting very slow or even never starts. It may happen from the fact that your network is too poor to support the video downloading process. So also check your network condition to see if this is why you can't save a TikTok video.
4. You Are Being Blocked or It's a Private Video
If your TikTok account is blocked by the video uploader, you won't be able to download their uploaded videos too. Except for this situation, if the video creators also set their uploaded videos to be private ones, you will be prevented from both watching and downloading them.
How to Save TikTok Videos that Can't Be Saved Without Watermark

HOT!
When you find that the TikTok videos are not allowed to be downloaded offline directly from the TikTok platform, it would be better to find an alternative to help. Here would like to recommend a powerful TikTok Saver, which can help TikTok users to download those unsavable TikTok videos offline without watermark added to them. And this tool is Inovideo.
Inovideo provides stable video download functions for both Windows and Mac users. It can easily download online videos and audio from more than 50 websites, including the popular short video sharing platform, TikTok. With Inovideo, you can enjoy the convenient TikTok video download process with the following surprising features:
Download TikTok videos that can/can't be saved
Grab private TikTok videos
Provides 1080P HD quality to download TikTok videos
Batch download videos and audios for time-saving
Support other 50+ websites' video download
Then in the following, you will see how to save TikTok videos that can't be saved with this TikTok saver, Inovideo now.
Step 1. Install Inovideo TikTok Saver
To get started, you can freely install Inovideo on your Windows or Mac computer. When the installation is finished, launch the software.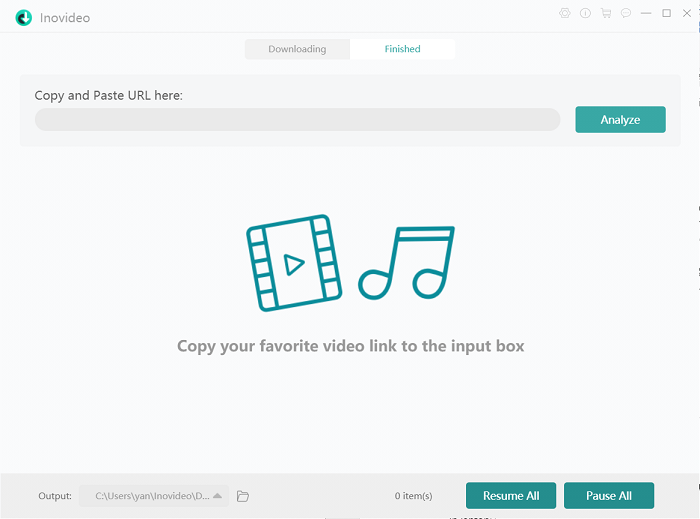 Step 2. Copy and Paste TikTok URL
You can go to the TikTok platform and find the unsavable TikTok video you want to save. After getting its URL, go to Inovideo and paste it into the search bar. You need to press the "Analyze" button to start converting it.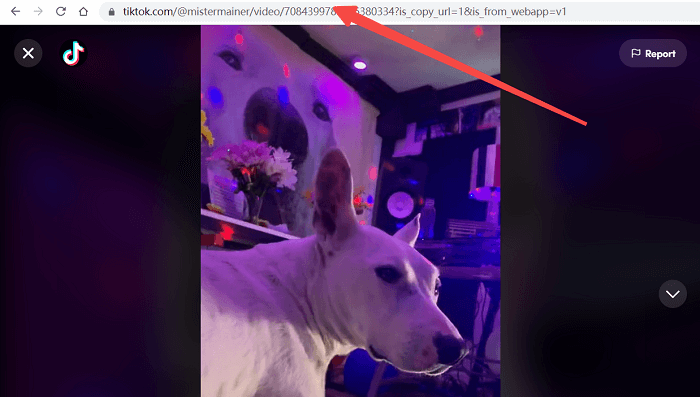 Step 3. Save TikTok Videos that Can't Be Saved
When Inovideo finishes converting the TikTok video URL, you can select the video format and quality to download the TikTok video offline. Directly choose the option and click "Download", then Inovideo will start downloading the video for you.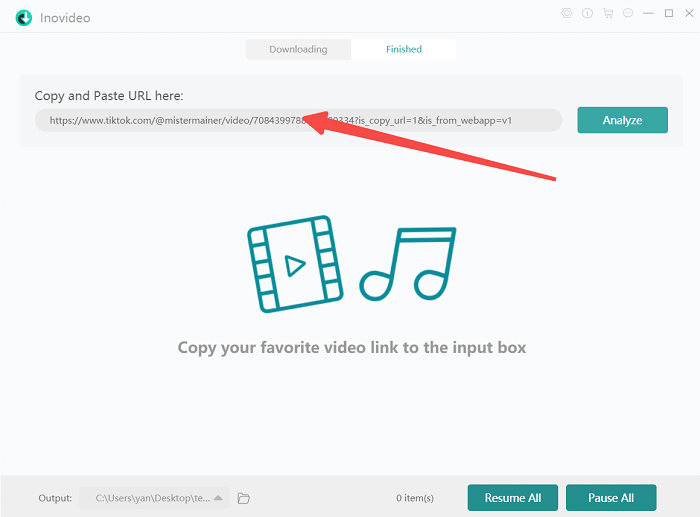 With Inovideo, no matter whether you are downloading the public videos, those without a download option, and even the private TikTok videos, it can help you to save all. In this way, even if there are some TikTok videos that are unsavable, you can still use Inovideo to download them freely now.
How to Download TikTok Video with Your Browser Element Inspect
Instead of installing a TikTok saver, you may wonder if there's a way that can help you directly save TikTok that can't be saved without software. Here we offer a simple guide to let you directly download TikTok videos within the browser using the element inspect feature. You won't need to install any software or extension to help, which is fast to process. However, to download TikTok videos in such a way, you can't freely select the video quality as using Inovideo. Also, for those private or blocked TikTok videos, you still fail to download them because you can't even see them from your browser.
Still, the following steps are provided to guide you on how to save TikTok videos that can't be saved using the browser element inspect feature.
Step 1 Open the TikTok website in your browser. Once you find the TikTok video that you want to download offline, press "Ctrl + Shift + i" buttons on the keyboard to open the "Inspect" function in the browser.
Step 2 After opening the "Inspect" window, also press "Ctrl + F" keys to enter "<video" to search for the video link from the code.
Step 3 Right-click the link and select "open in new tab".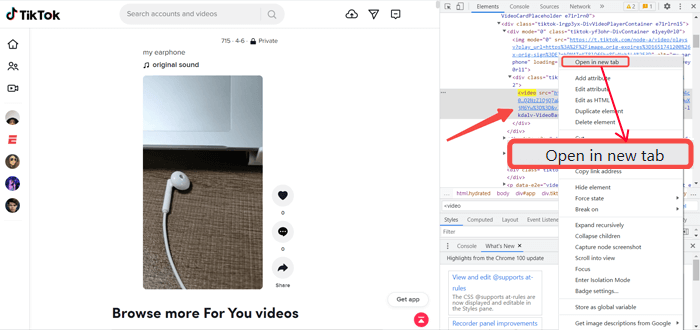 Step 4 Now, click the three dots at the bottom right corner and there will be a "Download" button to help you save this TikTok video offline.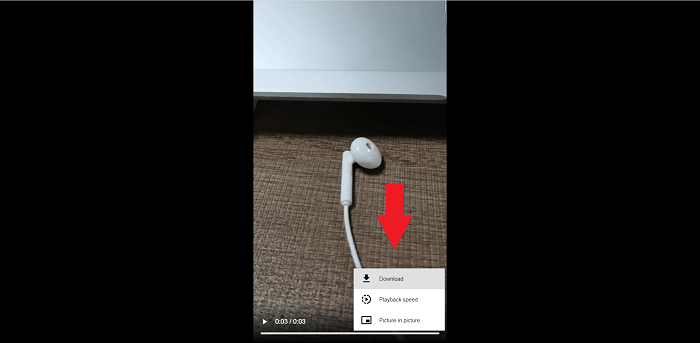 How to Save Unsavable TikTok Videos on Phone
In most cases, you use your mobile phone to scroll on TikTok. So, when you find an unsavable TikTok video on your phone and also want to download it offline, you can turn to a reliable tool, Kapwing. It supports downloading TikTok videos directly on phone, and even editing them at the same time.
Compared to the element inspect feature in the browser, it also allows you to select different video formats such as MP4, MP3, and GIF to save TikTok videos offline. Not only can you download TikTok videos that can't be saved, but also you can trim them into a GIF sticker.
There are still some disadvantages of Kapwing, including:
It takes time to export the videos before downloading them to the phone gallery.
The download speed is slow, and file errors may happen sometimes.
For the unregistered Kapwing users, the downloaded TikTok videos would have a watermark of Kapwing.
Registered users can only exclude the Kapwing watermark 3 times per month for free.
If you still consider using this tool, here is a simple guide on how to save TikTok videos that can't be saved using Kapwing.
Step 1 Open Kapwing in the browser and click the "Get Started" button.
Step 2 Then enter the TikTok video link to the search bar and upload the video.
Step 3 Now you can start editing the TikTok video with the provided editing tools here.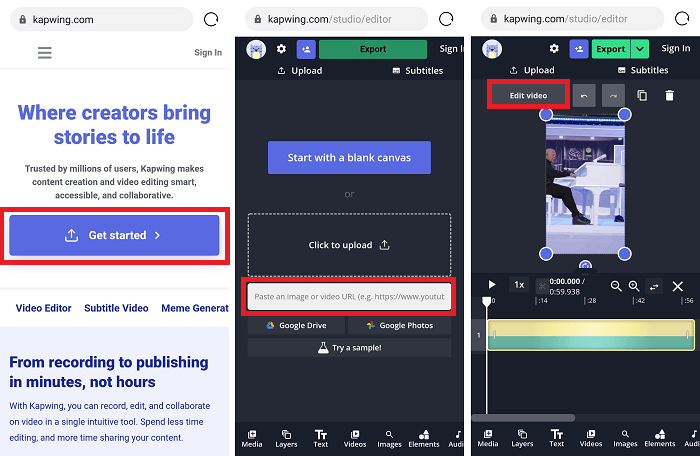 Step 4 Finally, tap the down arrow next to "Export Video" and choose an output format.
Step 5 When the loading finishes, Kapwing will provide the "Download file" option to help you save the edited TikTok video on your phone. Click it and wait for a moment, the TikTok video can be saved to your phone gallery.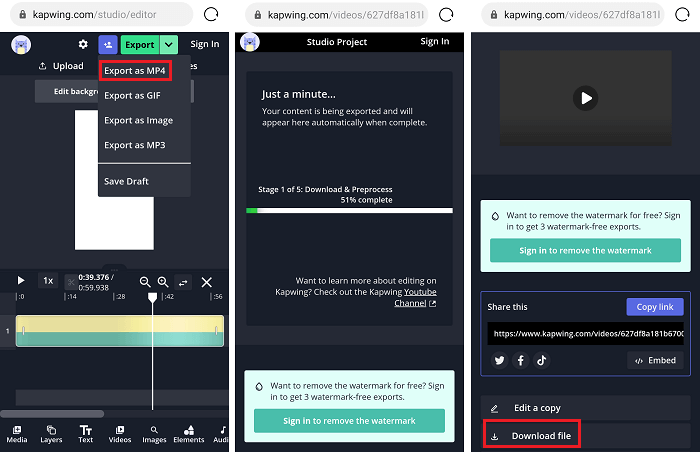 Conclusion
Compared to these 3 ways, Inovideo supports saving any TikTok videos offline, including the blocked, restricted, and private ones. Also, this software will help you download these unsavable TikTok videos without a watermark but also with selectable formats and high-quality resolution options. As a result, to save TikTok videos that can't be saved, this professional TikTok saver is strongly recommended.