"Every time I post a 60-second one it only does the first 15 seconds instead of chopping the whole thing up into 15-second intervals."
- From a YouTube comment
When we discover a TikTok video that is worthy of sharing, directly by tapping the provided share button and there will be the Instagram option available for posting to the platform. Nevertheless, Instagram would trim the video to only 15-seconds long, making some TikTok videos too long for Instagram Story. Some people would wonder if there is a way to share full TikTok video to Instagram?
Obviously, the official share function provided by TikTok doesn't support posting the full TikTok videos to Instagram. To achieve this target, you ought to seek another way out. In the following post, an effortless solution is provided on how to post a TikTok on Instagram story successfully. Please walk through to grasp it.
1. Can You Post TikTok Videos on Instagram?
Yes. TikTok supports video sharing. It provides the share button on each posted video, allowing people to share on third-party social media platforms such as Instagram. However, one downside of this share function should be the restriction that prohibits people from posting the full TikTok videos - it restricts the shared video to be only at 15-seconds long. But TikTok still offers a method to offset it - you are permitted to download TikTok videos at first, then repost them to Instagram directly. Unexpectedly, some TikTok videos are without a save button.
Even though TikTok has officially launched the Save option to download full TikTok videos offline, it still values the rights of the content creators, in that TikTok turns back the right to them for deciding whether to enable the download function or not. In other words, not all the TikTok videos are available to be downloaded as MP4.
Furthermore, watermarks would be added to claim the sources of the TikTok videos as well when you download them offline on TikTok's official platform. If you upload the TikTok videos with watermarks to Instagram directly, your posts would not be recognized as self-created, which could easily be penalized by the new algorithms of Instagram.

To sum up, the official video sharing function provided by TikTok is appropriate for people who only wish to share a short video clip on Instagram for less than 15 seconds. If you consider sharing the full TikTok videos to Instagram, replacing utilizing the official download feature to download them with watermarks, seeking an alternative path to download TikTok videos without watermarks for sharing is a more rational option. In the following, you are going to walk through the details on how to post a TikTok on Instagram even of a full length and without watermarks. Please move on.
2. How to Share Full TikTok Videos to Instagram Story (Up to 15 Minutes)
The guidance on how to post a TikTok on Instagram would be divided into two sessions. First, let's dive in to see how to download TikTok videos without watermarks.
Session 1: Download TikTok Video Without Watermark
Before getting started with the manipulation, you ought to seek a reliable TikTok video downloader to assist you to complete the process. Inovideo, a brilliant video downloader for over 50 sites, provides a stable function for people to easily download TikTok videos with high resolutions such as HD 1080p in batch offline. Regardless of whether the TikTok videos are private or not, Inovideo can convert and download them without watermarks with only one single URL, which assists you to get any TikTok video you prefer and share it on Instagram Story.
The most popular encoders like MP3 and MP4 are offered to download TikTok videos.
Smartly remove the watermarks while processing the TikTok videos download.
The best HD 1080p resolution is available to export the downloaded TikTok videos.
Batch convert TikTok videos to facilitate higher efficiency.
Any TikTok video, including the public, private, and restricted ones are supported to download offline.
In the following, install Inovideo and follow me to download full TikTok videos offline to share on Instagram Story.
>>

Step 1. Copy TikTok Video URL from the Official
First, please turn to TikTok and access the TikTok video you wish to share on Instagram Story. Subsequently, move to the top address bar and select the whole URL address to copy it.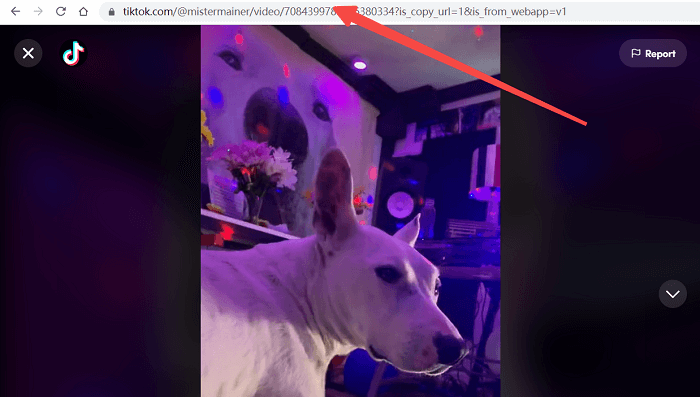 >>
Step 2. Paste TikTok Video URL to Inovideo and Convert
After getting the copied TikTok video URL, please turn to Inovideo's main feed and paste the URL to the search bar in the middle. Subsequently, tap the Analyze button to proceed with converting the TikTok video.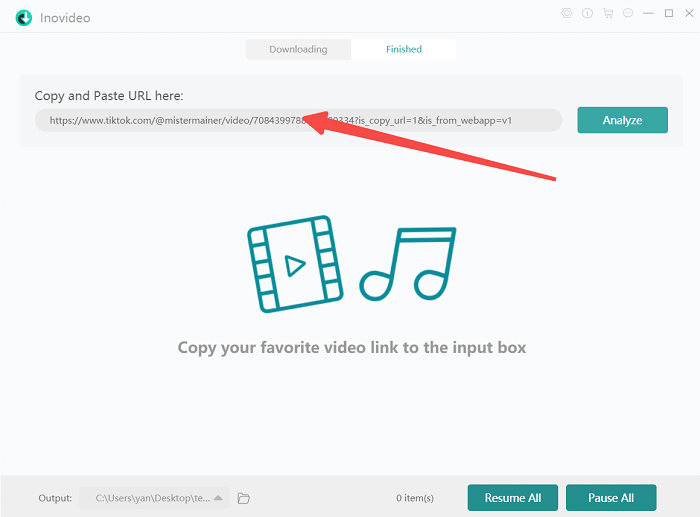 >>
Step 3. Select MP4 and 1080p to Download TikTok Video
Just a moment, Inovideo would complete resolving the video URL. Subsequently, when the output options pop up, please select MP4 and the best HD 1080p to download TikTok video without a watermark offline.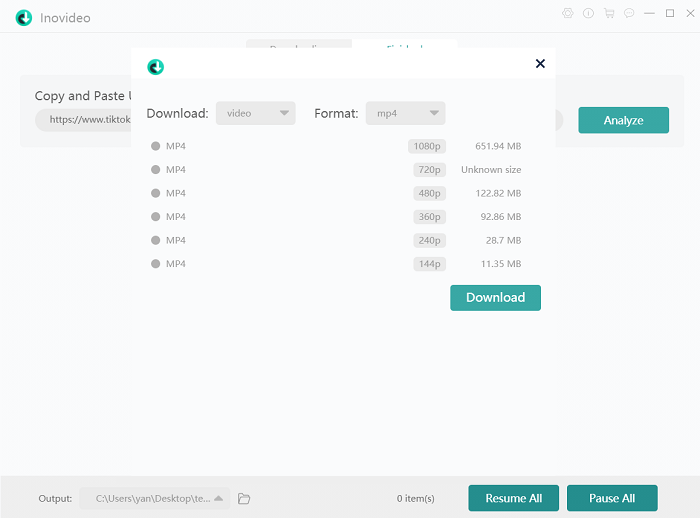 Inovideo could process the conversion with speedy performance within a short period. When it completes, you can move on to the following session to share full TikTok video to Instagram.
Session 2: Upload Long Videos on Instagram Story
When Inovideo manages to download TikTok videos offline without watermark, you can access the downloaded videos in its Finished module. To open the output destination, simply tap the View Output File button and you can access the TikTok video file locally. Now, proceed with the following procedures to post full TikTok on Instagram Story in no time.
STEP 1 Launch the web browser and head to instagram.com. You ought to log in to our account.
STEP 2 Please tap the + button provided on the top-right menu and select the downloaded TikTok video to upload and post.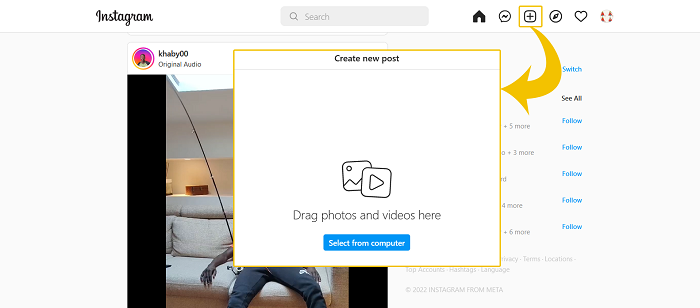 STEP 3 When the TikTok video is posted, utilize your mobile device to check the posted content in the timeline.
STEP 4 Subsequently, please tap the paper plane icon under the post to Add video to your story.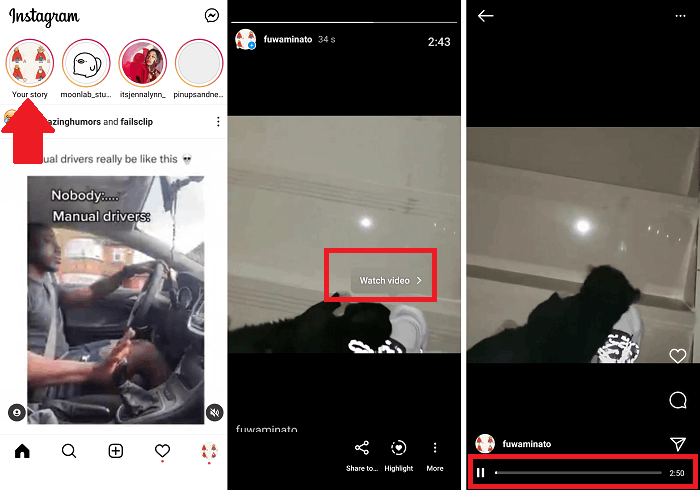 When you have completed all these procedures, the TikTok video can be uploaded to Instagram Story successfully. When the other users tap into your Story, they can view the full TikTok video by clicking on the Watch video button.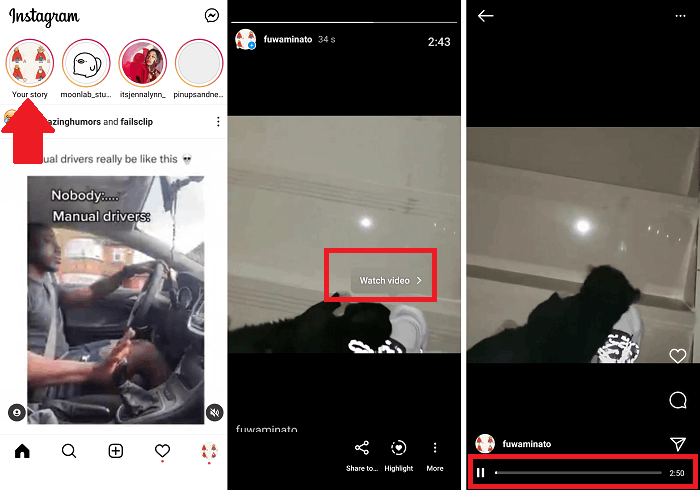 3. How to Share a TikTok on Instagram with Share Button?
As notified in the former, TikTok officially enables people to share TikTok video on Instagram with the provided share button. To do it, simply access the TikTok video you wish to share and tap the three-dots icon to select Share. Subsequently, some sharing platforms would be listed. Simply select Instagram and TikTok will allow you to post the video in no time.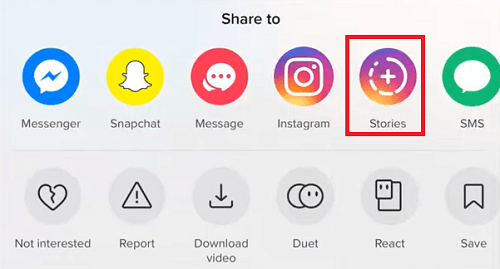 4. Conclusion
To sum up, you can share the short TikTok videos that are less than 15 seconds to Instagram by directly utilizing the official sharing method, as you are not required to turn to any other third-party program to help.
Nevertheless, if the TikTok video you are going to share on Instagram Story is longer than 15 seconds, replacing downloading it with the official download feature, taking full use of Inovideo ensures better output definition, and more importantly, without watermark. Therefore, you can select the best solution to post full TikTok video to Instagram Story based on personal circumstances.