As a large platform for illustration artists, Pixiv does allow its users to download works from it easily. All you need to do is long-press on the image and save it if you are using a smartphone browsing Pixiv, or right-click on the image and save it when you are using a computer browser. Nevertheless, you can't download Pixiv GIF using the same ways.
Luckily, there are many Pixiv GIF Downloaders on the internet that allows you to save Pixiv GIF ugoira. And this post will round up the top 5 of them. Keep on reading and pick your favorite.
Top 1. Inovideo – Professional and Safe Pixiv GIF Downloader
Inovideo should be the best Pixiv video downloader for Windows and Mac users. It has the ability to download videos from Pixiv with high resolution and keeps the video content in the most widely-used MP4 format. This Pixiv video downloader has the following benefits you may need:
Offers 8K, 4K, 1080p, 720p, etc to save online videos
Converts audio to MP3 in original quality (up to 320kbps)
Supports batch download to save time
Offers user-friendly UI and easy-to-use functions
Here's how to save pixiv animations with Inovideo pixiv gif downloader.
Step 1. Install and Open Inovideo
After selecting the right version (Windows or Mac) of Inovideo, click the button to download and also install the software. Then open it and you can see the main interface below.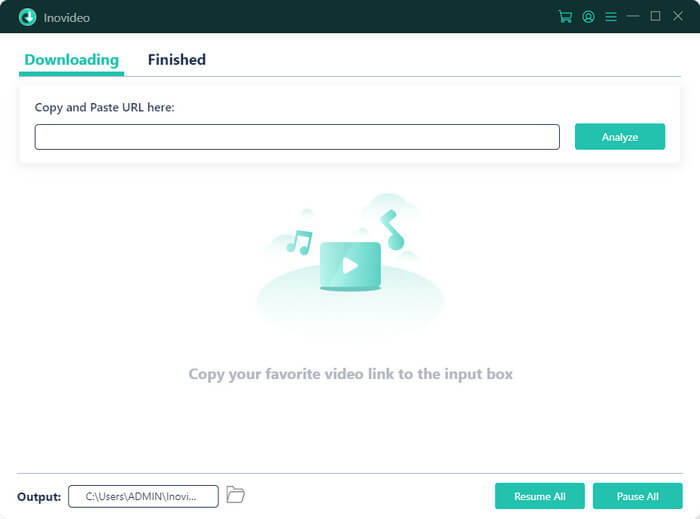 Step 2. Copy Pixiv GIF Link
Open the Pixiv platform and browse the works you like. When finding the favorite ugoira you wish to convert to GIF, click into its page and copy the link from the address bar.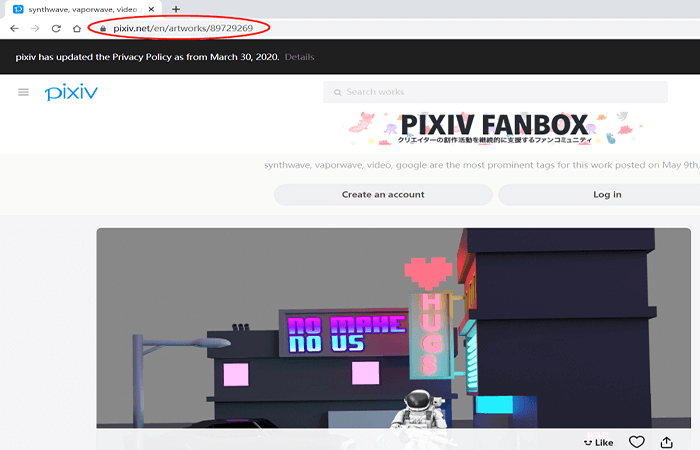 Step 3. Paste Pixiv GIF Link
Go back to Inovideo now. You should paste the link of the Pixiv Video to the input box of the Inovideo Pixiv GIF downloader. Then hit the "Analyze" button to analyze it.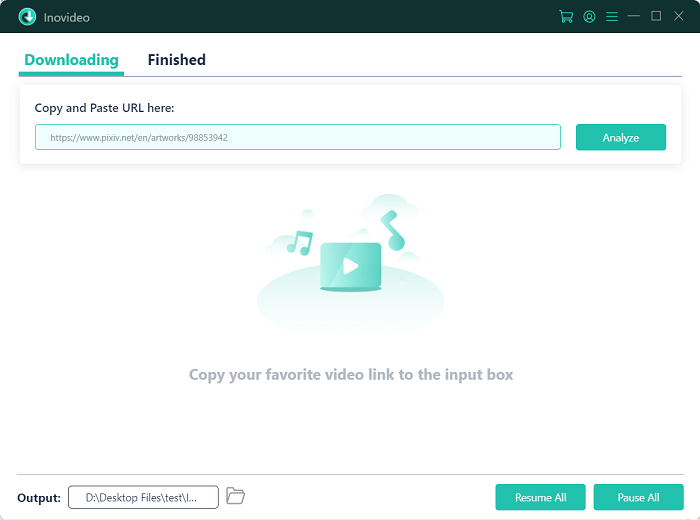 Step 4. Download Pixiv GIF
After analyzing, the Inovideo Pixiv GIF downloader will provide formats and quality for downloading it. Choose your needed option and click the "Download" button to save the Pixiv video immediately. The downloaded Pixiv video will be listed in the "Finished" tab. Click and enjoy them offline.
Top 2. Powerful Pixiv Downloader - Chrome Extension Pixiv Downloader
Powerful Pixiv Downloader is another plugin that works on Chrome and Microsoft Edge on your computer. This is a tool that can help you batch download Pixiv GIFs from an artist page. If you wish to download just an animation from Pixiv, just click on the download icon on the right side of the web page. But when it comes to the batch download feature, it's extremely hard to use for new users, such as download number, work type settings, the crawl, and download things.

Pros:
It's free.
Easy to use when downloading single Pixiv GIFs
Cons:
The default output format is WebM and you need to change the setting to GIF from the "other" tab.
Hard to use if batch download Pixiv GIFs
Top 3. Pixiv Toolkit - Firefox Add-on Pixiv GIF Downloader
This part will introduce how to save a Gif a Pixiv with Pixiv Toolkit, a plugin that can be installed on your computer Firefox or Chrome browser. Besides GIF, you can even convert the Pixiv ugoira to Zip, APNG and WebM. On the other hand, Pixiv Toolkit can also download illustrations, mangas and novels. However, it sometimes crashes and no button shows even though you relaunch the browser.

Pros:
Easy to use
Totally free
Can be installed on both Chrome and Firefox
Cons:
Crashes at times
Loses image quality
Here's how to save a GIF from Pixiv via Pixiv Toolkit.
Step 1 Search for Pixiv Toolkit in the Chrome web store, then click the "Add to Chrome" button for installing the extension.
Step 2 After adding the Pixiv GIF downloader, go to the Pixiv site in your browser. When you open a GIF content in Pixiv, there will be a blue button shown at the bottom of the page.
Step 3 Click the blue-button and choose "Generate GIF". You can also save the Pixiv GIF in other provided formats such as ZIP, APNG, or WEBM.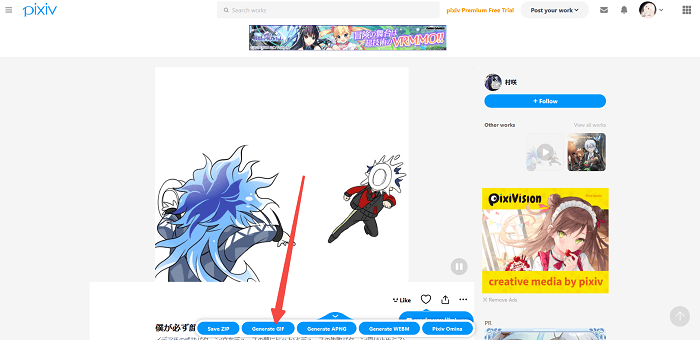 Top 4. Ugoira - Online Pixiv GIF Downloader
If you are not a fan of browser extensions, you may try using an online Pixiv downloader. Ugoira is a simple online tool designed by Data Processing Club. You can use it to download all Pixiv animations to GIF or WebM. If you save the animation as GIF, the file size will be large. But if you save it as WebM, it will be a video in WebM, in a smaller size than a GIF.

Pros:
It's Free.
It's easy to use.
It works on both computer and phone browsers.
Cons:
Sometimes can't parse the Pixiv link.
Save GIFs from Pixiv without quality selections.
Top 5. Downloader for Pixiv - Android Phone Pixiv GIF Downloader
For mobile users such as Android devices, there is also recommended Pixiv video downloader. For example, Downloader for Pixiv is a reliable tool for Android users to save GIFs from Pixiv. This downloader can be easily installed from Google Play, and it requires no other extensions for starting to use.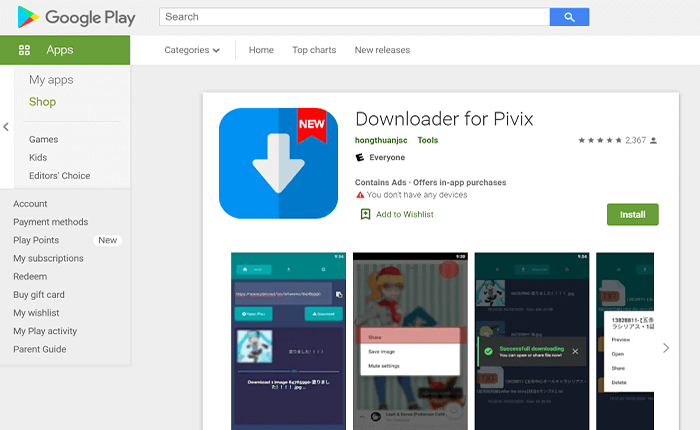 Pros:
Supports to convert and download ugoria on Pixiv as GIF.
Allows to pack the images of manga or novels into EPUB or TXT formats.
Provides easy-to-use functions.
Offers free service without cost.
Cons:
Contains ads that may affect the user experience, and removing them needs to pay for a fee.
The function only works when the Pixiv platform is opened in the background.
It fails to download sometimes which is very annoying.
Conclusion
In a word, it's able and easy to download Pixiv animations using a Pixiv GIF downloader. On a PC, it is recommended to use Inovideo because it works stably and brings higher output quality. And you can still convert ugoria to GIF on your phone using the downloader for Pixiv.