YouTube is one of the best platforms to discover music and videos. But you may have some times when you hear about the music or soundtracks of YouTube videos and extremely want to extract audios from them. So, this article will mainly focus on teaching you 4 easy ways to extract audio from YouTube for keeping common music files offline. If you also need such help, continue reading and see how to extract YouTube audio correctly.

1. How to Extract Audio from YouTube to MP3 320kbs in Batches?
If you want to process the YouTube audio extract with both high quality and efficiency, then the first method you should really not miss. Inovideo, a professional YouTube audio extractor, can work fast to extract YouTube audio to MP3 in the best 320kbps in batches, helping to save much time.
Besides this, Inovideo also supports the YouTube playlist download, with which people can also convert a whole YouTube playlist and batch extract audio from YouTube without processing the single conversion one by one.
Other Key Features of Inovideo:
Extract YouTube music to MP3 in 320kbps at a fast speed
Grabs playlists from YouTube to MP3 without account sign in
Supports other 1000+ popular websites such as Instagram, Facebook, TikTok, and more to download videos/audios from
Provides high quality such as 1080P, 4K, and 8K to download YouTube videos in MP4 and other common formats
Offers optional audio qualities to extract audio from YouTube based on your own needs
......
Steps to Extract YouTube Audio to MP3 Using Inovideo:
Step 1. Copy YouTube Video URL from YouTube Website
To get started, you should go to YouTube platform and then find out the YouTube video you want to extract audio from. Then copy the URL of the video.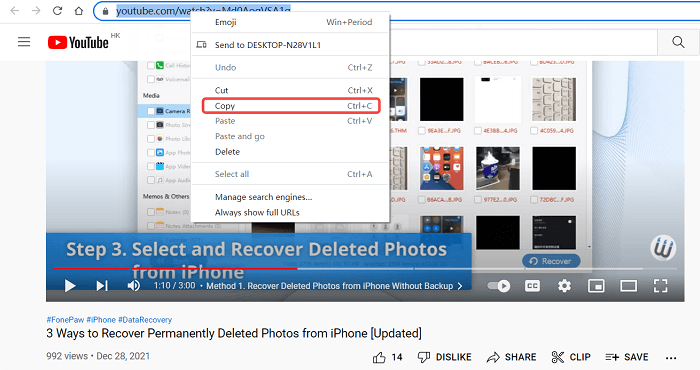 Step 2. Paste YouTube Video URL and Convert
When you have gotten the video URL from YouTube, open Inovideo and directly paste it to the search bar. As you click the "Analyze " button, Inovideo will start converting the URL for you.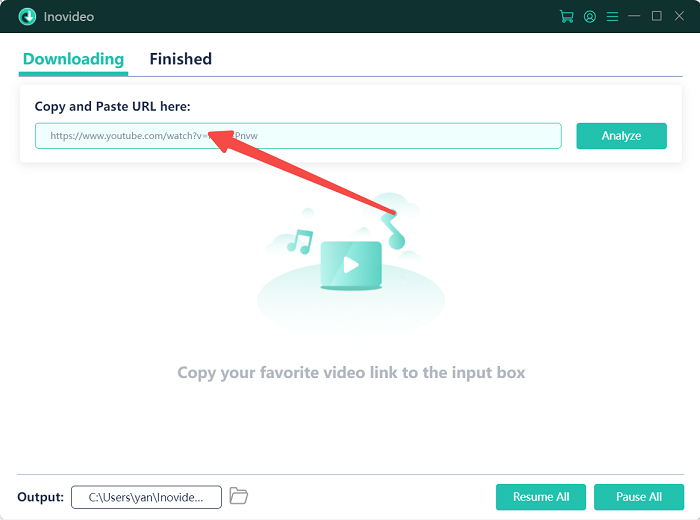 Step 3. Select Format and Quality to Extract YouTube Audio
When Inovideo finishes the URL analysis, it will allow people to select MP3 as the output format, and also the quality you like to save the extracted YouTube audio.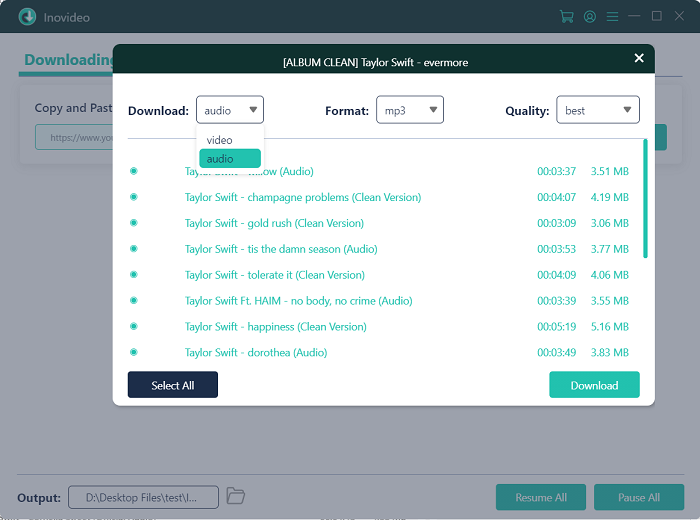 Step 4. Extract YouTube Audio to MP3
Finally, when you have selected the audio format and quality, directly click the "Download " button and Inovideo will begin to extract audio from the video for you. The outputted files will be directly saved to your computer for playback offline later.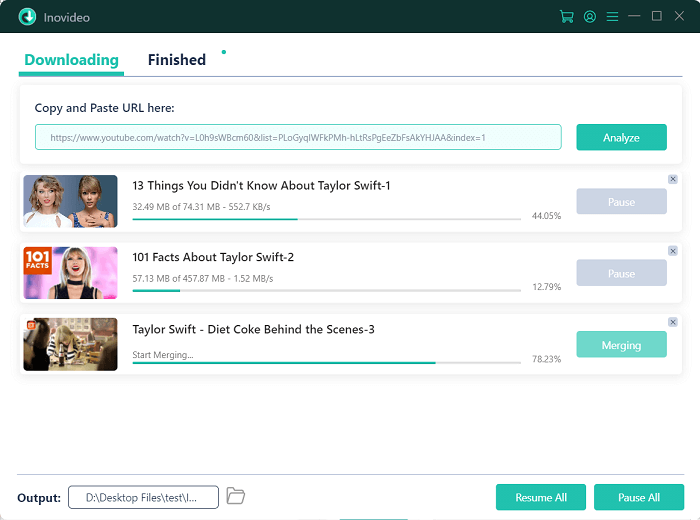 2. How to Extract YouTube Audio with YooDownload
Except for the desktop software, there are also many powerful online YouTube audio extractors that can help you easily extract YouTube audio to MP3, even without any software installed on extra. YooDownload is one of them.
With a simple interface, YooDownload only needs one URL and it will directly convert the online videos from YouTube to common audio format MP3 with high quality. For years, YooDownload has kept updated regularly to provide the best download experience to people.
Tip: However, to prevent copyright issues, not all YouTube videos detected by YooDownload will provide the MP3 option for people to keep the extracted audio. Also, it fails to support the batch download or playlist conversion functions, so the downloading efficiency would be much lower than Inovideo, which will allow you to download all songs from YouTube without limitations.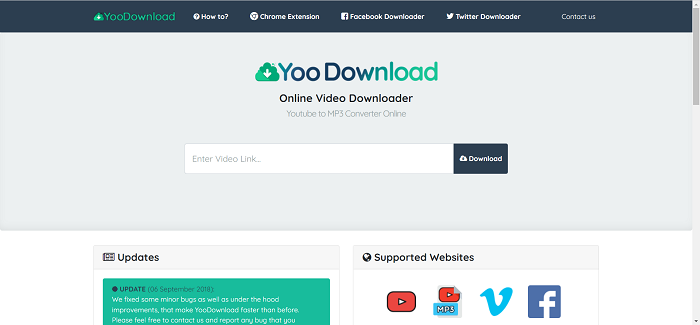 3-steps to Extract Audio from YouTube on YooDownload:
Step 1 Firstly, go to YouTube and access the YouTube video you need to extract audio from. Copy its URL.
Step 2 When getting the URL, switch to YooDownload and paste the URL to the search bar, then also click the "Download " button.
Step 3 When the conversion finishes, select MP3 and click the "Download " button, then the YouTube video will be converted to an MP3 file for keeping the expected sound only.
Tip:
Not all YouTube videos will provide the MP3 option to let you extract audio on YooDownload.
3. How to Download Audio from YouTube with MP34ME
Like YooDownload, MP34ME is also a web-based converter that can help you easily extract audio from YouTube for keeping offline as MP3 audio files. More powerfully, this tool allows you to directly search for YouTube videos with its in-built search engine. Only by typing keywords and you will get the YouTube results, from which you just need to select and then let MP34ME convert for you.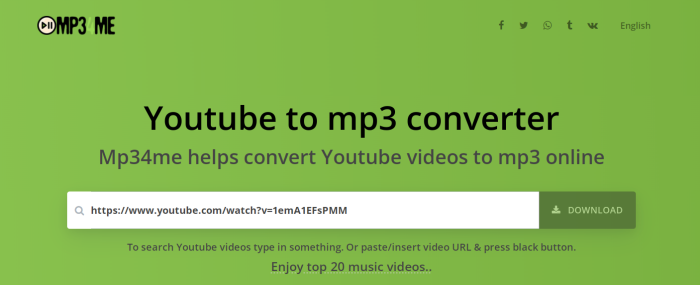 But the disadvantages of MP34ME are obvious. To earn extra profit, the online tool has added many ads, and they would frequently pop up and lead you to other sites which don't know if they are safe or not.
Extract YouTube Audio to MP3 Using MP34ME:
Step 1 Directly open MP34ME in a browser, then type in the keywords to find the YouTube video you need to extract audio from.
Step 2 When MP34ME shows the search results, select the video and then click to download it. MP34ME will analyze it for you.
Step 3 After the analysis, MP34ME will provide the download options for you. Just click the "Download " button and the YouTube audio will be extracted in MP3 format and saved offline.
4. How to Extract YouTube Music by Recording It?
When you want to extract audio from a long YouTube video, instead of downloading it, it may be more convenient to do it by recording the parts you want and save as MP3 files. To do it, the professional VideoSolo Screen Recorder can be a good help, which can offer easy-to-use operation and high-quality capture music from YouTube videos with the least noise. Its audio enhancement mode also helps to enable a more enjoyable music streaming experience after extracting the audio from YouTube videos.
Compared to Inovideo, VideoSolo Screen Recorder still has limitations as it can only record the music for up to 3 minutes. Except for this, the output quality may still contain noise compared with the original music download. Also, to record the music, more time would be wasted as you can't batch process the recording or speed it up.

How to Extract Audio from YouTube by Recording It?
Step 1 Open VideoSolo Screen Recorder and enter the "Audio Recorder " mode.
Step 2 Set the system volume to the level you like, and turn off the microphone setting to avoid recording any noise.
Step 3 Play the YouTube video. At the same time, also click the "REC " button to start recording the audio of the YouTube video.
Step 4 When the recording ends, stop it and you will be turned to the previewing window to check as well as save the recording.
In Conclusion
To extract audio from YouTube, you can try professional desktop software, online tools, and also an easy-to-use screen recorder. Simply consider your needs and choose the most suitable one to save any audio from YouTube offline. But overall, Inovideo is the best and easiest one to do so because it can help you extract any audio from YouTube in 320kbps at a fast speed. YouTube playlist to MP3 conversion in one click is also supported on it.