When video streaming becomes a daily routine for both working and entertaining, the development of video downloaders for Chrome also makes video downloading a pretty easy task. Nevertheless, Chrome put a number of downloaders off the shelf due to its policy issues. Here we've tested some of them from the functions to the user experience, then sorted out the 7 best workable video downloaders for Chrome.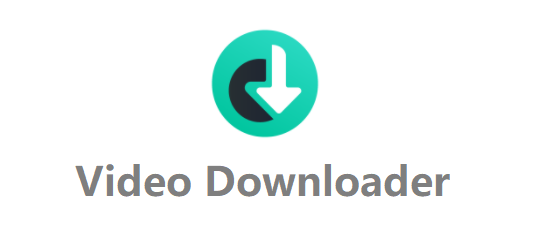 The Truth About the Video Downloader for Chrome
Generally speaking, there are 3 kinds of chrome video downloaders on the internet, namely the desktop downloader, the online downloader, and the extension downloader. The theories of them are similar.
Desktop video downloader for Chrome requires you to download the software to your computer and the extension one can only be used after you install it onto your Chrome. But you don't need to download an app if you use an online video downloader. It works like the desktop one; you get the video URL from Chrome and grab the video on them. In the meanwhile, after the video downloader extension is installed, you can download the video directly from the website if it works successfully.
On the other hand, a desktop downloader from a professional website will be the safest one when you are downloading videos off the websites. Some extensions can be malicious even though they are on the Chrome Web Store. And potential adware, Trojan horse viruses, malware can easily be downloaded along with your operations when using an online downloader. Whatever downloader you use, always make sure that it's safe.
| | | | |
| --- | --- | --- | --- |
| Video Downloader | Package Download Needed? | URL Needed? | Security Level |
| Extension | √ | X | Medium |
| Desktop | √ | √ | High |
| Online | X | √ | Low |
How Do We Test the Chrome Video Downloaders?
Excluding the features mentioned above, we also pay attention to the website compatibility, download speed, stability, batch operation, and the experience of usage.
Compatibility: A good video downloader should support video downloads from various websites, especially the top ones such as YouTube, Dailymotion, etc.
Speed: The download speed mostly depends on your network. But the excellent download technology also allows you to download files faster.
Stability: Short videos are easy to be downloaded. When it comes to downloading long ones, the stability of a downloader is extremely essential.
Batch download: This function provides you with a much better experience when you are trying to download dozens of videos or items from a playlist.
An Overview of Them
Works on both Windows and Mac, the video downloaders for Chrome plays different roles when working. And due to some reason, all extensions for Chrome cannot download videos from YouTube. Only the desktop and the online ones can do that. Before getting to know them better, you can check the overview information first.
| | | |
| --- | --- | --- |
|   | Best for | Compatible Website Rating |
| Inovideo | Plenty of long/short HD video single/batch downloads on websites like YouTube or others, accept software installation | ★★★★☆ |
| CoCoCut | Videos batch downloads from a webpage on Chrome | ★★★☆☆ |
| Video Downloader Plus | Short and SD videos downloads on Chrome; ready to pay for HD and long videos | ★★☆☆☆ |
| Video DownloadHelper | Short and SD videos downloads on Chrome; who accepts companion app installation for HD and long videos | ★★☆☆☆ |
| Simple Vimeo Downloader | Vimeo video downloads with extension on Chrome | ★☆☆☆☆ |
| Swift Video Downloader | Facebook video downloads with extension on Chrome | ★☆☆☆☆ |
| Savefrom.cc | Online YouTube video/audio downloads without installations | ★☆☆☆☆ |
Our Pick: Inovideo – An Easy Video Downloader for Chrome
Being an intuitive desktop video downloader, Inovideo covers most people's downloading demands for its high compatibility to download embedded videos from 1000+ video hosting sites on Chrome, including popular platforms like YouTube, Twitter, Dailymotion, Facebook, Pornhub, and so forth. Its capability of encoding videos in high resolutions such as 1080p, 2K, 4K, and even 8K makes it a superior choice for desktop users.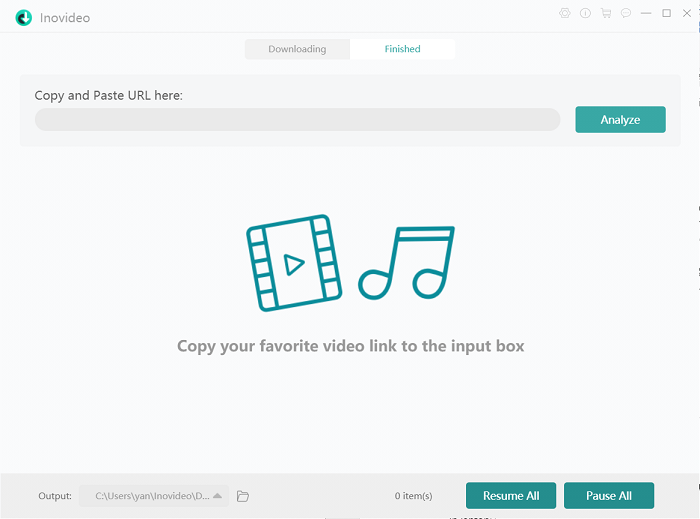 Pros:
Allow 1000+ website video downloads from Chrome
Batch download video/audio/subtitle/YouTube playlist/private videos in one shot
Download YouTube, CNN videos with the CC subtitle built-in in selectable languages
Work without ads or virus
Provide a 15-day free trial
Cons:
Requires software installation
Not completely free
How to Use:
Launch the software; copy the URL of the video web page from Chrome; paste it to the search bar and download the video after the analysis.
The 6 Competitors for Video Download from Chrome
Among the competitors we've tested, 5 best extension video downloaders and one safe online video downloader for Chrome are selected and will be introduced in the following.
CoCoCut is the best video downloader extension for Chrome when you don't want to download software or pay for the downloads. This helpful add-on is able to give a favor to download the video as well as audio in Chrome with quick speed. Furthermore, many video streaming websites can be supported by CoCoCut Video Downloader and converted to popular formats such as MP4, FLV, WMA, ACC, and so forth.

Pros:
Free
No extra installation
Batch download videos from a page
Cons:
Doesn't support YouTube video downloads
Require video buffer before downloading
Tip:
When you are downloading a long video, you can pause it and download the buffer part and continue downloading the full version.
Video Downloader Pro is another out-performing video downloader for Chrome offering the easiest way to download online videos without quality loss. It supports multiple output formats, including MP4, FLV, MOV, MP3, and so forth to keep any videos offline from the streaming sites.

Pros:
Free for some videos
Easy to use
Supports many websites such as Newgrounds, Vimeo, Instagram
Cons:
Charge for 2K, 4K or some 1080p videos or some downloads from some websites
Doesn't support YouTube, Facebook, Reddit video download
Tip:
You can exclude some videos that are smaller than 2MB, 1MB or 100KB from the Settings.
Video DownloadHelper is originally released on Firefox, but now it is brought to Chrome! Provided with sparkling downloading features, this reliable web video downloader will bring the one-click service to help save online videos from Chrome within seconds.
However, it only supports downloading short and HD videos without companion installation. When you are trying to download a high-quality or long video or that from YouTube, it will ask you to download and install a companion app that is only supported on Windows.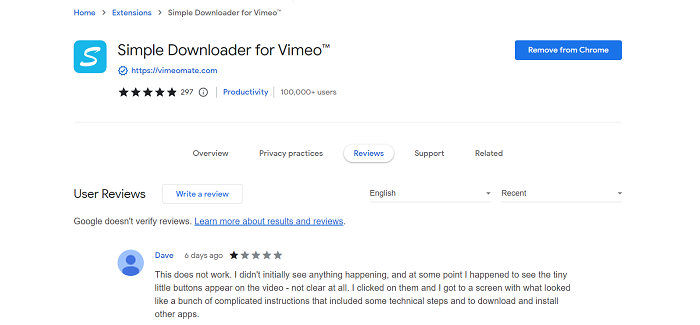 Pros:
Free
Support downloading HLS, DASH videos
Detect images for offline saving
Convert local videos to different formats
Cons:
Need to install an app for long/HD/YouTube video downloading
Can't download YouTube videos on macOS or Windows without an app
Tip:
You can customize the conversion or other settings after clicking on the gear icon.
Coming to next is the Simple Vimeo Downloader. As its name tells us, it's an extension created for Vimeo video downloading. This Chrome extension will inject the download buttons to all Vimeo videos, helping users to easily download Vimeo videos when they want directly. It realizes the possibility to download Vimeo videos with one click when the platform doesn't launch an official way to do so.
Nevertheless, when Vimeo initiates an update on its site coding, some Vimeo videos will fail to be injected with the download button.

Pros:
Free
Easy to use
Available for 1080p video downloading
Cons:
How to Use:
Add this extension; open the video webpage on Chrome; click on the icon from the toolbar; move your mouse cursor over the video and select a resolution on the right-side selections.
For downloading videos from social media platforms, Swift Video Downloader for Facebook can also be a reliable helper that should not be neglected. By adding the download functionality to Facebook, people can enjoy a flexible way to watch Facebook videos both online and offline.
But it doesn't detect the videos from the Watch tab; only videos from the Facebook home page can be in-built with a download button on the upper right corner of the video.

Pros:
Free
Easy to use
Original-quality video downloadable
Cons:
Not all videos can be downloaded on Facebook
Doesn't support other websites
Tip:
You can apply the extension to the top bar or the bottom left corner. Once the video was detected successfully, you will see a number on it.
Savefrom.cc is a YouTube downloader that allows you to download video to MP4 or MP3 free online. Many resolutions such as 4K, 1080p, 480p, 360p are supported on it. You can also convert YouTube video to MP3 with quality up to 320kbps on it. As an online downloader, there are no ads on it, which makes it much more user-friendly.

Pros:
Free
User-friendly
YouTube video download supported
Cons:
Doesn't support video downloads from other websites
Companion app needs to be downloaded for HD video downloading
How to use:
Copy the link of the video you wish to download; open the website and paste the URL you copied; hit the download button.
FAQs About Video Downloader
Q1: Are Chrome Video Downloaders Free?
Some Chrome video downloaders like CoCoCut, Savefrom.cc are free. But they usually don't support long HD video downloading. Some professional downloaders like Inovideo provide a free trial. If you need some support help or further use, you need to pay for it.
Q3: How to Add Video Downloader Extension to Your Browser?
This part is set for users who request a guide on the way to add the video downloader extension to the browser.
Step 1 Open the Chrome Web Store and search for the extension with its name. Or you can click on the hyperlink of the extensions above.
Step 2 Click "Add to Chrome" and the extension will appear on the toolbar once it's installed. You can check it by hitting the puzzle icon on the upper right corner on Chrome.
Conclusion
Video downloader for chrome can be a Chrome extension, desktop software, or an online tool. Online downloaders save you the trouble downloading and installing software; extensions help you directly save some videos from Chrome after the installation; desktop apps require installation but they provide much stabler performance.
Inovideo, as the winner desktop video downloader for Chrome today, has great video websites compatibility, higher output resolutions, and out-performing downloading speed can be more competitive.