Video downloader is an essential need for people who have a high dependency in video contents. Such tool empowers simple function to download online videos or audio for stabler, more flexible and convenient offline playback. Nevertheless, when there are more video downloaders emerge in the market, how can we choose the best video downloader?
In this post, the two most selected and high-ranking, Freemake Video Downloader and VideoSolo Inovideo will be compared from different aspects such as user interface, supported video sites, output quality/format, downloading speed, technical help, and pricing. By glancing through their similarities and differences, it would be easier for you to decide the most appropriate one for yourself to utilize.
1. Freemake Video Downloader VS VideoSolo Inovideo Overview
Freemake Video Downloader is publicized as a freeware for Windows that has provided thousands of users the convenient online video downloading services without paying a penny. Its easy-using function will be friendly for new users to get started with the program. VideoSolo Inovideo , one the other hand, is established in the desktop video downloading line for supporting both Windows and Mac users to download online videos in no way lagging. Featured with its all-platform video/audio downloading service, Inovideo also has attracted a large number of loyal users from around the globe since its launch.
As two high-ranking and best video downloaders today, Freemake Video Downloader and VideoSolo Inovideo shares similarities that attribute to their success. For sure, they possess both the shining and less competitive sides at the same time. When the steep competition is arising on them, hope the following Freemake Video Downloader VS Inovideo comparisons can give you favor in selecting a better one for yourself.
2. Video Downloader User Interface
As you open the programs, you would discover that both Freemake Video Downloader and VideoSolo Inovideo offers simply-designed interface - without complicated sections provided.
However, there are still some key differences between them. Inovideo offers a very clean interface with comfortable color design. Its interface orients clearly on the service, without more buttons or sections provided - only with the clear input box and the "Analyze" button.Beginners will understand clearly that they only need to paste the video URL to the downloading bar and tab the Analyze button for directly resolving the online video URL.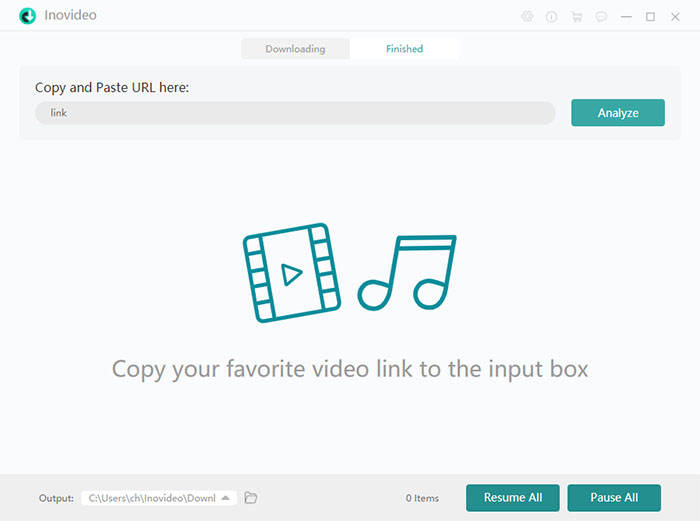 By comparison, Freemake Video Downloader will directly detect users' clipboard for getting the copied video URL. Therefore, it replaces the pasting process in Inovideo with the behavior of clicking the Paste URL button. Also, Freemake Video Downloader's interface would be a bit more complicated than Inovideo for it covers more options.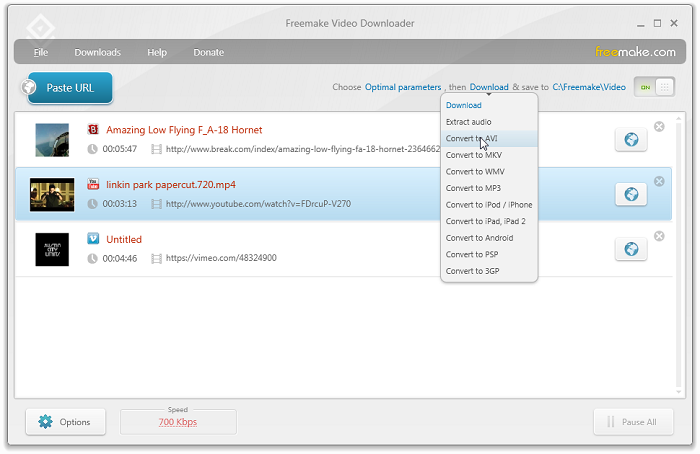 3. Number of Supported Video Sites
Another concerning factor for selecting a reliable online video downloader would be the compatibility of the programs. Instead of installing more video downloaders for getting the ability to download videos from different platforms, people tend to select an all-platform program which can fulfill most of their video downloading needs. Tracing this increasing demand, both Freemake Video Downloader and VideoSolo Inovideo enhance their compatibility for supporting multi-platform video downloading abilities. For Inovideo, it supports over 1,000 websites, while Freemake enables to download online videos from more than 10,000. This means that the one software includes more video downloaders such asYouTube video downloader and Facebook video downloader , etc.
Although Freemake Video Downloader seems to support 10 times websites more than Inovideo, the superior advantage of Inovideo should be its powerful and the best YouTube video downloading performance in keeping YouTube music, the largest online video streaming platform of the world where people can attain the latest trending music released by popular artists. Freemake has stated that they doesn't provide music downloading feature, while Inovideo is available to download YouTube music videos/song playlists, and convert YouTube music to MP3 with the best quality (such as 8K for videos and 320kbps for audio), thus is considered as the best safe YouTube video downloaderof 2021.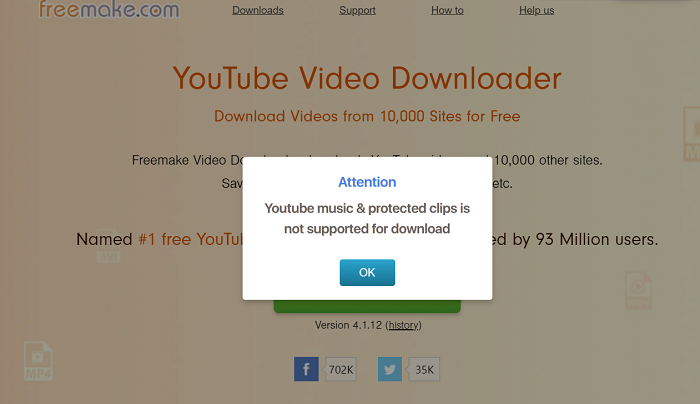 4. Download Video/Audio Quality & Format
Supported output quality and formats:
| | | |
| --- | --- | --- |
| | Supported Output Formats | Supported Output Quality |
| Freemake Video Downloader | MP4, WebM, 3GP, Flash FLV, AVI, MKV, WMV | 144p, 240p, 360p, 480p, 720p, 1080p, 1440p, 4K |
| VideoSolo Inovideo | MP3, MP4,FLV, MKV, WebM (according to the original video format to give download options) | 144p, 240p, 360p, 480p, 720p, 1080p, 1440p, 4K, 8K |
When it comes to the output options, Freemake Video Downloader and VideoSolo Inovideo both offer optional video/audio quality and formats to output the downloaded contents for offline streaming. The supported output formats of Inovideo offers mainstream MP3 and MP4, and the other formats will be provided according to what the original videos will offer. By comparison, Freemake Video Downloader would be more competitive for it provides more options, including FLV, MP4, 3GP, WebM, AVI, MKV, WMV, and MP3.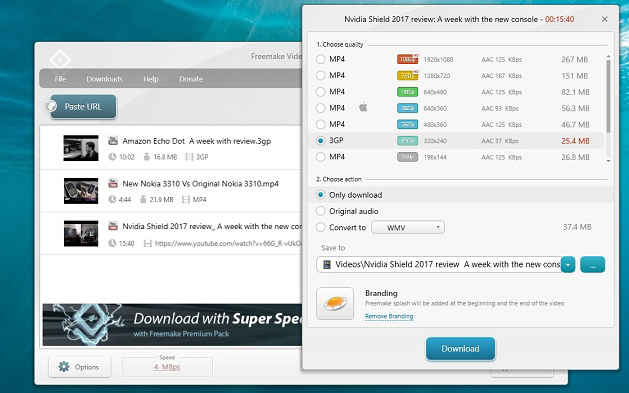 To download online audios, both Inovideo and Freemake Video Downloader brings the best 320kbps quality to encode. As for the video output quality, Inovideo functions to detect 8K, the highest video resolution offered by the original videos, and provides for users to download the videos offline. For Freemake, another reliable 4K video downloader, 4K is the best output option for outputting video content. Typically, 4K is high enough for people to stream videos in an enjoyable experience. But if they pursue the best option, Inovideo lets them download videos with the best 8K quality if the original videos provided.
5. Video & Audio Download Speed
It is hard to measure whether such video downloaders perform the video/audio downloads with high speed. Nevertheless, Freemake Video Downloader and VideoSolo Inovideo offers the flexible downloading management to control the downloading condition for maintaining the speed to a high level.
In Inovideo, users can set the number of the simultaneous downloading task for enabling the program to process their downloading process at the same time. When your Internet connection is reliable, you are able to set to download more tasks simultaneously. In contrast, when it is slow, only download one to maintain the highest downloading efficiency.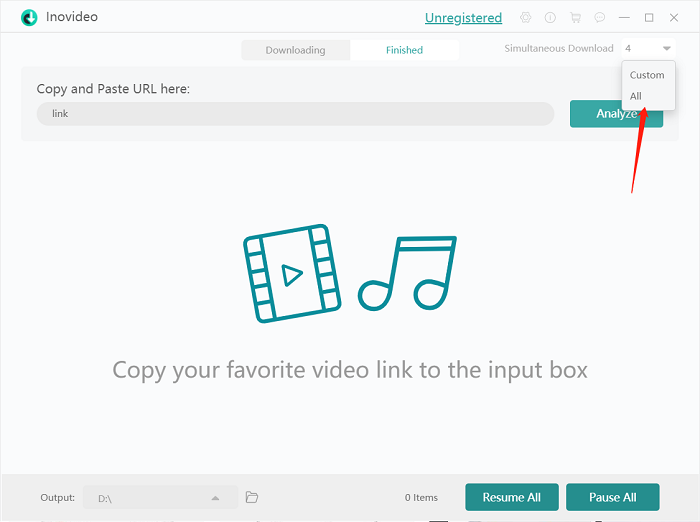 While for Freemake Video Downloader, users directly manipulate to control the bandwidth consumsed by the program, for instance, the downloading speed can be limited to 8MBps, 4MBps, 2MBps, 1MBps, 700KBps based on your Internet condition.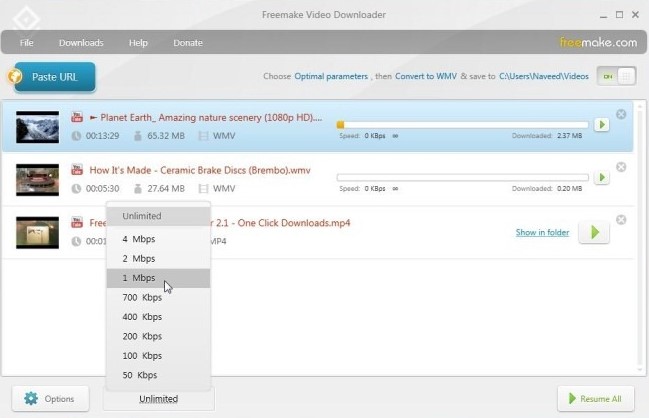 6. Technical Support and Upgrade
Inovideo is maintained with a higher frequency, with a professional support team to enhance its functionality regularly. Despite this, the team would also give feedback to you for solving any problems while using the program. You only need to contect through email: support@videosolo.com.
Freemake Video Downloader would also update the program for keeping the functionality at a better state. But by comparison, it is not so up-to-date as Inovideo. Its latest update date was on Dec 25, 2020. Without the regular updates, Freemake lags behind many latest video downloaders that would frequently enhance their functionalities to meet the latest user demands.

7. Prcing
VideoSolo Inovideo is a pay-for-service, but it provides the 15-days free trial for users to experience the features in advance. Users will get 10 HD video downloads chances to try the downloading process for seeing if the program is what they need. When the free trial expires, users are required to subscribe to the service by paying for the optional plans, including:
1 Month Subscription: US$9.95

1 Year Subscription: US$19.95

Family License: US$49.95
Freemake Video Downloader is publicized as a free video downloader, but it also set limitations for the free users. Actually, the free version is only available for users to download the first online video. The subscription promotion window would pop up when users need to download the second one. Also, a large watermark would be inserted to the downloaded videos in the free version.
To remove such drawbacks, Freemake launched the plans for PRO users to enjoy better online video downloading features. There are three optional plans, too:
1 WEEK TRIAL: $0.95

SUBSCRIPTION: $39.95/month

LIFETIME: $59.95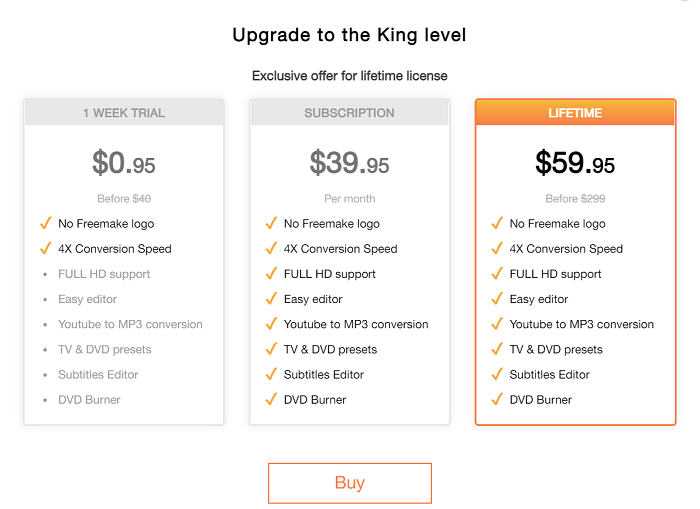 8. Verdict
Comparing from these aspects, both Freemake Video Downloader and VideoSolo Inovideo have their own advantages and disadvantages.
Inovideo offers all-platform video downloading functions to save online videos with the best quality, even up to 8K. Although it has fewer supported formats, but the mainstream MP3 and MP4 formats will be provided as the basic output options, which can cover almost all devices and media players. Besides, the intuitive interface, responsive customer services, and regular functionality updates, all make Inovideo a competitive option among the video downloader market.
Freemake Video Downloader supports more output formats to make the downloaded videos available on more systems or media players, and it is also easy-using. But for deeper usage, when users pursuing for other elements such as the regular program enhancement, back-up customer services, etc., Freemake would be less competitive than Inovideo and many other competitors.