As TikTok users always desire a direct way to save TikTok videos as collections offline, TikTok provides download functionality. However, the video creators have the right to decide if they allow others to save their videos, and some of them will disable the download feature, resulting in the fact that you can't download their private TikTok videos. Some of the TikTokers even prefer making their account a private one and sharing videos with their friends or followers only. You can't view their videos without following them. Can you download private TikTok videos to MP4 exactly?
Luckily, the answer is certainly a YES. And today, you can learn how to download Private TikTok videos from others or of your own. More surprisingly, in this way, you can download them without watermarks.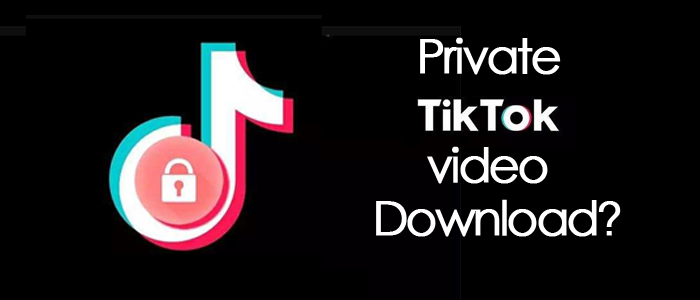 1. How to Download Private TikTok Videos Without Watermark? [Any Video]
To cater to the rising demands for downloading private TikTok videos without watermark, there are more and more helpful tools launched on the market bringing reliable help. Inovideo is such a software, with high compatibility and powerful TikTok video download functionality, providing the simplest way for users to download any TikTok videos offline without watermark added, including the private ones.
With an intuitive design, Inovideo delivers pretty easy-to-grasp services for every user to download online videos from TikTok and other 50+ streaming sites without hassle. Since the launch, it's been the best pick to download TikTok private videos on desktops.
What Can Be Done with Inovideo?
✔ Download private and public TikTok videos
✔ Save TikTok videos without a watermark
✔ Batch download TikTok videos to MP4/MP3
✔ Keep the original quality of the video/audio
✔ Grab videos from a user page or a hashtag
✔ Rip videos from other websites including YouTube
✔ Download files freely and safely at a fast speed

Supported OS:
Mac OS X 10.12 or above; Windows 11/10/8/7/XP (SP3 or below)
Now, let's also go through the brief guide to preview how to download private TikTok videos via Inovideo, the most powerful TikTok private video downloader on desktops with easy clicks.
STEP 1. Get a Private TikTok Video Downloader
Download and install Inovideo. As it has been well installed on your desktop, launch it and you will be on the main interface of the downloader.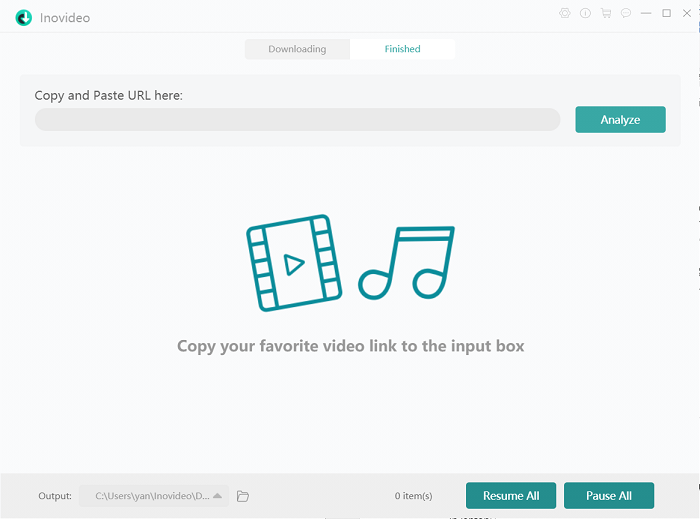 STEP 2. Copy and Paste Private TikTok Video Link
The private TikTok videos may not be showing up on TikTok's timeline or search results. If you've saved the page to your browser bookmark, you can directly copy the link of it. If not, you should get the link of the private video from the author or the others who can share it directly. After getting the video link, paste it to Inovideo and tap the "Analyze" icon.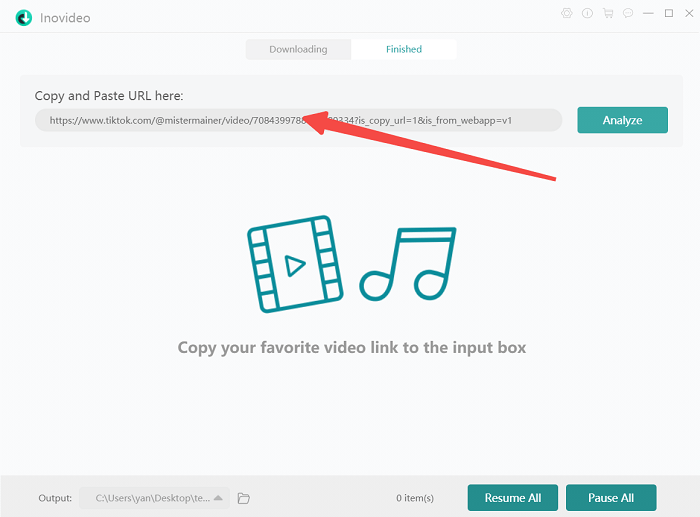 STEP 3. Download Private TikTok Videos to MP4
Wait for Inovideo to quickly process the link analysis. Then, some output choices would pop up. Now you are able to select an output format as well as the quality. By hitting the "Download" icon, you will download the private TikTok video to MP4 on your computer.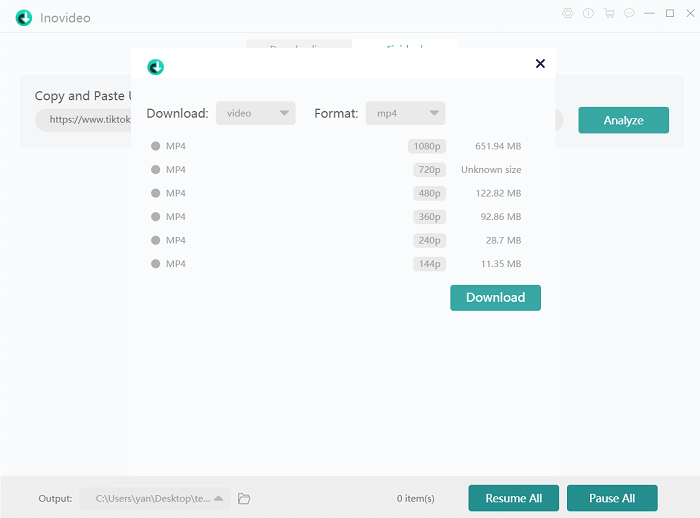 2. How to Download Your Drafted Private TikTok Videos to MP4?
You may once create a TikTok video with a filter or an effect and save it as a draft. And now you wish to post the video to other social media without posting on TikTok public or you need to get the watermark removed so that you can be regarded as original and get more traffic on other social media.
The point is, how to download your own drafted private TikTok videos to MP4? Is that possible? Well, you can use the built-in features of TikTok to get your own private drafts downloaded to your gallery without other tools. The following guide is what you need.
STEP 1 Launch the TikTok app on the device, then tap "Me" to open your profile. You are able to access the created drafts here.
STEP 2 Click to open the draft video that you desire to download to MP4 again. Now, toggle on the "Save to device" option and select "Private" to be the status of "Who can view this video".
STEP 3 Hit the "Post" icon to post the draft video to be a private one. Now, return back to your profile page and navigate to the private video section that's with a lock icon.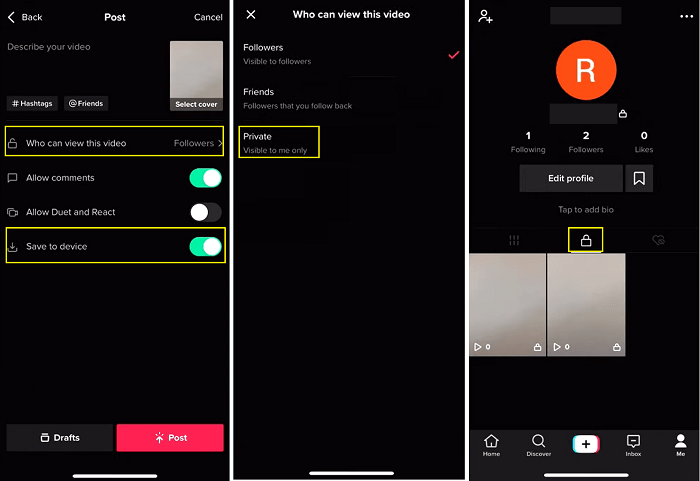 STEP 4 Finally, access the posted video and open it. By hitting the "..." icon > "Save video", you can download private TikTok videos from your draft to the device locally.
3. FAQs About Downloading Private TikTok Videos
Q1. How to See Private TikTok Videos Without Following?
A: Currently, it is impossible to directly view the TikTok videos posted by the private TikTok accounts. Instead, you are able to copy the link address of the private account to download all of their private TikTok videos to watch offline via Inovideo.
Q2. Will TikTok Notify the Creators If I Download Their Private Videos?
A: If you directly download a TikTok video using the provided save button on the official platform, the download would be counted as a share but TikTok still won't notify the video uploader who has downloaded his/her video. If you download TikTok videos via third-party software like Inovideo, even the number of shares won't be counted at all.
Conclusion
Inovideo does offer the simplest way to download private TikTok videos without a watermark. Only via the link you get, you are able to convert the private TikTok video and download it in HD MP4 to have the most enjoyable video streaming experience offline and have fun. For many users, Inovideo has been the best pick to download any TikTok videos, more than the private ones. It deserves your try.