Nowadays, more and more websites adopt HTML5 video players to play online videos, like YouTube, Vimeo, Dailymotion, etc. It allows you to watch videos online without installing plug-ins such as Adobe Flash, and also greatly improved the experience of watching videos. However, downloading videos from these websites directly is not always allowed. This article will share some HTML5 Video Downloaders with you, with which you will be able to download HTML5 videos in one go.

How to Download HTML5 Video on Windows/Mac Easily
Before we get started, you should know that the easiest and safest way to download HTML5 video will be using a trustworthy HTML5 video downloader app. And Inovideo is the one. It is a professional desktop video downloader that supports you to download online short or long videos from the most popular websites. Private YouTube videos or private videos from other websites can be easily downloaded with a URL. This program is designed easy-to-use and the interface is clean without any advertisements, which ensures you download safely without trouble.
You can download videos quickly from those websites that are HTML5 video player adapted and even extract MP3 audio of the video. Not only does it provide multiple resolutions, like 8K, 4K, 1080p, 720p, but also it offers several audio quality options, like 160kbps, 128kbps. For videos from a website like YouTube that are with subtitles, you can choose to merge them to the video or download them separately. Moreover, you are able to download HTML 5 videos in bulk for time-saving.
What Can Be Done with Inovideo?
✔ Batch download HTML5 videos from 1000+ websites
✔ Save MP4, WebM up to 8K, 4K, 1080P, 720P, 480P
✔ Extract MP3 up to 320kbps from HTML5
✔ Grab Private/blocked videos from YouTube HTML5
✔ Rip the playlist, channel, subtitle, etc. if any
✔ Merge subtitles into video if any
✔ Download files freely and safely at a fast speed

Supported OS:
Mac OS X 10.12 or above; Windows 11/10/8/7/XP (SP3 or below)
Websites such as YouTube, Twitter, CNN, Reddit, etc. are supported by Inovideo. Here we will take YouTube as an example and show the operation of how to download HTML5 videos on the Windows version of the program. (Same as the Mac version)
Step 1. Copy the URL of the HTML5 Video
Go to the video page that you want to download. Move your mouse cursor to the address bar to select the link and right-click on it to copy the video URL.

Step 2. Paste HTML5 Video URL to Inovideo
Open Inovideo on your desktop. Then paste the video URL to the input box of "Copy and Paste URL here" and click the "Analyze" button to grab the HTML5 video.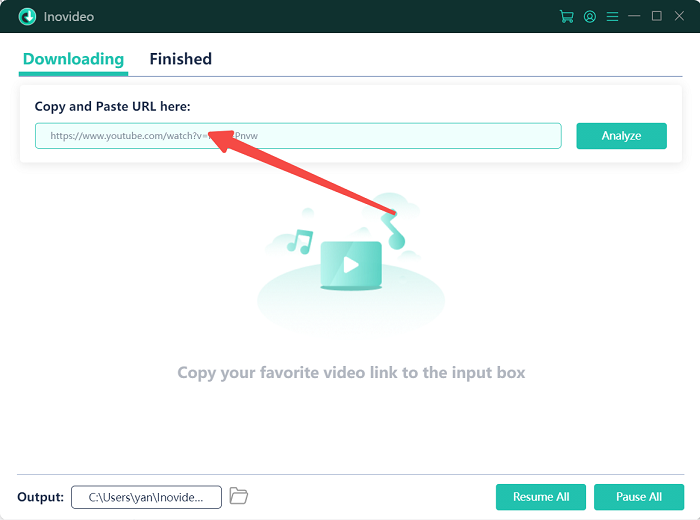 Step 3. Select Output Format for HTML5 Video
After analyzing and video grabbing, it will pop up a window that shows the download selections. At this step, you need to choose one format and then click the "Download" button. As you can see, there are multiple video resolutions available as format MP4/WEBM. Some videos can be grabbed audio with several audio quality options for you to choose from. From the Download type options, you will see the subtitle option if any.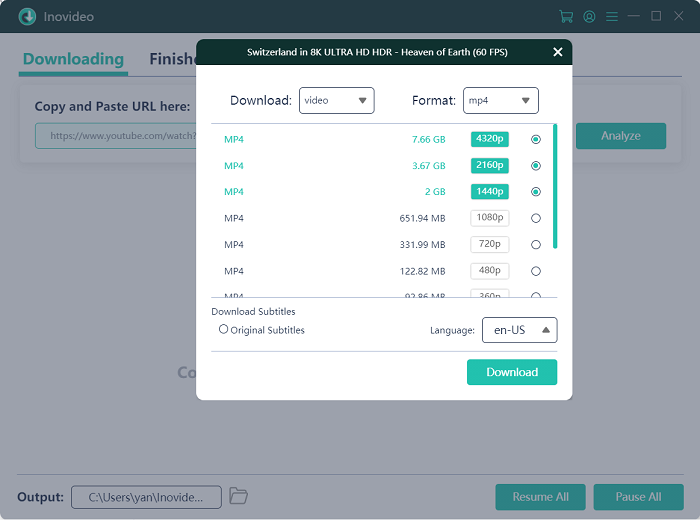 Step 4. Download HTML5 Video
Once you click the "Download" button, you will see the download progress on this HTML5 video downloader. If you want to download other videos, just drop another URL of the HTML5 video. When the download is completed, go to the "Finished" box to find the downloaded videos or audios.
HTML5 Video Download with Inspect on Chrome Browser
You might've heard about Inspect Element on Chrome, Firefox, or other browsers. This is a useful tool for developers. People who are familiar with it can easily download HTML5 videos without any other software. You can also learn it and try it on some websites. But you should know that not all websites support downloading HTML5 Videos with Inspect Element. Besides, the exact procedure depends on the website you are downloading videos from. If you found that you can't finish an HTML5 video download on a website, you can still turn to Inovideo.
Here's how to download HTML5 Video on Chrome Inspect Element:
STEP 1 Firstly, play the video you wish to download off the web page. Then you should pause it just in case it's finished and automatically plays the next video from your playlist.
STEP 2 Hit "Ctrl + i" to bring up Inspect Element. Or you can right-click on the blank area of the webpage and select "Inspect".
STEP 3 On the "Elements" tab, hit "Ctrl + f" and type MP4.
STEP 4 Navigate to the link containing "MP4", then right-click on the link, select "Open a new tab". Then you can click on the three dots and download the video to your computer.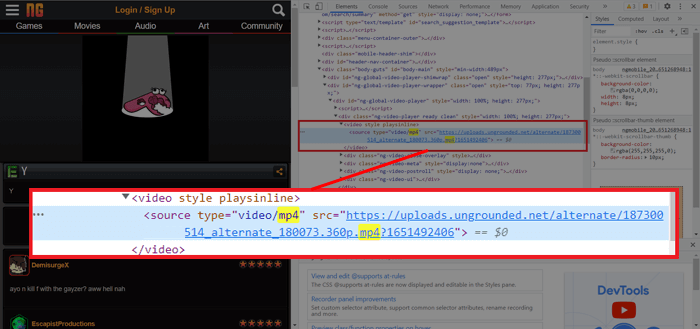 Download Video with HTML5 Video Downloader Browser Extension
You may wonder if you can download embedded HTML5 Videos with the extension on your Chrome and Firefox. The answer is yes. Extension Video DownloadHelper is best for Tik Tok or Instagram video download. However, even though it supports downloading videos from tons of websites, you can't directly download videos directly from most websites such as YouTube, Dailymotion, Fmovies, which means you need to download its companion application and download HTML5 videos on it.

Tips on how to download HTML5 videos with this extension:
Pin the extension to the browser toolbar. If the website is supported HTML video download, the logo will be colorful, if not, it's black and gray.
Once it becomes colorful, click on it and you will see the item options.
Keep the network smooth when downloading
How to Use Online HTML5 Video Downloader to Download HTML5 Video
There are tons of online HTML video downloaders that allow you to download HTML5 video with your browser. They are easy to use and you will find them after your search for a specific website video downloader such as a YouTube video downloader or a Facebook video downloader. But mostly, they can only download short HTML5 videos one by one stably. If you wish to download long videos or download a playlist off HTML, they are not the first choice.
Tip:
Tip: An online HTML5 video downloader usually has lots of ads on its website, whether displayed on the homepage or hidden in the download button. Risks such as malware or adware may be brought to your computer along with your HTML5 video download on it.
Here's a simple guide on how to download HTML5 video using an online video downloader called savefrom, from which you will not see any ads. It's a YouTube HTML5 Video Downloader that can download a YouTube video off the HTML to MP4 or MP3 with high quality.

STEP 1 Copy the URL of the HTML video you wish to download.
STEP 2 Open savefrom and paste the URL to the search box, then hit Convert.
STEP 3 After the conversion, select the resolution and format and hit the download button to download the HTML5 YouTube Video.
Verdict
With the HTML video downloader Inovideo, you just need a few clicks to download HTML5 video in long or short length with ease. Follow the above steps, and you can master the program quickly. Depending on the advanced download technology, it has improved the download speed and kept the high quality of the original video.