We know that YouTube is pretty strict about its stance on only allow uses to watch videos on their website online. From the YouTube website, you can't find download button to help you download YouTube videos directly. But there are always some cases which need to download the videos from YouTube. For instance, you may need to watch YouTube videos offline when there's no access to an internet connection.
This is the problem we talk about today. Because this restriction we mentioned previously, there are some YouTube video downloader which can help you solve this problem. Now let's see the guide below and see how we can download video from YouTube.
# First Step - Get A YouTube Video Downloader
Actually, you can find many online YouTube video downloader on Google. But these online tools often get taken down by Google, as they apark legal controversy. It would be better to find a reliable a desktop program which doesn't be restricted by Google.
Here, we would like to recommend VideoSolo Inovideo. This program features the facility of downloading videos from YouTube, Facebook, Vimeo, Soundcloud and other popular video-sharing websites. The whole downloading process can be finished with 3 steps. So if you want to save video from YouTube, then Inovideo would be the most useful tool to have. Now let's waste no more time and go see how it work.
# Second Step - Download YouTube Videos on Computer
# Step 1. Copy and Paste URL
Download Inovideo and install it on your Windows or Mac computer. You can see the clean interface below. It's easily to find the blank bar where you need to paste the video url.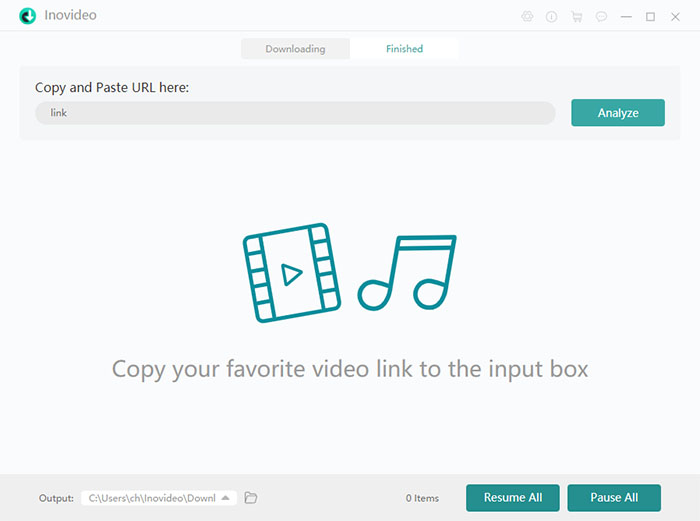 # Step 2. Copy and Paste the Video URL
Now launch your browser and find the YouTube videos you want download. Then you should copy the URL. After that, go back to Inovideo to paste the URL, and click on "Analyze" button.
When the analysis is done, you need to choose a output format from the pop-up window. At present, VideoSolo only provides only 1 video format - MP4. But it offers MP4 videos in different resolution. Select the output you need and click the "Download" button to start downloading.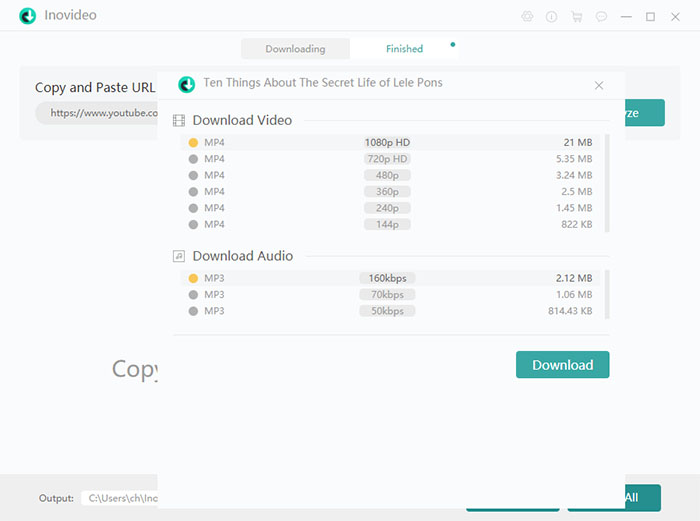 Tips: VideoSolo Inovideo also supports batch downloading which means you are able to download multiple videos in the same time. Just copy and paste the URL to the program, it will finish the mission as fast as possible.
# Step 3. Find the Video Files in Computer
Usually, the program will start downloading YouTube videos once you clicking the "Download" button. The downloading speed depends on your computer performance and network. When the download process finished, you can go to "Finished" tab and click the "Open the Folder" to find the YouTube video.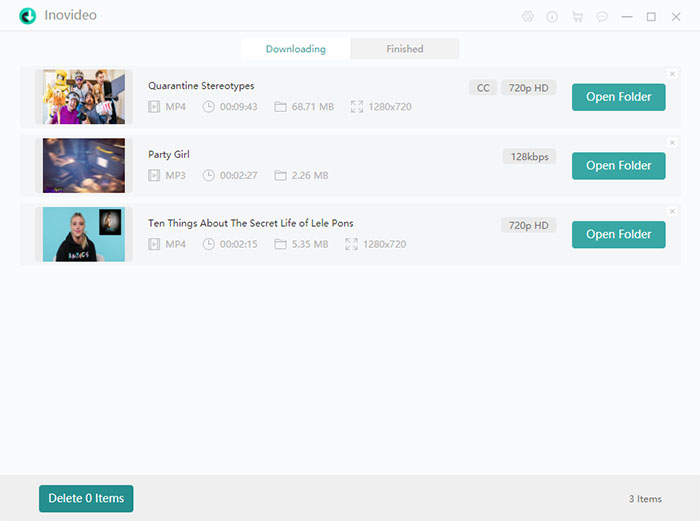 With VideoSolo Inovideo, you are able to download any video from YouTube for watching offline, editing for further use, etc. And, the program now has a free trial version which allows you to download videos for free in 15 days. That's good for you to evaluate this YouTube video downloader. If you have any comment or suggestion for VideoSolo Inovideo, leave it below or send email to our support team.