It will be really upset when you can't find a download button on a website to download the video you extremely like. In fact, most of the popular video-sharing websites such as YouTube doesn't provide the download option. But there are third-party tools you can use to download video from internet when there isn't download option.
On Google, you can find many available video downloaders, including online tools and desktop programs. However, not all of them are reliable and useful as they claimed. So, we will directly share a good video downloader - Inovideo to you, to help download video from internet.
# Get to Know the Video Downloader - VideoSolo Inovideo
VideoSolo Inovideo is a desktop program which available on both Windows and Mac computer. It's specially designed for help people to download video and audio from the online websites like YouTube, Facebook, Vimeo and SoundCloud. The installation process doesn't bundle any spyware. You don't need to worry about the data safe of your computer.
The interface is clean and intuitive. You can download the videos from internet with few clicks. VideoSolo Inovideo doesn't provide many output formats, it might be the only one drawback of this video downloader. You're able to use the free trial version for 15 days. Get it from the button below.
# 3 Steps to Download Video/Audio from Internet
Tip: Not all of the websites are supported by VideoSolo Inovideo. If you have videos that want to download from a website, you can copy and paste the URL to the program to have a try.
# Step 1. Copy and Paste URL
As we said before, the trial version of VideoSolo Inovideo allows you to download videos for free in 15 days.
Get it installed and open the program. Then, open the video you want to download and copy the URL. Finally, paste the URL into the program and click the "Analyze" button.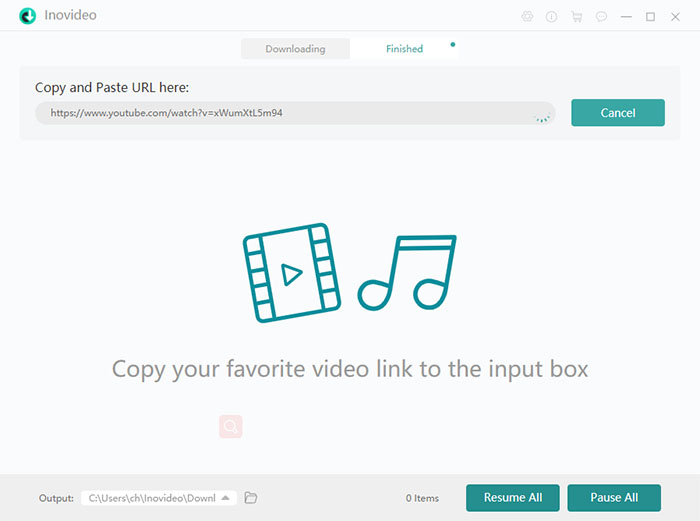 # Step 2. Choose Output Format
After the program finished analyzing the video, it will pop up a window where you need to choose the output format. Now VideoSolo Inovideo only offers 1 output video format - MP4 and 2 output audio format - MP3 and Webm. (The Mac version only supports MP3 audio format.)
Choose the output video format you need and click on "Download" button.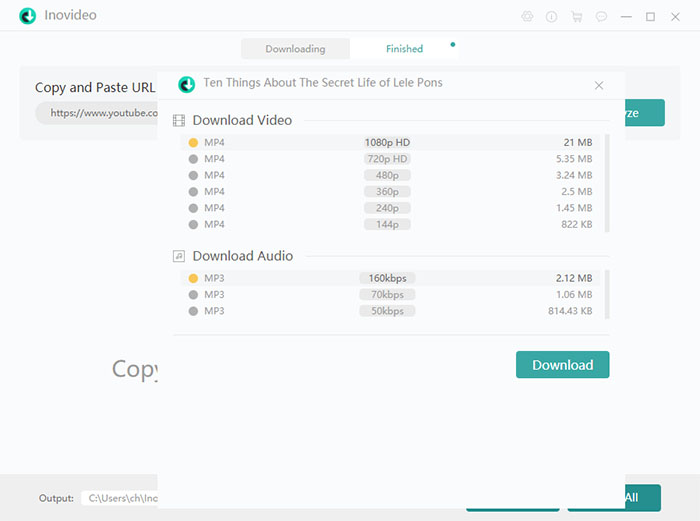 # Step 3. Wait for the Downloading Process Finished
Now, this program will automatically start downloading this video for you. VideoSolo Inovideo supports batch downloading. So you can continue the steps above to download more videos.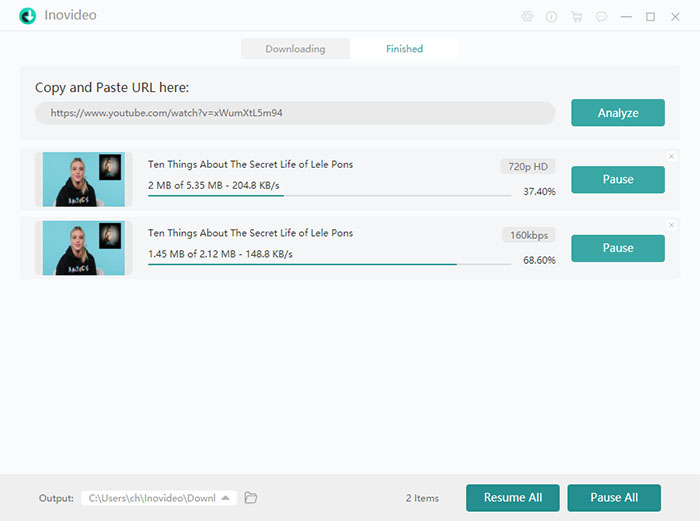 That's the 3 steps to download videos from Internet with using VideoSolo Inovideo. Compared with the online video downloader, VideoSolo Inovideo has more stable performance and fast downloading speed. Now you can get the single lifetime license with only $29.95. It's really worth it!