If you find a funny video on the streaming media website, you may want to download it in order to watch it offline. Especially for some tutorial videos, such as cooking guides and dance mini courses. However, there is no video download option for most of the streaming media websites.
This article is to help you with how to download videos from a URL on different devices. Now you can download videos from URLs with a third-party tool on PC or Mac or using an online video downloader to get short videos or movies on your mobile phone.
How to Download Any Video from URL on Windows/Mac
To download video from a URL on Windows or Mac, you can try a third-party tool, Inovideo, that saves you video link with high output quality at up to 1080P, 4K and 8K. Besides, the batch downloading features can help you download multiple videos without clicking them to download one-by-one.
If you want to extract the video as your background music, the downloaded video can even be converted to MP3 for offline listening on other media player.
Tool Required: Best URL Downloader
Inovideo comes highly recommended if you need a professional, secure, and reliable downloader to easily save videos to local storage from any website. With Inovideo, you can download videos in their original quality in MP4/WEBM or MP3 format from a number of websites, including CNN, YouTube, Twitter, and others.
What Can Be Done with Inovideo?
✔ Excellent offline displaying experience with 8K, 4K, 1080P output
✔ Download videos in bulk, save time at once
✔ With 320kbps video quality to convert music into MP3 of the best quality
✔ Friendly UI design that is convenient for technical novice to use
✔ Subtitles Detectable from YouTube, CNN, etc. or making a mergence of the subtitles and video
✔ Supported download videos from over 1,000 of hitted streaming media platforms like Youtube, Twitter, Facebook, etc
✔ Youtube video, shorts, channel, private video etc. can be downloaded from link

Supported OS:
Mac OS X 10.12 or above; Windows 11/10/8/7/XP (SP3 or below)
Tutorial: 3 steps to Download Video from URL with Inovideo
Let's now have a look about how to use Inovideo to download videos from URL.
>>

Step 1: Install Inovideo and get the URL of the video
Download and install Inovideo. Then, just open the website of the video that you want to download and copy the video URL from the address bar. For some websites, the right-click menu may be needed to copy the link.

>>Step 2: Analyze the video
Now put the URL you copied into the analysis window on its interface, and then click the Analyze button right beside it.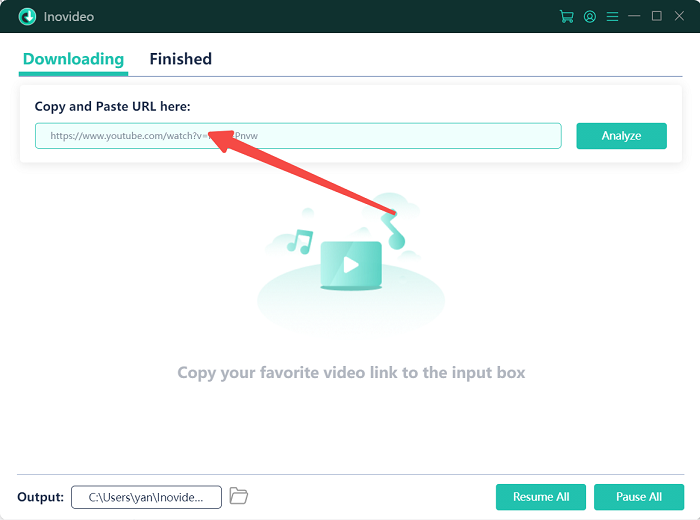 >>Step 3: Download video from URL
After the analysis is done, the result window will popup. MP4 will be the default video format. Don't forget to choose a resolution ratio that you want before hitting the Download button.
If you want to grab the subtitles from the video, just tick the original subtitle option if there are CC subtitle files on the video such as Youtube, CNN. The language of the subtitles can be selected as you need.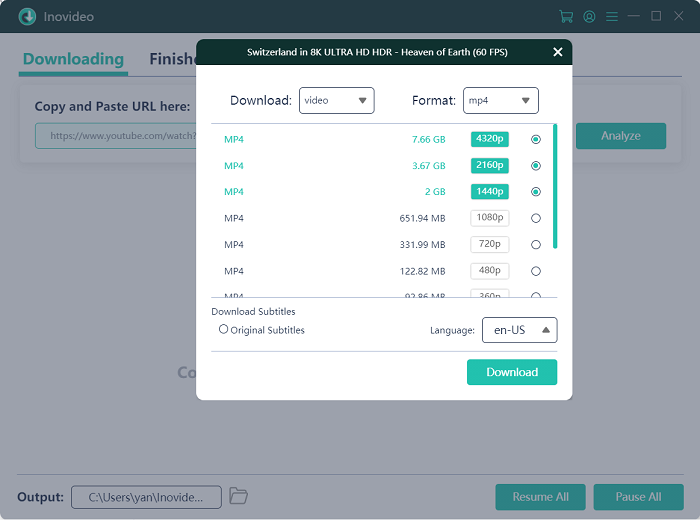 How to Download Video from URL on Android/iPhone
An Online video downloader is recommended if you need to download short videos, movies and so on to your mobile phone. It is mobile phone storage-saving and convenient for you to use freely and without installation. A web-based solution for downloading videos is Savethevideo, which provides downloading facilities for streaming media platforms like Facebook, Instagram, etc.
You can also test out the Savethevideo.com browser extensions, which allow you to download movies with just one click and without watermarks. More important features are as follows:
✅Provide video conversion. You can convert videos into MP3, WEBM, AAC etc.
✅Video download from Facebook, Instagram, Twitter and other media platforms or websites.
✅Mobile devices and PCs are accessible.

However, it may contain risky affairs like:
❌Safety uncertified. It can not work when it is offline/ invalid or other procedural problems. Concerning privacy, the history of download might be leaked because everyone there is no need to login to use it.
❌Downloaded videos may be watermarked.

Here will show you how to download video from URL on Savethevideo.com
Step 1: Copy the URL of the video that you wish to download
Once the website's video page has loaded, copy the URL from the address bar. On some websites, you can use the right-click menu to select a video and copy the link.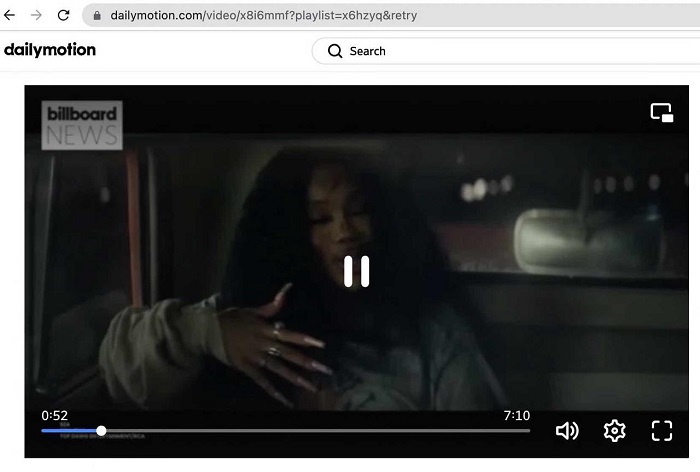 Step 2: Start to get your video
Click here to go to the online download tool. Then simply put the URL you copied into the bar, and click the Start button.

Step 3: Choose the desirable output format
After the video link is analyzed, an interactive window will pop up. After selecting the desired format from the drop-down menu by pressing the down arrow symbol, you can save the video to your device.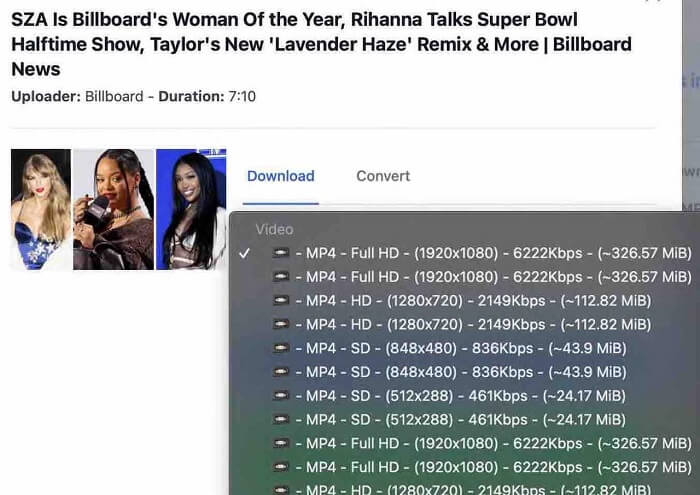 What is the Best URL Video Downloader?
A video downloader is easy to find online. Nevertheless, finding a good one is not that easy. Now that you have two options for downloading videos from a Website, let us quickly review which one will work best for you.
Desktop URL Video Downloader VS Online Video Downloader
Here, these two types of video downloaders will be compared in terms of pros and cons. The advantages and disadvantages of the two video downloaders are listed below.
Desktop URL video downloader
Pros:
Dependability. Compared to online download tools, desktop URL video downloader provides a safer network environment which can be protected by third-party anti-virus applications. It keeps your privacy and lets you free from getting trapped in phishing sites.
High quality. Superb 8K, 4K, 1080p, and 720p output for offline displaying. It implies that, even while you're offline, you don't have to put up with the output of video in poor quality. Just savor every wonderful moment, wherever you are.
High speed download. Inovideo provides high speed for you to download video from URLs. Moreover, it is effective and time-saving for Inovideo can help you download videos in bulk.
More sites are supported. Inovideo allows downloading videos from URLs on 1000+ sites in MP4,MP3, and WebM formats (Windows only) format.
Cons:
You need to download an extra program to download online videos from streaming media platforms, which means you need additional storage to get a program.
Online video downloaders
Pros:
Unneccessary for downloading. It is an outstanding advantage of online downloaders. What you need to do is to access the website for downloading video, which is storage-saving.
Free use. You can give it a shot to try out online video downloaders when you want to.
Cons:
Insecurity. Inappropriate content is pushed here through advertisements. Therefore, if you access these web pages and unintentionally click on a suspicious icon, you are directed to all the more challenging websites, your privacy may be compromised, and it could even have serious consequences.
Low output quality. Only 180P, 320P, 480P, 720P of video output quality can most online downloaders provide. Or it may incur additional costs when wishing for a higher resolution.
Fail download sometimes. If you want to download a movie which is a very long video, you may need to watch an advertisement, pay for it or even it can be downloaded because of technical problems. Unpredictable errors may happen too.
Low download speed. Savethevideo is an online video downloader, which means it needs a stable network environment for high speed download. Also, it may lead to an extra fee for downloading when you're out of WIFI.
Given privacy concerns, output quality and downloading performance, we suggest you try your hands on a safer choice, a desktop video download, Inovideo.
Conclusion
Overall, Inovideo is one of the most powerful Mac/Windows video downloaders that can assist you in freely and securely downloading online videos. Inovideo allows you download videos from 1000+ sites in MP4 format up to 8K with sound and is simple to use.