The abundance of videos on YouTube attracts numerous users to watch, but you may find that some of these videos are blocked in your country, making it impossible to download or watch them. Most of us may have encountered the following situation: "This video is not available in your country." Or "The uploader did not make this video available in your country."
In such cases, how to bypass the restrictions and download blocked YouTube videos freely? Don't worry. Here's a handy guide that provides you with several easy ways to do so. With the help of a proxy server and VPN, you can easily unblock YouTube videos and then use YouTube Downloader to download your favorite YouTube videos for offline playback. If you want to know more about downloading blocked YouTube videos, read on!
Can I watch blocked YouTube videos?
Theoretically, you can't directly download blocked videos from YouTube. You may wonder: Why are YouTube videos blocked? There are three main reasons:
Country and region restrictions
Due to licensing issues, video creators choose to make their content available only in specific countries or regions. Maybe you are in these restricted areas.
As required by local law, YouTube blocks specific content. There are also some countries where YouTube is banned
Copyright
When you find that your favorite YouTuber has posted a new video and you can't watch or download it. It's possible that the creator has set video privacy settings and copyright protections that prevent viewers in certain regions or countries from accessing or downloading their videos.
Organization restrictions
Workspace administrators can restrict access to YouTube videos for your organization. For example, they can manage access to YouTube for school staff and students.
Unblock and Download YouTube Videos with Proxy Server
When you know that some YouTube videos are not accessible and downloadable due to country and region restrictions, it is possible to unblock YouTube videos with a proxy server.
This allows you to watch region-restricted YouTube videos by hiding your device's location and bypassing the geo-restrictions.
Access the Blocked YouTube Video with Proxy Server
Here are some proxy servers for reference: Hidester, Hide.me, HMA, Smartproxy, and Oxylabs Proxy Server.
The next part will teach you how to set up a proxy in Google Chrome.
Step 1. Open the Chrome toolbar and select Settings, and it will open a new tab.
Step 2. rom the column on the left, click "System". Then, tap on "Open your computer's proxy settings."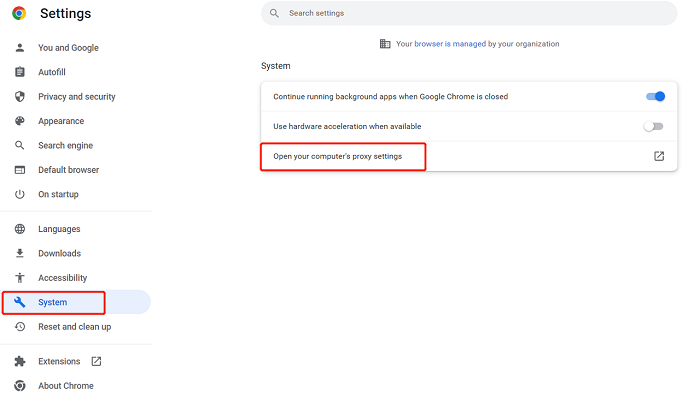 Step 3. When open Settings tab on your Windows, Click Proxy. Scroll down to "Manual proxy setup" and set the "Use a Proxy Server" switch to On.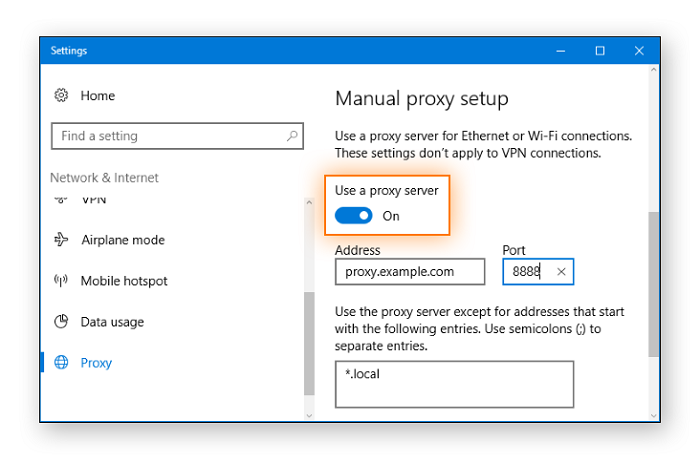 Step 4. In the address field, type the proxy server name or IP address. In the Port field, enter the proxy port number.
Step 5. Click Save.
Download YouTube video via Inovideo
Inovideo, as a professional YouTube video downloader, strongly supports modifying proxies and bypassing geo-restrictions. When you get the URL, use Inovideo, which is available to help download blocked YouTube videos. All YouTube content, including playlists, channels, shorts, 360° VR videos, private videos, and so on, is accessible and can be downloaded.
What's more, you can download YouTube videos in 1080p, 2K, 4K and up to 8K quality for the best viewing experience.
Highlighted Features of Inovideo:
Download all types of YouTube videos
Download YouTube videos up to 8K, depending on the quality of the original video
Convert music videos from YouTube to MP3 at up to 320kbps
Offer 6X faster speed to batch download entire playlists/channels from YouTube with one click
Support downloading online videos from TikTok, Facebook, Instagram, etc
Download YouTube videos with subtitles and even merge subtitles into video files
Now, follow the steps below to learn how to download private YouTube videos via VideoHunter.
>>

Step 1. Setup proxy server setting
Launch Inovideo, go to the menu icon (three horizontal lines), click "Preferences", and you may see "Network Setting". You can click "Auto Proxy" directly, or you can fill in the IP address and port number of the proxy server into "Configure Manually".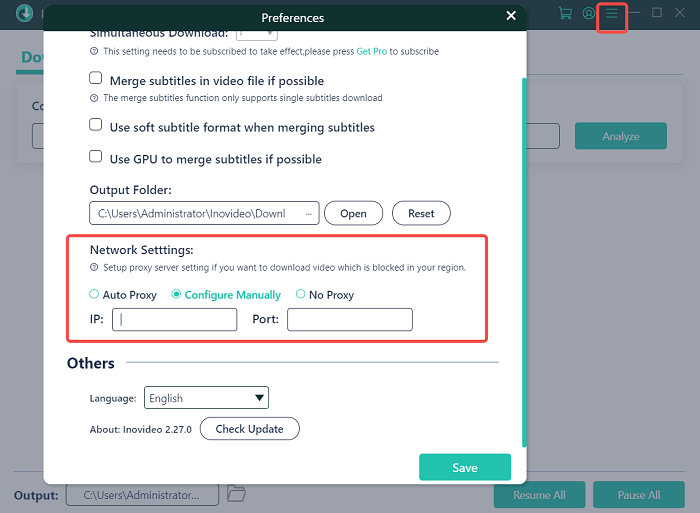 >>

Step 2. Copy and paste YouTube video URL to Inovideo
After setting up the proxy server, you will see that the blocked video is now accessible. Then right-click on the video to copy its link. You can also copy the video link in the top column of your browser. Go back to Inovideo and paste the URL into the search box. Then click the "Analyze" button.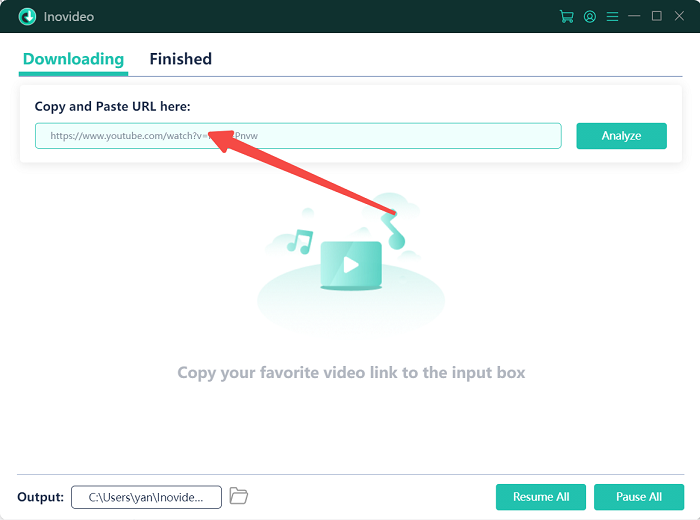 >>

Step 3. Select Output Format and Quality
You can choose the output format and video quality. Then click the Download button.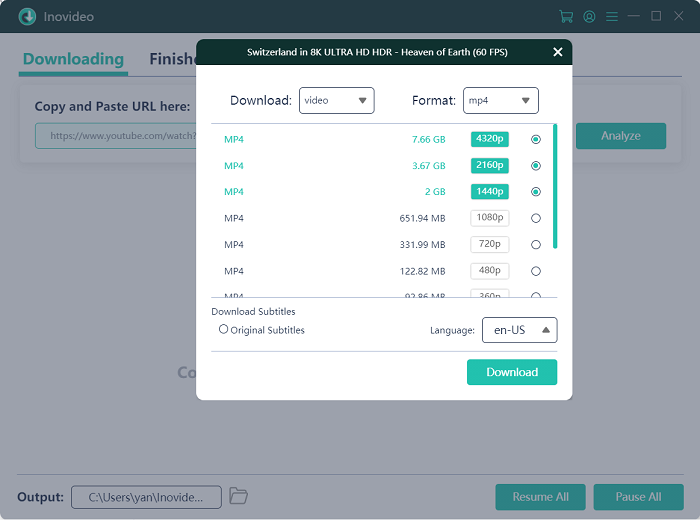 Unblock and Download YouTube Videos with VPN
Most people choose to use a VPN when they need to bypass geo-restrictions. Whether you're in a restricted country or any other blocked area, using a VPN can help you bypass regional restrictions and easily watch blocked YouTube videos. Unlike proxies, VPNs encrypt users' web activity behavior and data to protect personal privacy and cover all websites and applications.
Access the Blocked YouTube Video with VPN
In fact, there are quite a few available and free VPN software on the market, although such VPNs only allow a limited amount of data.
If you don't have an available VPN yet, here is a collection of good free VPN services that can help you access YouTube videos without restrictions.
Proton VPN Free
TunnelBear
Hotspot Shield
Step 1. Register and log in to your VPN account.
Step 2. Select a new country and region and connect.
Step 3. Open YouTube and refresh the blocked videos.
Step 4. Open YouTube and refresh the blocked videos.
Download YouTube Videos via VideoHunter
With VPN, you can freely access and download blocked YouTube videos. VideoHunter is another alternative way to help you download YouTube videos.
This software is safe and has no ad pop-ups. You can use it without any worries. VideoHunter supports downloading multiple entire playlists and channels simultaneously, which can significantly save you time. The tool is also user-friendly and doesn't require any specialized knowledge.
The steps to download YouTube videos using VdieoHunter are similar to Inovideo's. First, copy the link to the unlocked YouTube video, paste it into VideoHunter, wait for the parsing to finish, and click the Download button. Then, the blocked YouTube video will be downloaded successfully.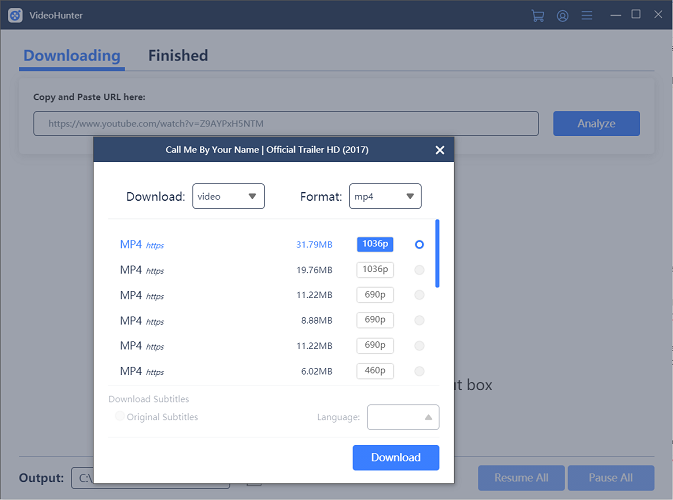 Download Blocked YouTube Video by Changing Video's URL
If you haven't used proxy servers and VPNs before and the steps to install and set them up are too tedious now, here is also a little trick for you to bypass the regional restrictions on downloading YouTube blocked videos. That is to change their links.
Step 1. find the URL of the blocked YouTube video. Take this as an example: https://www.YouTube.com/watch?v=Z9AYPxH5NTM
Step 2. You just need to replace "watch?v=" with "v/" and the YouTube video URL will become https://www.YouTube.com/v/Z9AYPxH5NTM
Step 3.After that, you can watch the blocked YouTube video successfully.
If you want to save the video, you only need to add "ss" before "YouTube "in the last step.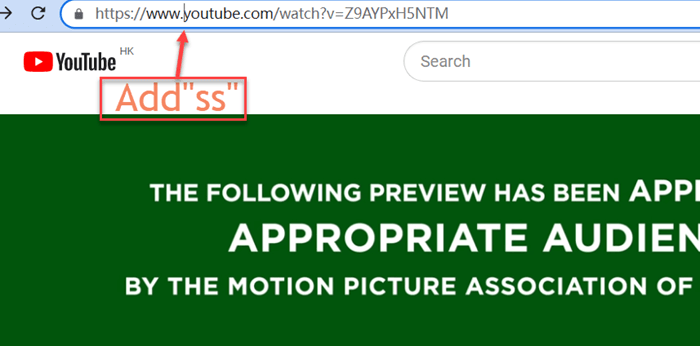 FAQ on Downloading Blocked YouTube Videos
How to Watch YouTube Videos Blocked in My Country?
In this case, you need to use a proxy server or Vpn to access the blocked youtube video, and some YouTube content is geographically restricted, so you can only watch it in the right location. Using a proxy server or Vpn can help you hide your real location and change to a new IP address so you can watch YouTube videos blocked in your country.
Conclusion
These are the 3 helpful ways to download Blocked YouTube videos, you can choose the way you like according to your condition, and if you have a stable VPN or proxy server, you can freely access the blocked YouTube videos in your area.
Here it is recommended that you use Inovideo to download youtube videos to your local area, so you don't have to worry that you won't be able to watch them later. And this software has the powerful ability to help you download many kinds of YouTube videos quickly and in batch, while retaining the original picture quality. Click the download button below and try it out!