Nowadays, digital life has become normal for most of us, and among all the digital entertainment ways, watching videos is one of the most important ones. YouTube, which features fast speed, high quality, and freedom of creation, is a popular video platform all over the world. Watching videos online is of great convenience; however, on some occasions, you can't watch some blocked YouTube content, not to mention download them.
Yet, due to certain country policies, many users don't have the access to YouTube video resources. So can we download blocked YouTube videos? Let's find out the answer together!
1. Can You Download Blocked YouTube Videos?
Yes. The best thing about life is that there are always solutions to problems. For users from countries where the official ways to download YouTube videos are blocked, you may consider these two problem-solving methods: one is through a VPN; the other is through a proxy server.
A proxy server is a system building a gateway between users and the Internet, which has its own IP address, and therefore your real IP address won't be exposed. In the proxy server, you may set up the location to the ones where there's no regional restriction from YouTube. In this way, you can watch or download region-blocked YouTube videos.
In addition to a proxy server, there's another method that might be more convenient for you: VPN (virtual private network). A VPN can hide your original IP address, and with it, you can browse the content that is restricted in your country.
2. Download Region Blocked YouTube Videos with VPN
Now let's have a look at the most convenient and practical way to download the blocked YouTube videos first: using a VPN plus Inovideo. With VPNs, you have access to YouTube videos, and with Inovideo, a professional YouTube video downloader, you can download them with great convenience, which can bring a much safer and more stable experience to users.
To be specific, Inovideo is a reliable and versatile tool for users to download YouTube videos, playlists, or channels with merely several simple clicks. You may find more satisfying features of this software below:
Support downloading from 50+ websites such as Facebook, Twitter, Vimeo, etc.
Download public & private YouTube videos, or even the age-restricted ones
Grab video, audio, or even subtitle resources from YouTube
Detect the whole channel/playlist with one URL
Batch download videos
Merge subtitles into the video when downloading
Save YouTube videos with HD quality (8K, 4K, 1080P, 720P, etc.)
Convert YouTube videos to MP3 format with high quality (320kbps, 256kbps, 128kbps, etc.)
Work stably for both short/long YouTube videos with no Ads/malware
Now we have a basic understanding of these two tools, so let's go further and see how they work step by step.
Step 1. Get a VPN.
There are many ways to get a VPN, such as going directly to the website and downloading one, or getting the package from your friends. Besides, there are various types of VPNs: some might be free, and some might charge an amount of money (normally it can be shared on a certain number of devices, so it won't be too expensive).
After the installation of the VPN, run it, and then you will be able to open those geo-restricted websites. The best thing about VPNs is that you don't need to set up the parameters.
Step 2. Get Inovideo
You may download Inovideo to both Windows and Mac systems through the below links:
After installation, launch the software, and a pop-up window will show up for you to register by typing your e-mail address and the password you like.
Step 3. Copy and Paste the URL
Type in the official website address of YouTube on the address bar of your browser to open the homepage of YouTube. Click on the video you would like to download and copy the URL by right-clicking on the address bar of the video. Then, go to Inovideo to paste the URL to the input box, and click on the "Analyze" button.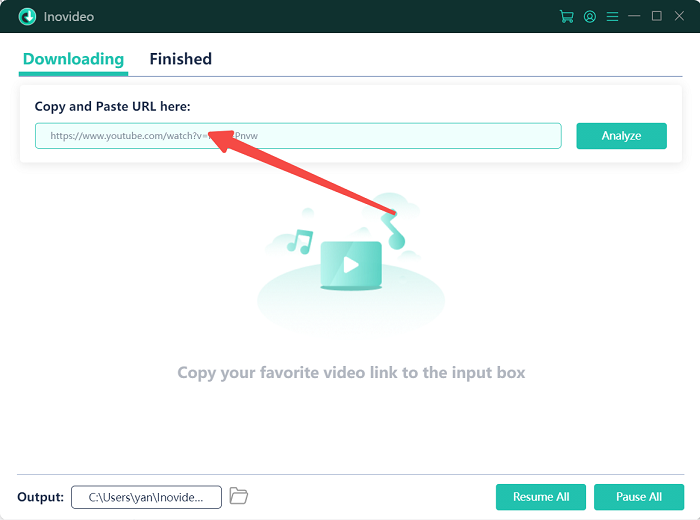 Step 4. Set up the YouTube Videos and Download
>>

A. Single YouTube Video Downloading
When the analysis is finished, you can choose an output format for the video to be downloaded. Currently, Inovideo provides the formats MP4 and WEBM with quality from SD to HD. Select the one/ones you need and click the "Download" button to start downloading.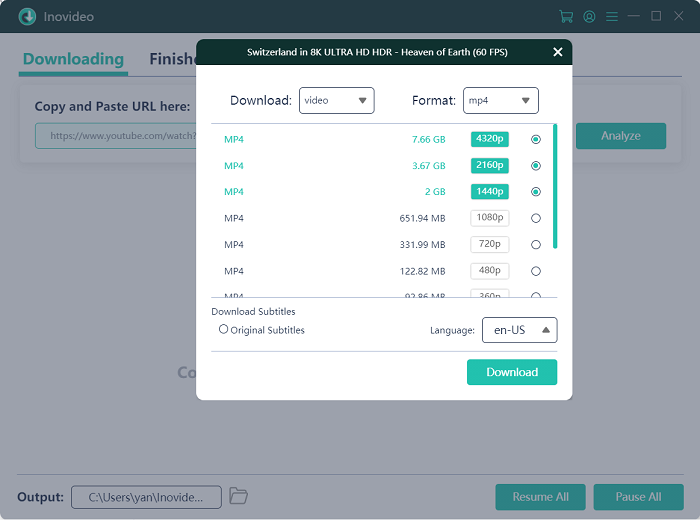 >>

B. YouTube Playlist/Channel Video Downloading
If the URL you have copied is of the video from a playlist or a channel, Inovideo will confirm with you whether to download the single video you are watching or to batch download multiple videos from the same playlist or channel.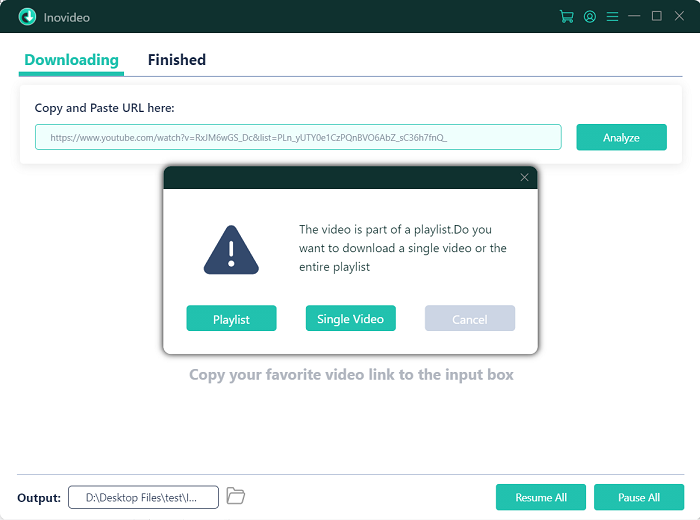 If the current downloading has begun, and you need to download more videos from different playlists or channels, you can just paste other URLs to start other analyzing and downloading processes.
>>

C. Download YouTube Videos to MP3
In addition to videos, it also works for YouTube music: you just need to copy and paste the URL of YouTube music and change the output form to "Audio", and then select the quality to download.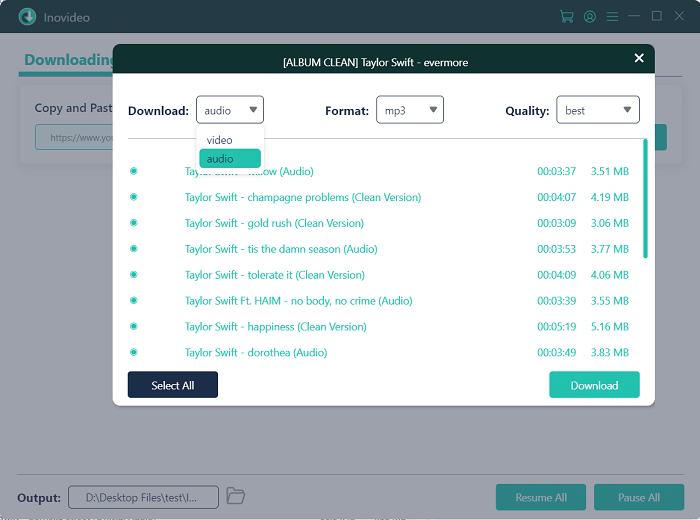 >>

D. YouTube Subtitle Downloading
Subtitles are of great importance for videos that use different languages from yours. With Inovideo, you can download the subtitle of the YouTube videos. Besides, you can choose to merge it into the videos or grab it separately.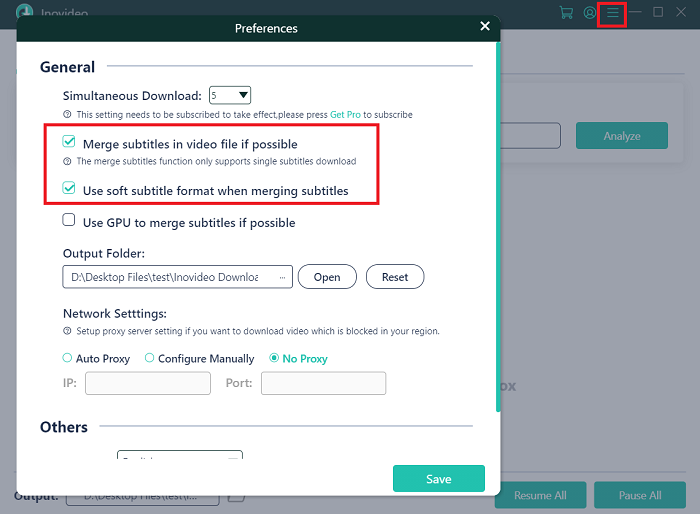 Note #1. To merge it, you need to set it up at the beginning (before you start the downloading process): go to the menu icon (three horizontal lines), click "Preferences", and choose the merging options under the "General" section. Don't forget to click "Save" after setting up, and you may continue to follow what Step 3 instructs.
Note #2. If you want to download the subtitle only, just switch the output format to "Subtitle" after the video is analyzed successfully. Additionally, you are allowed to download the video and the subtitle respectively at the same time by ticking the "Original Subtitles" option.
3. How to Download Blocked YouTube Video Without VPN?
If you don't want to use a VPN, you may also consider using a proxy server plus Inovideo. As mentioned above, with a proxy server that can disguise your location, you may download the blocked videos. You can access the free proxy server lists online easily by searching them on the search engine. The detailed steps are as follows:
Step 1 Go to the website which lists free proxy servers, and choose the proxy server which can avoid the regional block.

Step 2 Launch Inovideo, go to the menu icon (three horizontal lines), click "Preferences", and you may configure the proxy server under the "General" section.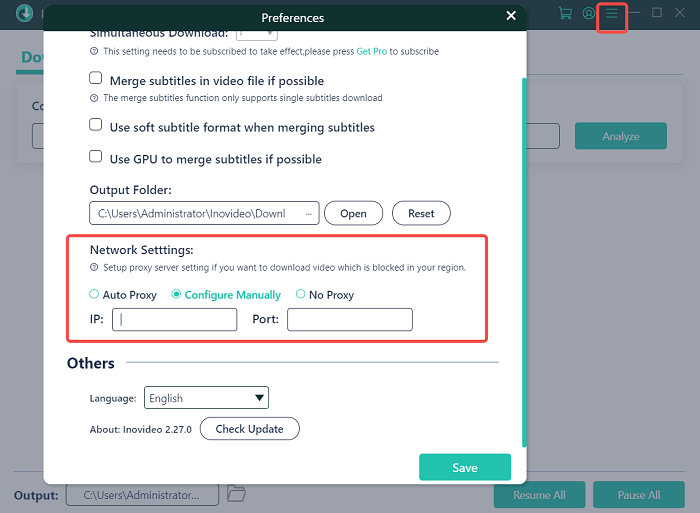 Step 3 Copy and paste the URL of the blocked YouTube video to Inovideo, and start to download it.
4. FAQs on Downloading Blocked YouTube Videos
We have introduced the two practical ways to download blocked YouTube videos in the previous section, and some of you may also have some questions:
Q1. How to Download Blocked YouTube Videos on Copyright Grounds?
A: It's the same as downloading region-blocked YouTube videos. Just copy and paste the URL to the input box on Inovideo to start the downloading process
Q2. Can a Free VPN Help Me Download YouTube Region Blocked Video?
Of course. As long as you use a VPN, you can avoid the region block from YouTube. In fact, many VPNs offer a free version (usually by limiting the data or asking you to finish some tasks). So, if you don't need to go to those blocked websites on a regular basis, free VPNs are actually a better choice for you.
Conclusions
Having known all these useful tools and methods, now you must have the final answer to how to download the region-blocked YouTube videos: Inovideo + VPN or proxy server! The former provides you with the most convenient downloading experience like bulk downloading of playlists and channels of YouTube videos with high quality, and the latter helps to remove the region block. So, let's get one and start the enjoyment!